MyFXResearch Portal
The National Fragile X Foundation is committed to helping advance new and improved treatments and interventions for Fragile X-associated conditions and disorders. MyFXResearch Portal supports our commitment by eliminating the gap between patients & caregivers and researchers, and by providing guidance, resources, and support for our members and their families throughout the process.
Matching Heroes to Research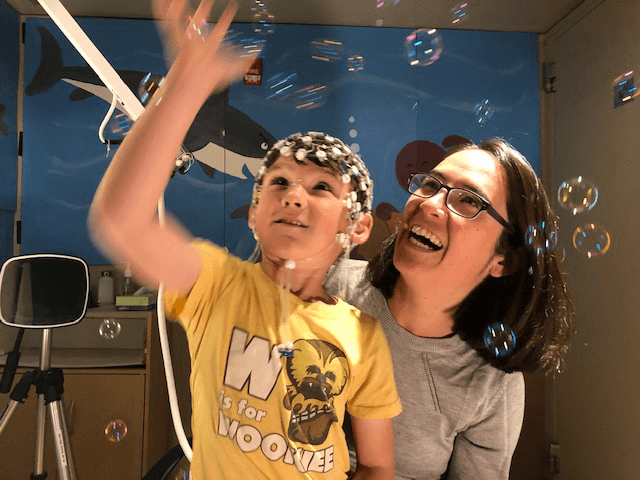 Research heroes are the thousands of people who volunteer every year for research—the first important step in developing new treatments, interventions, and methods for diagnosing or detecting disease. New treatments are approved each year; some are brand new products that have never been used and others are the same or similar to previously approved products. All of these treatments go through extensive review before becoming publicly available. Chronic migraines, Parkinson's, irritable bowel syndrome, and rheumatoid arthritis have all benefited from new treatments becoming available in 2019!
Without everyday heroes willing to participate in research, this would not have been possible. Polio and tuberculosis are just two examples of diseases that no longer threaten our daily lives thanks to research and the everyday heroes that made them possible. However, far too often studies end early or never start because there are not enough volunteers. Our hope is to match willing volunteers—heroes like you—with the right research studies. Without your help and the help of many researchers and clinicians, we cannot find treatments specific to individuals with Fragile X-associated conditions and disorders. Together, We're Stronger!
Listed below are current opportunities, which can be further refined using the available filters. Also take a moment to review the FAQs & Resources to help you with your decision to participate, or reach out to us to answer any additional questions.
The research studies posted here have been reviewed through our NFXF Research Review Program™. Each review is conducted by a group of Fragile X experts, who confirm the study is good science and considerate of the patient and their family's needs.

Current Research
Please click through to each research opportunity you're interested in for full details, including additional requirements for participation. Also note that each of the links will open in a new tab or window, which allows you to return to your search results at any time. 

Marketing Your Research Opportunities
A key goal of the National Fragile X Foundation is to connect patients and families living with Fragile X to the researchers who are leading the clinical trials and research studies. We do this by offering targeted recruitment services through our extensive database and social media presence. Over the last decade, this highly successful service has been invaluable in reaching the Fragile X community and promoting participation in clinical trials, research studies, and surveys; allowing researchers to effectively recruit the necessary qualified participants.
We encourage all organizations — i.e., industry sponsors, universities, medical centers — requesting marketing assistance with volunteer recruitment must have their projects reviewed and approved through the NFXF Research Readiness Program.
NFXF Research Readiness Program™
The NFXF Research Readiness Program was set up to assist and support research in the Fragile X field. It serves as a single point of contact for industry, academic, and other research partners seeking to advance Fragile X-focused treatments and other research (at any stage). Whether you have a survey, a study, or a clinical trial, the NFXF Research Readiness Program has programming and services to fit your needs.
With an increasing number of current and potential Fragile X studies and trials, it is critical that we protect the best interests of patients and their families while optimizing Fragile X participant resources. The NFXF Research Readiness Program provides researchers with access to various Fragile X experts, including members of the Fragile X Clinical and Research Consortium, family stakeholders, Fragile X syndrome clinicians, trialist experts, and outcome measure experts (including members of the NFXF Team) who all function under a confidentiality agreement.
This collaborative pipeline facilitates conversations between academic and industry partners and Fragile X experts to ensure research is scientifically sound, relevant, and patient-centric. Access to these experts is tailored to best fit the needs of the researcher; prospective partners have the ability to engage early on in their process so we can provide recommendations from concept through the conclusion of the trial. We find that these conversations are most successful when they occur early on.
Submitting a Request
Early synergistic discussions support the development and execution of sound scientific research through careful protocol design and development, placing prospective patients' needs in the forefront of the discussion. For individuals or organizations developing a research project — clinical trials, research studies, and/or surveys — we recommend submitting a request using our form below to take part in the NFXF Research Readiness Program early in the project development stages.
Once your project has gone through our Research Readiness program, you will receive a list of FAQs for your organization to complete, which will be used to create the listing on our website, MyFXResearch Portal.
Additional research facilitation services are available, including targeted marketing services for recruitment purposes, CRO (contract research organization) support services, and other help and support tailored to your study-specific activities. If you'd like additional information, please note that in the form below. Hilary Rosselot can also be reached via email at hilary@fragilex.org.
Research Study FAQs and Resources
I'd like to receive
research updates!