Help ensure there is education, advocacy, research, and treatments for Fragile X
Today, someone heard "Fragile X" for the first time. Parents were told their child has Fragile X syndrome. A young woman was told she is a carrier of Fragile X and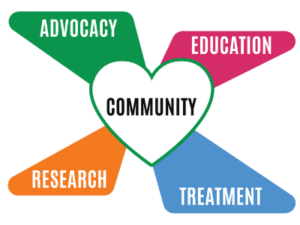 that it is the cause of her infertility. A spouse learns they need to prepare to be the caregiver – the tremors are only going to get worse.  
At every step of the way, Fragile X presents a unique set of challenges for parents and caregivers, because the landscape of managing life with Fragile X is unexpected and constantly changing.
Your support will help at every step of the journey:
It will provide the support and advocacy assistance families need.
It will ensure more educational resources, like our knowledge base, webinars, and the Fragile X MasterClass

™ continue to have updated content. 

It will help update treatment recommendations so medical providers, educators, parents, and caregivers have the best possible information.
It will grow the NFXF Data Repository

™ so research data can be shared – multiplying its impacts and getting us closer to better treatments and a cure.
We don't consider a diagnosis of Fragile X the end of a meaningful and successful life, just one that requires a different path than most of us are familiar with, and one that offers different opportunities than we expected. Your generous donation ensures that individuals living with Fragile X get the support they need.  
"Join us in supporting the National Fragile X Foundation and help support families living with Fragile X reach their full potential." – Laurie, Will, and Caroline Bridges
Yes! I want to support NFXF's work to support Fragile X families with advocacy, education, treatment, and research. 
Thank you!
The National Fragile X Foundation is registered as a 501(c)(3) non-profit organization. Contributions to NFXF are tax-deductible to the extent permitted by law. The NFXF's tax identification number is 84-0960471.