Fragile X Awareness
Countdown to World Fragile X Day — July 22, 2023
National Fragile X Awareness Day — and Month!
   2023 FRAGILE X AWARENESS DAY: Saturday, July 22, 2023
   2023 FRAGILE X AWARENESS MONTH: July 2023
In July 2000 the 106th Congress designated July 22 as National Fragile X Awareness Day. We took that a step further and consider the month of July as Fragile X Awareness Month.
Here you'll find information on all our awareness day (and month) activities each year in July, plus resources for raising awareness year-round, including:
Working alone, we couldn't do all that we do for awareness, but working together we amplify our impact. We educate, research, advocate, support, and more. Keep an eye on our Facebook page for up-to-date news and events.
During National Fragile X Awareness Month it's especially evident. Our combined voices amplify our messages far and wide. For the past few years during Awareness Month, our Facebook messages alone are seen one million times. One million! And that doesn't include all of the posters, t-shirts, media stories, your social media and blog posts, visitors to our website, talking to neighbors, teachers, doctors, etc. The list — and the impact — go on and on. You should be proud of what you do!
And yet, people still ask, Fragile what? Sadly, that isn't limited to your average person on the street. We still hear it from doctors, therapists, special educators, teachers, family members, researchers, and more. It is our job to answer:
Educate doctors about Fragile X syndrome, FXPOI, FXTAS, and other premutation carrier issues.
Help newly diagnosed families with information about Fragile X and what the future holds.
Bring Fragile X families into the community network of support and education at the NFXF.
Encourage researchers to research Fragile X.
Motivate families to participate in Fragile X studies and trials.
Advocate to Congress for research funding and policies that create better tomorrows.
Make therapists and educators aware of the treatments and interventions available now.
Tell extended family members what a diagnosis means.
And, of course, tell friends, neighbors, friends-of-friends, random people on the street, and, well, everyone, about Fragile X and how they, individually, can best support individuals living with it.
We all do this every day, but July is a special month to have a concerted effort!
Printable Fragile X Awareness Cards
Have you ever been in a situation where you needed a quick way to explain Fragile X to a stranger or acquaintance? Maybe there's an incident at the grocery store and some people begin staring. Explaining Fragile X can be a difficult topic to broach, so we're here with a quick way to introduce it.
Front Side
The front of the cards ask Have you heard of Fragile X? and includes our phone number and website address for more information. There are two different front designs for each.
Back Side
On the reverse side, our new designs are personalized depending on whether you're a parent, grandparent, other family member, or self advocate, plus a few simple facts describing Fragile X:
It is a genetic condition that can cause delays in the areas of learning, language, and social skills. It can also cause autism.
When my family member becomes overly excited or anxious you may hear speech or see behaviors that are unusual.
Most children with Fragile X syndrome look the same and enjoy the same things as other children.

Printable Emergency Card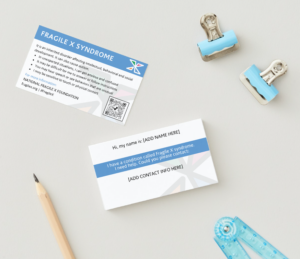 We also have an emergency card that you or your child can carry around should they find themselves in trouble. In addition to explaining Fragile X syndrome, it also has space for you to fill out emergency contact info and any medication or allergy concerns.
We have two ways for you to print an emergency card:
Download
You'll find a version in our downloadable awareness cards pack that includes space to write in the medical and contact information.
Canva
We also have an emergency card Canva template that you can edit to include the medical and contact info before you print it out. You can order prints directly through Canva (see the button in Canva at the top right that says "Print Business Cards"), or if you want to print them yourself or with another service, choose the "PNG high quality image" download option.
To print any of our cards, we recommend going to your local print store or using websites like Avery.com. All you have to do is upload the images and they will add it to the template of your choice. Visit Avery.com, to get started (we recommend template 8871 but others might fit too).
For the Canva template, you can also order directly through Canva (see the button in Canva at the top right that says "Print Business Cards").
Fragile X Awareness Zoom Virtual Backgrounds
Video meetings offer a unique opportunity to raise Fragile X awareness. By using a custom virtual background, you can raise awareness on each and every meeting. It will prompt people to ask about it, and if not, make them aware of it.
View each background image below, and we also have links to instructions for adding backgrounds to Zoom or Teams. Note that two of them are video files that add some subtle motion to the background image. Not all computers support video virtual backgrounds.
You may download the images and movie files individually, or fill out our short form just below the images and we'll email you a link to a zip file that contains all of the files.
Xtraordinary Individuals
We asked to learn more about the Xtraordinary individuals in your lives, and we heard from parents, professionals, friends, co-workers, grandparents, employers, cousins, doctors, and mentors (to name just a few), and more come in every day!