2021 FRAGILE X AWARENESS MONTH: July 2021
   2021 FRAGILE X AWARENESS DAY: Thursday, July 22, 2021
   2021 X STRIDES CLOSING CEREMONY: Saturday, July 31, 2021
This year marks the 21st year of celebrating Fragile X Awareness every July in the U.S. , which began when Congress designated July 22, 2000 as National Fragile X Awareness Day.
Over the years, the reach of our awareness messages has grown exponentially as our community has expanded and parent groups around the world joined in their own efforts to raise awareness of Fragile X. This year is going to be even bigger and better!
We have long delivered awareness messages and programs the entire month of July, and we are once again looking forward to the Fragile X community rallying together to share about what Fragile X syndrome is, the challenges and joys, the value of saying hi to those who aren't "typical," and more.
We have exciting opportunities for you to join in on:
Let us know you can help raise awareness of Fragile X
Sign up below to be kept up-to-date on everything Fragile X Awareness throughout July.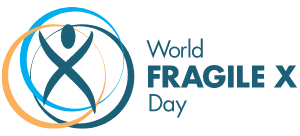 World Fragile X Day
In addition to our initiatives, we are partners in FRAXA's first World Fragile X Day initiative to join efforts around the globe on July 22, 2021, because Together, We're Stronger. Learn more.
Fragile X Awareness Cards
Have you ever been in a situation where you needed a quick way to explain Fragile X to a stranger or acquaintance? Maybe there is an incident at the grocery store and some people begin staring. Explaining Fragile X can be a difficult topic to broach, so we're here with a quick way to introduce it: Our printable Fragile X awareness cards!
Our new designs have a few simple facts describing Fragile X:
It is a genetic condition that can cause delays in the areas of learning, language and social skills. It can also cause autism.
When my family member becomes overly excited or anxious you may hear speech or see behaviors that are unusual.
Most children with FXS look the same and enjoy the same things as other children.
We have multiple versions for different family members, with the same descriptive language.
In addition, we have an "Emergency card" template which you or your child can carry around should they find themselves in trouble. In addition to explaining Fragile X syndrome, it also has space for you to fill out emergency contact info and medication/allergy concerns. Our downloadable awareness cards pack has a version you can write in the information or select our Canva template to adjust the text and either download and print or order them to be printed by Canva.
To print any of our cards, we recommend going to your local print store or using websites like Avery.com. All you have to do is upload the images and they will add it to the template of your choice (we recommend template 8871 but others might fit too). Go here to get started on Avery.com.
Fragile X Awareness Zoom Virtual Backgrounds
The proliferation of video meetings offers a unique opportunity to raise Fragile X awareness. By using a custom virtual background, you can share on each and every meeting. It will prompt people to ask about it, and, even if they don't, they will be aware of it.
Click an image below to download the individual background and follow the instructions to add it to Zoom or Teams. Note that two of them are video files that add some subtle motion to the background image. Not all computers support video virtual backgrounds.
If you would like a Zip file of all of the backgrounds, enter your name and email below.
We asked to learn more about the Xtraordinary individuals in your lives, and we are hearing from parents, professionals, friends, co-workers, grandparents, employers, cousins, doctors, and mentors (to name just a few), and more are coming in every day!
If you have someone to recognize as Xtraordinary, you can do that here.