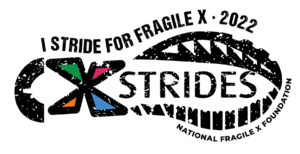 X Strides 2022 Virtual Run/Walk
July 1 – 31, 2022
Register Now for X Strides 2022!
X Strides is a fun and family-friendly virtual walk/run to raise awareness and support the mission of the National Fragile X Foundation. July is International Fragile X Awareness Month, and July 22 is World Fragile X Day, so what better time — July 1–31 — to walk, bike, run, scooter, or Stride for Fragile X!
Grab a family member or friend, create an in-person or virtual team, and join us virtually during the month of July to get some exercise and help raise awareness and funds for Fragile X from anywhere in the world!
Registration includes an X Strides t-shirt plus awesome prizes for top fundraising individuals and teams:
TOP TEAM FUNDRAISER
Up to 10 members each receive a custom NFXF t-shirt.
Call your friends, text your family, or vice versa, and get your team started today.

OTHER PRIZES
"Xtraordinary" Long-Sleeve T-Shirt
"Xtraordinary" Sweatshirt
NFXF SWAG gift bag
Free 2023 NFXF Advocacy Day registration
Meet Our Partners and Sponsors
NFXF X Strides is a proud partner of World Fragile X Day 2022!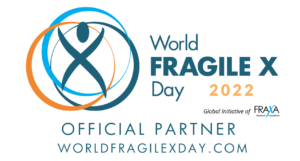 How to Link Your Facebook Fundraiser — and Amplify Your Impact
Our new system allows you to seamlessly fundraise for your event between your fundraising page and Facebook to reach even more friends and supporters and allow them to donate on their preferred platform.
Questions?
If you're a parent or caregiver and have questions about the information presented here, we'd love to hear from you! You can reach out to Kristin Bogart using the contact info or our contact form below.