Our Vision, Mission and Priorities
Fragile X syndrome is the most common inherited intellectual and developmental disability. Up to 1.5 million Americans have the gene premutation, and up to 100,000 Americans have Fragile X syndrome.​
The National Fragile X Foundation serves all those living with Fragile X with a focus on Advocacy, Education, Research, and Treatment with Community at the heart of everything we do.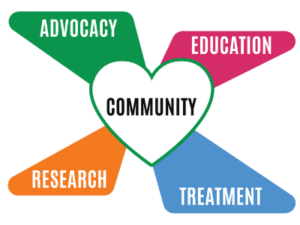 Our Vision
A world where every family is empowered to successfully navigate the Fragile X journey.​
Our Mission
To serve the entire Fragile X community to live their best lives by providing the knowledge, resources, and tools until, and even after, more effective treatments and a cure are achieved.
Our Priorities
We achieve our vision and mission with the support and focus on our Community through four strategic priority areas: Advocacy, Education, Research, and Treatment.
Below are some of the programs within each area. Many overlap, but they all work together toward our mission and vision of enabling Fragile X families to live their best lives.
Promoting Advocacy
We promote effective ways for families to successfully advocate for themselves and their children to meet the ongoing challenges of the Fragile X journey. Programs include:
Personalized Support Services ​
Community Support Network
Local volunteer-led support groups​
Virtual Community Social Events
For parents, siblings, and self-advocates
Providing Education
We provide valuable tools and resources to families to help manage the day-to-day challenges of life with Fragile X.​
Advancing Research
We facilitate research activities for families and professionals, underlining their value in the research process and how their active participation advances effective treatments and a cure.
Improving Treatment
We seek to improve access and availability of informed treatment options to promote knowledge for all patients with Fragile X.