You won't be surprised to learn that, according to the Society for Human Resource Management, nearly all HR professionals (97%) and people managers (92%) say that employees with disabilities regularly perform the same or better than their peers without disabilities.  Yet:
50% of HR professionals and 61% of managers have never participated in disability inclusion training
Less than 15% of organizations have invested in disability inclusion initiatives at work
There's a lot to do, and in April we announced that the National Fragile X Foundation joined forces with the new CEO Commission on Disability Employment. We are optimistic about the possibilities this creates, not only for our self-advocates but for all individuals with a disability who desire to work but don't have opportunities that fit them. For their future coworkers, who will be better off knowing and working with them. And for their employers, who will see, first-hand, the value they bring.
We also asked you — families and self-advocates with Fragile X syndrome — to share your stories of "Xtraordinary" employees and volunteers. This very special story was sent to us by the "proud mother" to Zachary Fraser-Thiede, Jennifer Thiede. Together, Jennifer and Zach turned his love of animals into his perfect job at the Monterey Zoo. Enjoy.
My 18-year-old son, Zachary, loves animals. He participated in a fundraiser to support cheetahs. He by far raised the most money for this event sponsored by Chris and Martin Kratt of the PBS television series Wild Kratts. The set goal for the fundraiser was to walk 2 miles, Zachary wanted to do more. He added an extra mile onto his daily 1 mile for 20 days and raised over $1,800 to help save the cheetahs of North America. He was so proud and happy. The cheetah is his favorite animal.
I wanted to bring more animal experiences into Zach's life and for a year I worked on the opportunity for Zach to work at a somewhat local zoo. The owner was hesitant, but when I told him my son's story and the joy that it would bring along with a sense of purpose for my son, he agreed.
Zach has been volunteering once a week for a few months now and has developed special relationship with the animals and zookeepers. The best part about volunteering at the Monterey Zoo is that Zach gets to say hello to all the animals and check to see if they are doing well.
One time he alerted a zookeeper of a bloody paw on the cougar and another time he pointed out that one of the North American tortoises was just about to dig deep enough under the fence to escape. Zachary also cleans the signs and points out spiderwebs to be removed.
—Jennifer Thiede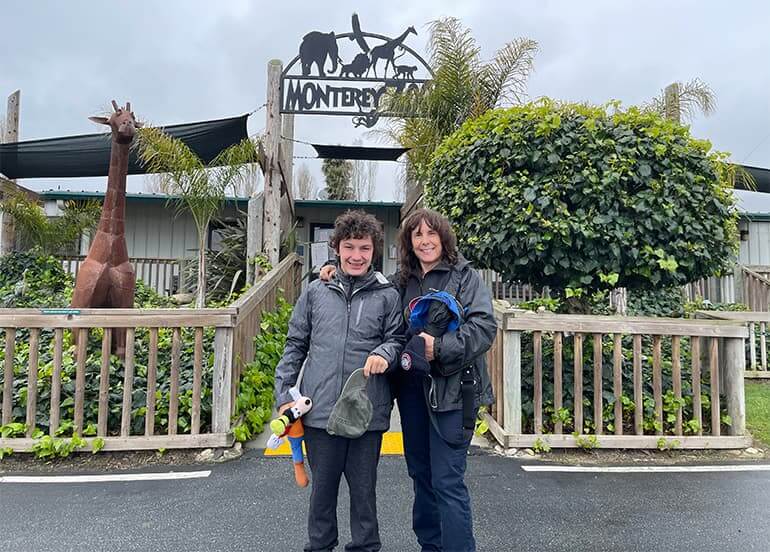 Jennifer also sent us this Q&A with Zach that the PBS children's series Wild Kratts↗ published after Zach won their Cheetah Challenge:
Cheetah Challenge Winner!
Meet Zachary, he won the Cheetah Challenge by raising over $1,800 for wild animals!
Favorite Creature? Cheetah!
What got you interested in wildlife? My family has always spent a lot of time outdoors in nature where we observe wildlife in natural habitats. We also go to wildlife refuge centers to learn about and see wild animals. I now volunteer at a local wildlife animal center.
What did you do for the Cheetah Challenge? The fundraiser goal was 2 miles, but I walk everyday, so I wanted to do more. I chose 20 miles and I did it! My friends and family know how much wild animals, especially cheetahs, mean to me. They believe in the cause and they believe in me. They also know that I have been an avid Wild Kratts fan for 15 years.
Thank you Jennifer and Zachary for sharing your story, and we look forward to hearing more from both of you.
Tell Us About An Xtraordinary Employee in Your Life
Do you know someone with Fragile X who volunteers or has a part- or full-time job? Let us know using the form below, we'd love to hear about them!
Adults with Fragile X Syndrome:
Making a Better Tomorrow
We have built the ultimate guide on transitioning into and continuing to care for adults with Fragile X syndrome. Our ebook includes chapters on:
Transition to Adult Services ♦ Transportation ♦ Housing ♦ Employment, Volunteering & Day Programs ♦ College & Post-Secondary Education ♦ Daily Living