Corey Gershenson lives with Fragile X syndrome. He also has two jobs — dishwasher at McKnight Place Senior Living and shipping and receiving at ARCH Design — and a volunteer gig at Mercy Hospital – St. Louis.
All three employers are invested in hiring team members with disabilities, including the boss at his job at ARCH Design: Mark Gershenson. You guessed it, Mark is his dad.
We wanted to learn more, so we asked Corey's three employers if they could tell us what it's like to work with him:
McKnight Place Senior Living
Corey is an amazing person who has a wonderful personality. Corey brings a positive and encouraging disposition whenever he works. He is funny and speaks to me all day long by saying 'hey Annette,' across the room, especially if I don't see him first. I enjoy seeing Corey whenever he works. He's my buddy.
Annette (Corey's co-worker)
Corey has to be one of my favorite people here. He always has a way to put a smile on my face every time he's around. His positive attitude toward work is real and honest. He never forgets to speak and asks how your day's going. The world could use a lot more Coreys.
Ryma (Corey's co-worker)
Mercy Hospital – St. Louis
Corey is a wonderful member of our team. His smile and personality brighten every room he enters. We commonly receive compliments from co-workers and hospital visitors on how much they enjoy working and interacting with Corey.
He has a go-getter attitude that shows through in the work that he completes. Once instructions for the day are given, Corey will quickly get to work and professionally complete all of his tasks. He is, and truly would be a wonderful addition to any team! We are so proud to have him at Mercy!
Cole (Corey's supervisor)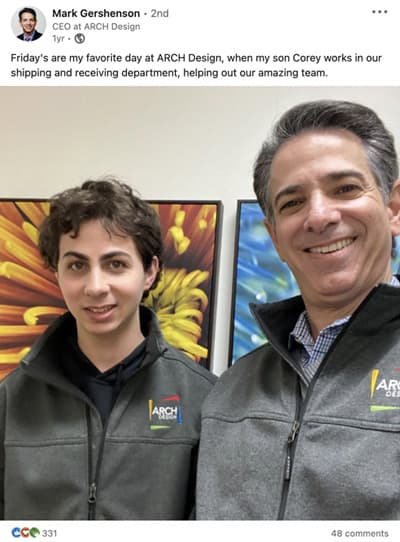 As for Corey's dad, Mark Gershenson is owner and CEO of ARCH Design, which specializes in integrated design solutions for interior environments. It's also an example of an employer inspiring other employers about the benefits of hiring employees with intellectual and developmental disabilities.
Mark brought his spirit of advocacy with him when he became the owner, telling us, "One of the primary reasons I purchased ARCH Design was to put adults with disabilities to work in a light manufacturing setting."
That's determination!
Mark also told us about how his hiring policy has transformed the culture and values at ARCH. He feels this is because the employees with disabilities bring out the best in everyone. They're also fully supported by their co-workers, who value their hard work and devotion.
Thank you Mark for sharing your and Corey's story. And for being an Xtraordinary Employer yourself!
And way to go Corey! You're an inspiration to us all, keep up the good work!
And finally, thank you to McKnight Place Senior Living, ARCH Design, and Mercy Hospital – St. Louis, for embracing inclusive hiring practices and recognizing the untapped potential of people living with disabilities.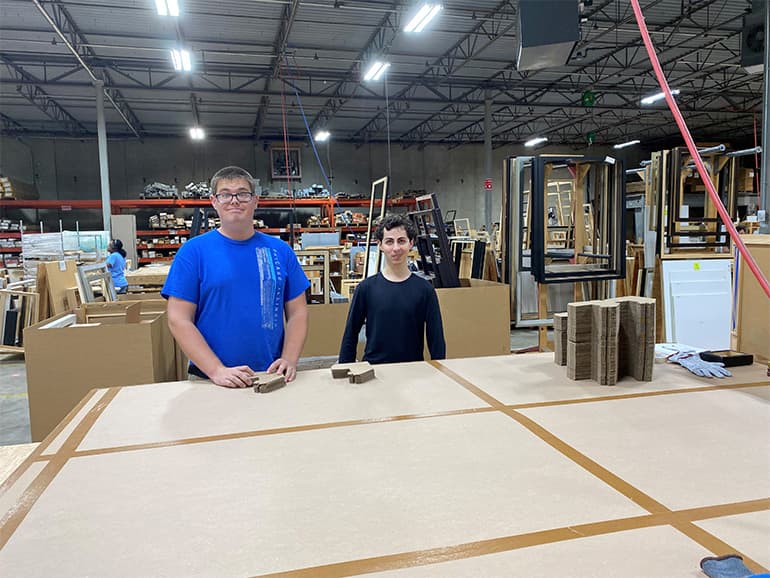 Above: Corey, right, with a co-worker at ARCH Design.
The National Fragile X Foundation Joins Forces with the New CEO Commission on Disability Employment
The National Fragile X Foundation is committed to expanding employment opportunities for individuals with intellectual and developmental disabilities through awareness, education, and public policy. We partner with the CEO Commission for Disability Employment to join forces with other disability advocacy groups, employers, and human resources professionals.
Tell Us About An Xtraordinary Employee in Your Life
Do you know someone with Fragile X who volunteers or has a part- or full-time job? Let us know using the form below, we'd love to hear about them!
Adults with Fragile X Syndrome:
Making a Better Tomorrow
We have built the ultimate guide on transitioning into and continuing to care for adults with Fragile X syndrome. Our ebook includes chapters on:
Transition to Adult Services ♦ Transportation ♦ Housing ♦ Employment, Volunteering & Day Programs ♦ College & Post-Secondary Education ♦ Daily Living
learn more
Hilary Rosselot
AAP/CDC course, "Identification, Management, and Caring for Children and Adolescents with Fragile X Syndrome" will be available for pediatricians and other healthcare professionals through August 1, 2025, on the AAP PediaLink platform.
Kristin Bogart
Meet David and Jason who together bake and sell dog treats. But that's not their only job: David works as a stocker at a grocery store and paints and exhibits his work at a local gallery. Jason works as a dishwasher and cart attendant and loves to swim.