How One Business Baked the Unique Talents and Passion of People with Disabilities into Their Business Model
By Dan Whiting
Paula and Anthony Fasciano are the proud parents to Matthew, 24, and Benjamin, 18, who both live with Fragile X syndrome. They are also very familiar faces at NFXF events. I can personally attest to their stellar advocacy capabilities at NFXF Advocacy Day.
Like all Fragile X parents, the Fascianos dream, plan, and worry about what the future holds for their boys. When you get a Fragile X diagnosis, your hopes and dreams for your children change, but you still have them. What will they do when they're done with school? What will get them out of bed in the morning? What will give them a sense of purpose? What will spark joy?
Special needs parents know that once a child with an intellectual/developmental disability gets through high school and any post-high school programs, opportunities for regular engagement with others diminishes. It's a challenge for caregivers to give them the opportunities they need, including having a job, whether paid or volunteer. Yet they know that work gives each individual a sense of accomplishment and provides friends, social interaction, and more.
Paula dreams and looks for opportunities for her boys constantly, and she didn't let a global pandemic set her back. In fact, it presented an opportunity she wasn't really looking for — to purchase a small, local bakery and reopen it as a bakery staffed by individuals with intellectual and developmental disabilities. Did she have experience running a bakery? No. Was opening a new food service business during the pandemic recommended by business consultants? No.
Thankfully her passion was the leaven that was kneaded (oops — needed) to get the idea started. Along with some other moms of adult children with special needs, they took the plunge and opened Bake Ability↗, located in Holicong, Pennsylvania. The community heard about what was going on and rose up to support it. Now, its 17 employees, all of whom have an intellectual or developmental disability, make it a success.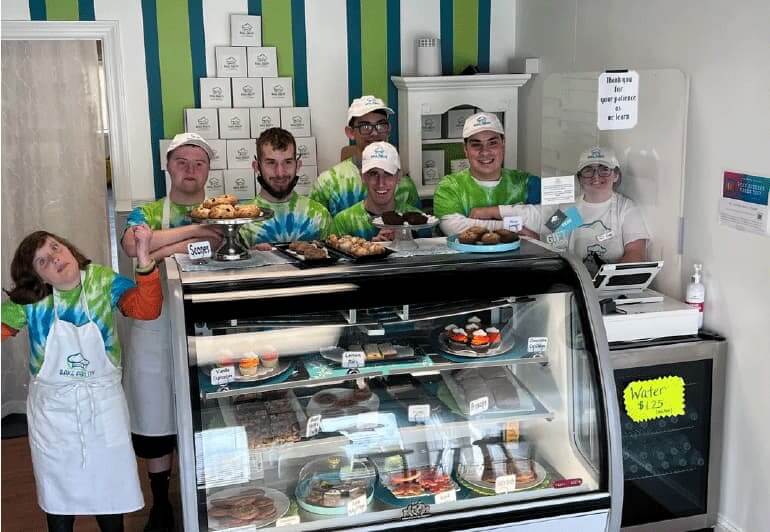 Above: Bake Ability employees and some yummy looking baked goods.
Bake Ability's business model is not about charity, it's about utilizing the gifts, talents, and passion of people with different disabilities. It's also about educating the public — and other business owners↗ — on the advantages of hiring loyal, hardworking employees who want to give their best and, at the end of the day, feel a sense of pride and accomplishment.
Yes, Benjamin and Matthew work there. Each employee works a shift or two a week and they also have three volunteers who help supervise the employees and are always present when the shop is open.
At the end of the day, this is about giving individuals with disabilities an opportunity for a better life. As Paula says, "These employees, who might not otherwise have the opportunity to have a work uniform, to come in, to have a paycheck, and to see how happy they are to come to work, to give it their all, and to try. To witness their happiness and sense of accomplishment — that's what this is all about."
Thank you to Paula and everyone else who is making Bake Ability possible. We also know this is just the first phase of a grand vision. We can't wait to see what comes next.
And to all of the employers who see potential in all employees and give them opportunities, thank you! Believing in them is making a difference in each of their lives.
The Fascianos have given a tremendous amount back to the Fragile X community to help lift everyone up, which they continue to do every day. Anthony joined our board of directors earlier this year and is sharing his more than 30 years of financial management experience as a member of the finance committee.
Paula has also been a board member, regional director, and co-leader of the New Jersey Fragile X Community Support Group.
Anthony spoke of the importance of the NFXF and why they became involved: "These two boys never cease to amaze us. They have overcome so much, have accomplished so much, and still have so much to do. The Foundation has been a very instrumental part of helping us get them to where they are today. We have been affiliated with the NFXF since Matty was 2 when he was first diagnosed with FXS."
Adults with Fragile X Syndrome:
Making a Better Tomorrow
We have built the ultimate guide on transitioning into and continuing to care for adults with Fragile X syndrome. Our ebook includes chapters on:
Transition to Adult Services ♦ Transportation ♦ Housing ♦ Employment, Volunteering & Day Programs ♦ College & Post-Secondary Education ♦ Daily Living
learn more
Hilary Rosselot
Given the limited data regarding future planning specific to individuals with Fragile X Syndrome (FXS) and the growing population of this community, this study sought to explore the concerns and challenges caregivers of individuals affected by FXS encounter when considering long-term support plans.
Hilary Rosselot
AAP/CDC course, "Identification, Management, and Caring for Children and Adolescents with Fragile X Syndrome" will be available for pediatricians and other healthcare professionals through August 1, 2025, on the AAP PediaLink platform.