Check out our first edition of the Fragile X Advocacy Newsletter!
For nearly 20 years, advocates have joined voices promoting Fragile X awareness, advocating for Fragile X research funding and legislation that will improve the lives of those impacted by Fragile X.
The newsletter contains updates on our 2023 Asks, current letters of support, legislation that has been introduced and legislation yet to be introduced that we are monitoring.
Communicating with your Members of Congress (MOC) offices throughout the year is a great opportunity to inform, educate and update them on topics you have previously discussed. We encourage you to share the latest version of the newsletter each time you follow up!
Here are a few ways you can keep in touch with your Member's offices throughout the year:
Make an appointment in your local in-district office to provide an in-person update. Meeting at the in-district office is a great opportunity to include your family in your visit! Bring a printed copy of the newsletter to share with the staff. We encourage you to follow up your visit with an email or better yet, a handwritten note!
Check with the local/in-district office if there are any upcoming events. Events like town hall, festivals, safety fairs, mobile office hours, etc. are great opportunities for you and your family to connect with your Member and/or staff.
Connect virtually! If an in-person visit is not possible, email the newsletter to your contact(s) at the office, along with an update about you/your family since you last met. You may still have contact information for staffers from your previous interactions.
Many advocates are participating in the Rare Across America 2023 summer visits this August. Please share this newsletter during your visits! We look forward to seeing your photos and hearing about your visits!
Thank you for advocating! YOU are making a difference!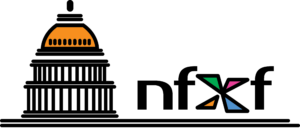 Save the Date!
We are planning our 20th NFXF Advocacy Day in Washington, D.C., February 26-27, 2024. We will share additional details later this year!
Learn more about NFXF Advocacy: https://fragilex.org/get-involved/advocacy/
learn more
Hilary Rosselot
PureTech Health has been awarded a DoD grant of up to $11.4 million from the DoD for their trial of LYT-300, oral formulation of allopregnanolone, in people with Fragile X-associated tremor/ataxia syndrome (FXTAS).
Hilary Rosselot
NFXF Board Member Jed Seifert recently represented the NFXF at the CEO Commission's Hill Day. Jed shares his reflections on this powerful experience.