Are you interested in an opportunity to meet with your Members of Congress this August?
Advocacy is about sharing your story and putting faces to Fragile X. By being vulnerable and honest, you can help your Members of Congress understand how Fragile X impacts you and your family's lives – the challenges and the successes. It is empowering to advocate for Fragile X during both the NFXF Advocacy Day and the August Congressional recess with other rare disease Advocates. Attending the NFXF annual in-person Advocacy Day may not be possible for everyone. We are excited to share this in-district and virtual advocacy opportunity from our partners at the EveryLife Foundation!
EveryLife's Rare Disease Legislative Advocates (RDLA) program is once again organizing their Rare Across America in-district meetings.
Details:
Registration is required for each individual and there is no cost to participate.
Virtual and In-Person meetings will take place with your Members of Congress and/or the Member's staff between August 7th and 18th.
All Senate meetings will be scheduled VIRTUALLY on zoom or similar. All House meetings will take place IN-PERSON at the local in-district office. You will have the opportunity during registration to request to meet with both of your Senators and one Representative.
RDLA will schedule the meetings for you and help you prepare by providing legislative resource materials, hosting pre-meeting training webinars and open office hours. No prior advocacy experience is necessary!
We will provide Fragile X-specific information and materials as the meetings get closer.
Important Dates:
July 11th: Registration Closes
July 18th: 2 PM ET – Rare Across America General Training Webinar
July 25th: 2 PM ET – Share Your Story with Policymakers Webinar
August 4th: 12 – 1 PM ET – Office hours with the RDLA team
August 7th – 18th: Meetings with Members of Congress
August 11th: 12 – 1 PM ET – Office hours with the RDLA team
Rare Across America is a great opportunity for you to introduce yourself to your Members of Congress or continue to build on your relationships. It is a great opportunity to inform and educate them about Fragile X and update them on topics you have previously discussed. Fragile X Advocates have been powerful participants in previous Rare Across America meetings, let's keep that reputation going!
Learn more and register: Rare Across America – Registration – EveryLife Foundation for Rare Diseases
Thank you for advocating! YOU are making a difference!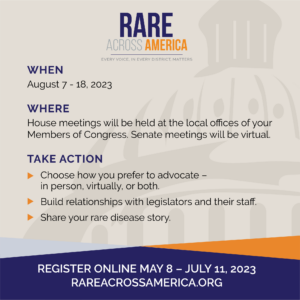 learn more
Hilary Rosselot
PureTech Health has been awarded a DoD grant of up to $11.4 million from the DoD for their trial of LYT-300, oral formulation of allopregnanolone, in people with Fragile X-associated tremor/ataxia syndrome (FXTAS).
Hilary Rosselot
NFXF Board Member Jed Seifert recently represented the NFXF at the CEO Commission's Hill Day. Jed shares his reflections on this powerful experience.