Check out our latest edition of the Fragile X Advocacy Newsletter!
For nearly 20 years, advocates have joined voices promoting Fragile X awareness, advocating for Fragile X research funding and legislation that will improve the lives of those impacted by Fragile X.
The newsletter contains information about our 20th NFXF Advocacy Day (February 2024), advocacy accomplishments, RARE Across America 2023, and legislation we are monitoring.
We encourage you to communicate with your Members of Congress (MOC) offices throughout the year as a way to inform, educate and update them on topics you have previously discussed. Share the latest version of the newsletter as a natural follow up!
Here are a few ways you can keep in touch with your Member's offices throughout the year:
Make an appointment in your local in-district office to provide an in-person update. Meeting at the in-district office is a great opportunity to include your family in your visit! Bring a printed copy of the newsletter to share with the staff. We encourage you to follow up your visit with an email or better yet, a handwritten note!
Check with the local/in-district office if there are any upcoming events. Events like town hall, festivals, safety fairs, mobile office hours, etc. are great opportunities for you and your family to connect with your Member and/or staff.
Connect virtually! If an in-person visit is not possible, email the newsletter to your contact(s) at the office, along with an update about you/your family since you last met. You may still have contact information for staffers from your previous interactions.
Check out our first edition of the Fragile X Advocacy Newsletter: https://fragilex.org/blog/fx-advocacy-newsletter-july-2023/
Learn more about NFXF Advocacy: https://fragilex.org/get-involved/advocacy/
Thank you for advocating! YOU are making a difference!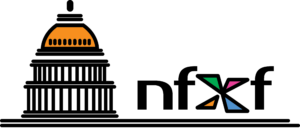 learn more
Missy Zolecki
Read and share the latest edition of the Fragile X Advocacy Newsletter with your Members of Congress offices!
Hilary Rosselot
The National Fragile X Foundation is proud to be part of the Everylife Foundation's newest report, The Cost of Delayed Diagnosis in Rare Disease: A Health Economic Study.