The Stedke Family
Kerry became connected to the NFXF in 2019 when her youngest son, Will, was diagnosed with Fragile X syndrome at the age of 4. Will was the first person in their family to be diagnosed with anything related to Fragile X.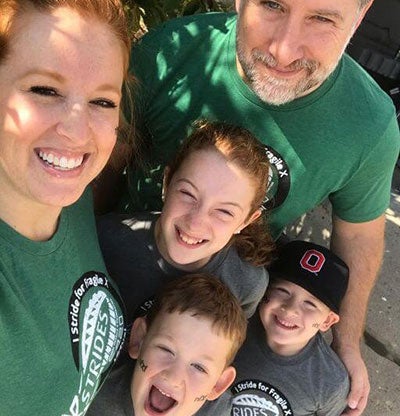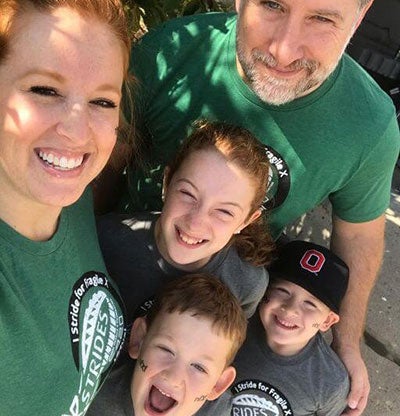 The youngest of three siblings, Will was typically developing when he was a toddler; just a little slower to talk than his siblings. His preschool teacher said he was defiant in class and was delayed, which came as a surprise to Kerry and Adam. After undergoing a screening at the elementary school, Will was thought to have hypotonia (decreased muscle tone).
Kerry, an OB/GYN physician assistant, used her medical training to begin researching all disorders associated with hypotonia. After reading a description of Fragile X and researching a little more, she asked her pediatrician for a referral to a geneticist to get her son tested. During her research, Kerry found the National Fragile X Foundation's website and found a wealth of useful information.
For Kerry, creating awareness about Fragile X and becoming an advocate for individuals with intellectual disabilities is critically important. Since Will's diagnosis, others in their family have been diagnosed as Fragile X carriers as well. With 1 in 151 women being carriers of Fragile X, she wonders how many others in her community may be carriers and just not know it. Carrier screening isn't always readily available or covered by insurance. Most people think it's not in my family, so they don't push to get tested. She hopes to see that change in the future.
Kerry has found the resources and support of the NFXF — from treatment guidelines and webinars, to the chance to connect virtually with others — to be incredibly useful over the past year and a half. She is especially appreciative of the thought and care that goes into each publication and resource for families.
"Thank you for all you do at the foundation! From the conference, to the webinars, to the helpful articles, to the supportive emails … I could go on and on.❤
"We are so thankful for all you do to support families with Fragile X!  We make this donation in honor of Will and everyone else with Fragile X, along with the siblings, parents, grandparents, and family members who love them."
Thank you to Kerry and Adam — and to Kerry's parents Jonelle and Jon McKee — who became monthly supporters of the NFXF in 2020!