The Sarup Family
For the fourth consecutive year (2017–2020), the Sarup family has held an #AnythingForFragileX fundraiser, raising over $50,000 for the National Fragile X Foundation while helping to raise awareness for Fragile X.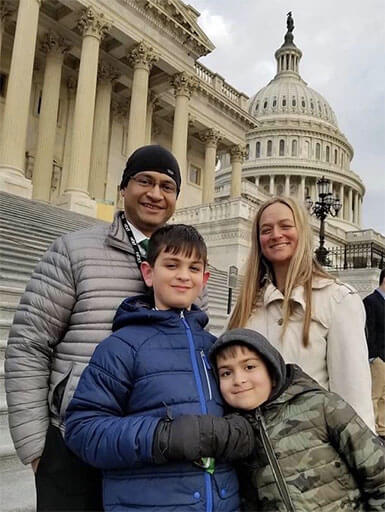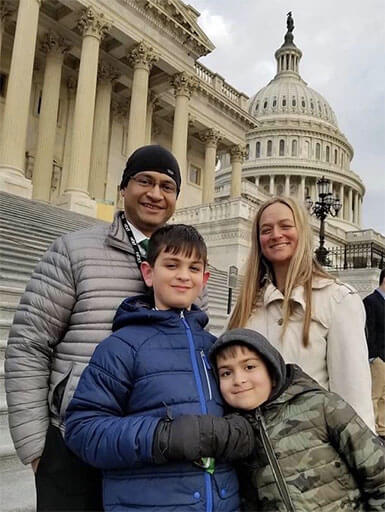 Their eldest son, Jordan, is 12 years old and has Fragile X syndrome. Jordan's mother Stephanie says, "We believe raising awareness is paramount since, according to the CDC, four in 10 families report they visited a health professional at least 10 times before their child was diagnosed." That's why in 2019, on July 22, the date officially recognized by Congress as National Fragile X Awareness Day, Jordan and his family climbed to the summit of Mt. Washington (the highest peak in the Northeastern United States) to raise awareness. It's also why Jordan rang the New York Stock Exchange closing bell that same year on July 5. And it's why Momma Cherri, a favorite of Gordan Ramsay's from his series "Kitchen Nightmares," filmed the YouTube episode "Momma Cherri's Fragile X Syndrome Burger."
In 2020, due to circumstances around the coronavirus pandemic that limited outdoor adventure, Jordan's father, Rajat, biked 100 miles in his dark basement on a sunny Saturday morning with his family cheering him on. Despite it being a difficult time to request support from others, they raised a record-breaking $6,000 in six days.
Stephanie and Rajat also believe that maintained funding requests for FXS at the Centers for Disease Control, National Institutes of Health, and Department of Defense are critical to improving the lives of those impacted. "We meet with Congress every year because we believe federal funding and public policy efforts move the dial the most toward finding a cure," said Rajat, who serves on the NFXF Board of Directors. Over the past 17 years, the efforts of National Fragile X Foundation advocates have helped secure more than $400 million in federal funding for Fragile X research and programming, more than one family could ever do alone.
Because awareness is a lifelong mission until there's a cure, their family has embraced a passion and strength of Jordan's, traveling, to help raise awareness by sharing their journey across the globe with Fragile X Syndrome.
Thank you, Stephanie, Rajat, and Jordan for your ongoing support of the NFXF!