By Hilary Rosselot
Healx Updates the Fragile X Community About their Fragile X Program and the IMPACT-FXS trial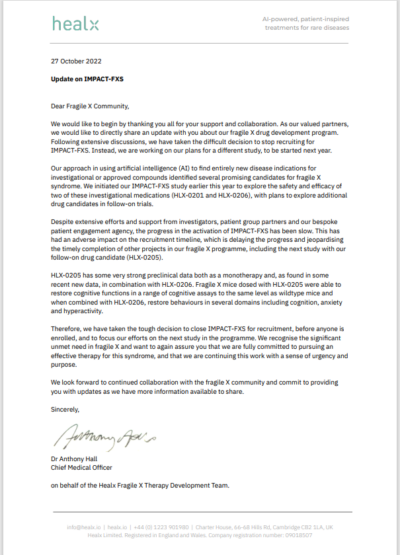 Healx shares the closing of their IMPACT-FXS trial with plans to open a new study in early 2023.
Read the full letter to understand the shift in their plans and what to expect: Community statement – Update on IMPACT-FXS
Healx continues to work extensively with the NFXF's Clinical Trials Committee within the Research Readiness Program to be sure their Fragile X program is scientifically-sound, relevant, and impactful.
Thanks, Healx, for your open and honest communication with the Fragile X community! We look forward to sharing your new study in 2023!
learn more
Hilary Rosselot
Dr. Jane Roberts and the research staff at the Neurodevelopmental Disorders Laboratory at USC are conducting a research study to learn about the development of infants with Fragile X syndrome and Fragile X premutation over the first few years of life.
Hilary Rosselot
The Brain and Biomarker Lab at the University of Oklahoma is conducting a survey to learn about experiences with research, particularly biomedical research, in families with Fragile X syndrome (FXS).