The Fragile X Resource Center of Missouri (our NFXF local chapter out of St. Louis) hosted "Hyperarousal and Anxiety in Fragile X," a two-day Learning Series workshop November 2–3, 2018, led by Fragile X experts Mouse and Tracy.
Attendees—including parents, family members, educators, and therapists—walked away with a better understanding of how hyperarousal and anxiety impact individuals with Fragile X syndrome.
A hands-on exercise designed to mimic the experience of hyperarousal helped everyone gain a deeper comprehension of the issue from the perspective of those living with Fragile X syndrome. The workshop then introduced the attendees to the phenotypical learning style, including the strategies Mouse and Tracy use and how to apply them.
Saturday focused on the FX Max Planning Tool for home, school, and work, and included breakout sessions for participants to work through FX Max in small groups. Learn more about the FX Max Planning Tool.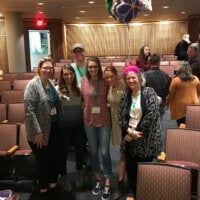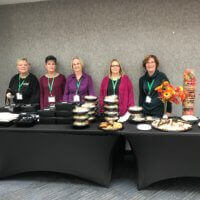 Special thanks goes to our sponsor St. Luke's Hospital, the Fragile X Resource Center of Missouri's Symposium Team, and the many other volunteers who made this event possible! As always, Mouse and Tracy shared their vast knowledge and expertise to help us all better support individuals with Fragile X syndrome.
Sarah K. Scharfenaker, fondly known as "Mouse," is co-founder of Developmental FX. She has worked in the fields of Fragile X syndrome and neurodevelopmental disorders for more than 25 years. She provided speech pathology services to the Denver Fragile X Treatment and Research Center at The Children's Hospital in Denver, and accompanied Dr. Randi Hagerman to the UC Davis MIND Institute to initiate its program. She has a masters in speech pathology from the University of Montana.
Tracy Murnan Stackhouse is co-founder of Developmental FX. She is a leading pediatric occupational therapist involved in clinical treatment, research, mentoring, and training regarding OT intervention and neurodevelopmental disorders, especially Fragile X syndrome and autism. She has a bachelor's degree in occupational therapy from Colorado State University, and a masters in developmental psychology/developmental cognitive neuroscience from the University of Denver.
More About This Chapter
Fragile X Resource Center of Missouri »
St. Louis, Missouri
stlouis@fragilex.org
Established in 1992, The Fragile X Resource Center of Missouri strives to unite the local community to enrich lives through educational and emotional support, promote public and professional awareness, and support research toward improved treatments and ultimately, cures for Fragile X. We believe that a diagnosis does not define a person, everyone is capable of eXtraordinary things!
More From Mouse and Tracy
Mouse and Tracy, aka Sarah K. Scharfenaker and Tracy Murnan Stackhouse, were featured presenters at the NFXF 2018 International Fragile X Conference where they presented:
Mindfulness and Me Moves
A hands-on experience to help those living with Fragile X with body-based relaxation.
FX Max: A Helpful FX Planning Tool for School, Home and Work
A unique planning tool (developed by Mouse and Tracy) used to reduce the tension in program planning by focusing on known features of FXS and matching them to best practice intervention.
Preparing Your Elementary/Middle School-Aged Child for Adulthood
About the importance of building skills from a young age to facilitate a child's transition to adolescence and adulthood. Watch the session »
More from the NFXF Blog
Dan Whiting
Mouth stuffing, by Mouse or anyone else, is an overfilling of the mouth with the selected food. For kids with FXS, it is usually an adaptive means of trying to succeed with eating.
Jayne Dixon Weber
What can we do to take care of ourselves and to help others? A mother takes a step back to imagine what life during a pandemic looks like through the eyes of her son, who has Fragile X syndrome.
Jayne Dixon Weber
Real-life tips from a mom, Jayne Dixon Weber, who's already going through this with her own son, plus a a quick video from Rebecca Shaffer to guide you through the process of getting your child comfortable wearing a mask.