Kara and Steve Frech received the diagnosis that both of their sons inherited Fragile X syndrome in 2006.  Kara and her mother attended their first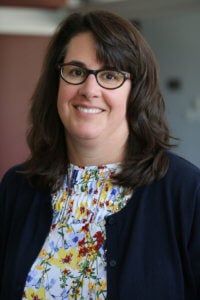 International Fragile X Conference in St. Louis, MO. Filled with information, Kara integrated and applied that knowledge into successful strategies for each of her sons. The National Fragile X Foundation has continued to provide the most up-to-date information and education to help with daily living. Kara and Steve have been able to share the information from the website, webinars, and conference with family, teachers, and therapists. The NFXF has also helped provide direct access to Internationally recognized experts from all different disciplines.
Andrew is the Manager of his high school freshman basketball team, plays sports and participates in Best Buddies. Jason is a social butterfly, and is the representative for his homeroom and loves to play challenger baseball. Having 2 sons diagnosed with Fragile X syndrome was unexpected, but Kara found the National Fragile X Foundation and the support continued from diagnosis to today.
Kara felt compelled to give back.  In 2012, Kara became a Leader in the Community Support Network for the National Fragile X Foundation.  Kara has successfully held many events over the years and has provided support to many other families in Southeastern Pennsylvania. This past November, she held their first ever X Strides event.  Over 300 people were in attendance, a tremendous amount of awareness and nearly quadrupling their fundraising goal, Kara has continued to Stand up to Fragile X.
Kara and Steve have chosen to participate in the Leadership Partner program of the National Fragile X Foundation.  The support and information they have received over the years has been an integral part in how both Andrew and Jason are thriving.
Will you join Steve and Kara in Standing Up to Fragile X? You can Donate Now securely online or discover Other Ways to Give.