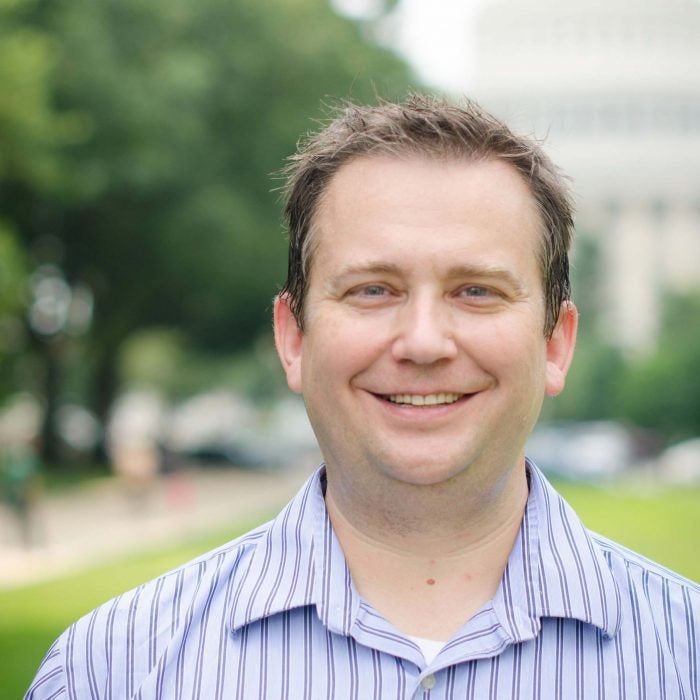 I am thrilled to be the newest member of the National Fragile X Foundation family. I have been impressed with the Foundation's work for several years now, as my friends and former colleagues are active members.
You, the FX community, possess the key to positive change in people's lives and in Washington – energy and passion. Former House Speaker Tip O'Neil is famous for saying, "All politics is local," and it rings true today as much as it did 40 years ago. Influence in Washington comes from the ground up.
Crucial to translating your passion, stories, and asks into action in Washington is a team dedicated to strategizing, connecting, writing and even the mundane. You have a great team already, and I am excited to expand our team's experience, network and capabilities.
Truth be told, my dream jobs include artisan woodworker and comedy writer, but my career path took a different turn. I have had the unique opportunity to work for nearly 20 years in public policy and communications in DC. I love my home state of Idaho, and I had the opportunity to work for Larry Craig, Idaho's long-time US Senator over 11 years. He gave me opportunities to work as a legislative staff member, a regional director in Coeur d'Alene, Idaho, and then on his press staff, ending my time as his Communications Director. To work across functions – legislative and communications – is unique in Washington, and it will add value to the NFXF, as this job encompasses communications and government relations.
Following my time with Senator Craig, I had the opportunity to serve in the Bush Administration as the Chief of Staff for the USDA Natural Resources Conservation Service (NRCS). I also established the communications capabilities for the National Alliance of Forest Owners and worked for nearly five years as a senior strategist implementing communication initiatives with the Army, Navy, Marines and Air Force – overseeing projects from messaging to web applications to short films.
My career feeds my passion for leveraging communications for advocacy. Most organizations don't perceive the strategic value in using communications – organizing the grassroots, gaining earned media stories, talking and listening on social media, etc. – to be more effective advocates. Organizations that recognize that, invest in it and implement it well are more successful.
Your leaders at the NFXF recognize the value and have chosen to invest in it, poising the NFXF to move forward to bigger and better things – serving more families, investing in more research, advancing government policies to help families living with Fragile X and other special needs.
This is why I am excited to be working with you. While I look forward to meeting and working with each of you, in the meantime, please socialize virtually on LinkedIn and Twitter or give me a call at 202-747-6203 or send me an e-mail to dan@fragilex.org.