By Stephen O'Quinn, Vice President of Medical Affairs, Zynerba Pharmaceuticals
Hello to everyone who will be attending the 18th International Fragile X Conference and the entire Fragile X community.
On behalf of the entire team at Zynerba Pharmaceuticals, we are very happy and honored to attend the meeting with you and to support the National Fragile X Foundation and the Fragile X community.
To all of the individuals living with Fragile X and their families and caregivers, to the clinicians and staff who help manage and treat Fragile X, we appreciate your remarkable support of the Fragile X community. Your efforts inspire us all.
Zynerba is committed to achieving our goal, with your help, of successfully developing a new medicine to treat the behavioral symptoms of Fragile X that, if approved, may improve the lives of children and their families living with Fragile X.
The next step in achieving our goal is to complete enrollment in the ongoing RECONNECT clinical trial.
You can learn more about the trial by visiting the RECONNECT booth (#14) at the conference in San Diego where we will have a team of individuals to discuss the trial with you.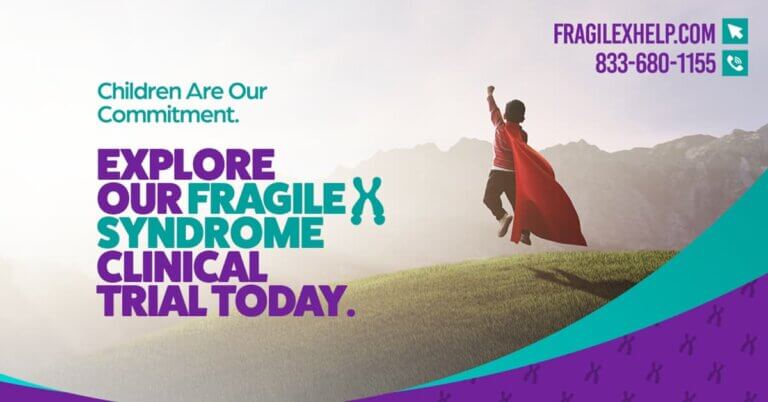 Don't worry if you can't attend in person. You may also learn more about the trial by:
You may apply in person at the meeting or online for your child to participate. Either way, you will have the opportunity to discuss whether your child may be eligible to participate and, if so, be referred to a clinical site closest to your home. Clinical sites are located in the U.S., Australia, U.K., and Ireland.
We are dedicated to supporting this incredible community and we are excited to see everyone at the conference in July.
learn more
Hilary Rosselot
Our 2022 NFXF awards are in! Learn more about each award and about each of our awardees.
Hilary Rosselot
Tetra Therapeutics is conducting a two randomized, placebo-controlled studies of BPN14770/zatolmilast to learn about the experimental drug's safety and efficacy for males ages 12-45.