Authors: David Hessl, Hilary Rosselot, Robert Miller, Glenda Espinal, Jessica Famula, Stephanie L. Sherman, Peter K. Todd, Ana Maria Cabal Herrera, Karen Lipworth, Jonathan Cohen, Deborah A. Hall, Maureen Leehey, Jim Grigsby, Jayne Dixon Weber, Sundus Alusi, Anne Wheeler, Melissa Raspa, Tamaro Hudson, Sonya K. Sobrian
Summary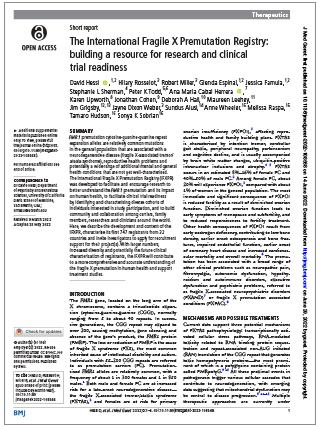 The International Fragile X Premutation Registry Advisory Committee just published their first publication, "The International Fragile X Premutation Registry: building a resource for research and clinical trial readiness."
People with the FMR1 premutation are at increased risk to develop a neurodegenerative disease (fragile X-associated tremor/ataxia syndrome, FXTAS), reproductive health problems (in females), and potentially a range of other mental and general health conditions. This paper introduces the International Fragile X Premutation Registry (IFXPR), developed to facilitate research to better understand the premutation and its impact on human health, to facilitate clinical trial readiness, and to build community among carriers, family members, researchers, and clinicians around the world. Here, we describe the development and content of the IFXPR, characterize its first 747 registrants from 32 countries, and invite investigators to apply for recruitment support for their projects.
Why This Matters
To date, there has been no registry effort for the Fragile X premutation condition. This registry is an important first step and can serve as a useful tool for clinicians and researchers in the field.
A registry that includes a large and diverse group of individuals with the fragile X premutation (as well as family members without the premutation) will greatly facilitate research, including future treatment and intervention studies. Treatments are not restricted to medications; they may include any intervention that could positively impact quality of life.
Next Steps
The IFXPR Advisory Committee has identified several future directions. Two future expansions for consideration include further partnerships with Fragile X clinics to validate clinical data and collection of laboratory data like Fragile X testing and other biological measures.  These steps would need to be conducted under an IRB-approved study and would help us learn more about risk, progression, and other characteristics of the Fragile X premutation.
Learn more and join the International Fragile X Registry.
Hessl D, Rosselot H, Miller R, et al. The International Fragile X Premutation Registry: building a resource for research and clinical trial readiness Journal of Medical Genetics Published Online First: 14 June 2022. doi: 10.1136/jmedgenet-2022-108568