Dr. Kathryn Argue Shares Information and Tips for applying for DOD's PRMRP funding
The NFXF hosted a webinar featuring Dr. Kathryn Argue, Deputy Program Manager of the Peer Reviewed Medical Research Program. Dr. Argue reviewed the details of the Congressionally Directed Medical Research Program, specifically the Peer-Reviewed Medical Research Program (PRMRP). Fragile X is an eligible topic within the PRMRP, as has been for over a decade thanks to the tireless efforts of NFXF Advocates.
Dr. Argue shared programmatic details, deadlines, and tips to support researchers throughout the application process. Dr. Argue finished the webinar by answering questions from attendees.
A few top tips from Dr. Argue include: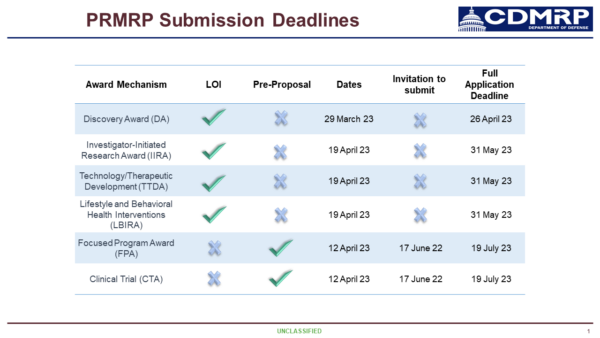 Align your proposal with the program-specific goals.
Fragile X includes all FMR1-associated conditions and disorders (FXS, FXTAS, FXPOI, Fragile X Premutation).

While not new, hereditary ataxia is also listed as an eligible condition within the PRMRP, which may be a good option for FXTAS projects. Learn more here.
Watch a recording of the webinar and view Dr. Argue's slides below.
We are grateful for partners like the PRMRP who fund Fragile X research. Thank you, Dr. Argue, for taking the time to educate us about this valuable funding opportunity. If you have questions about the PRMRP, please email help@ebrap.org.
The NFXF is also here to help! If you would like to participate in the NFXF's Research Readiness Program, consult with our Family Advisory Commitee, or partner in another way, please reach out to hilary@fragilex.org.
learn more
Hilary Rosselot
The Center of Health and Technology's (CheT) Outcomes Division is conducting caregiver interviews to learn about and determine the most important symptoms to individuals with FXS to create an outcome measure for FXS.
Hilary Rosselot
Researchers at the University of Wisconsin looked at the relationship and influence of FMR1 CGG repeats and stress on self-reported cognitive functioning in mothers.