The National Fragile X Foundation Celebrates Nineteen Years of Fragile X Advocacy on Capitol Hill
by Jaleesa Holden
Your voices have made a powerful impact for change. The significant accomplishments the nineteen years of advocacy the NFXF has achieved are:
ABLE Accounts, which are tax-deferred savings accounts for adults living with disabilities, similar to 529 college savings accounts.
The ACE Kids Act, to help children on Medicaid with "complex medical conditions," receive better, coordinated care, including across state lines.
The RAISE Act to improve federal, state, and local policies for caregivers of adults.
A robust program at the NIH, funding around $40M/year, including three Fragile X centers.
A line item at the CDC for $2M/year, which currently funds the FORWARD research project.
Fragile X research funding by the Department of Defense (DOD).
A comprehensive National Institutes of Health (NIH) Blueprint to guide research targeting all Fragile X-associated disorders.
The Orphan Drug Act to encourage private companies to repurpose drugs approved for other disorders for rare diseases/disorders.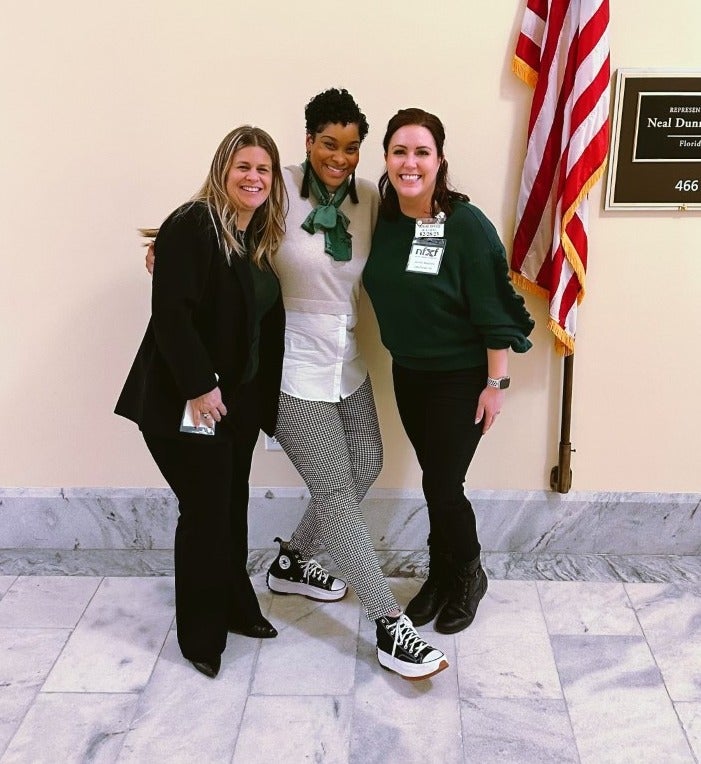 My Experience at Advocacy Day
I, Jaleesa Holden, had the honor of attending my first Advocacy Day as part of the National Fragile X Foundation's team and as a parent. As a first-time advocate for Advocacy Day 2023, I had different emotions. I was excited and nervous. I did not know what to expect.
The National Fragile X Foundation did a fantastic job preparing all participants to take on the Hill for Advocacy Day 2023. Whether you were a self-advocate, a first-time attendee, or a veteran who needed a refresher, the NFXF preparation before arrival to Washington DC included an Advocacy Master Class and an online webinar provided by the National Fragile X Foundation.
Upon arrival in Washington, DC, I met warm, familiar faces. Not because we have known each other for years, but because of our journeys with Fragile X and Fragile X associated conditions and disorders.
The journey to Advocacy Day was a busy one. The day before we took on the Hill, the NFXF hosted a thorough training to prepare the advocates to advocate. Advocacy training was a comprehensive review of the NFXF Asks and a briefing on how to tell your story best. At the end of advocacy training, we were unified and prepared to take on the Hill and advocate!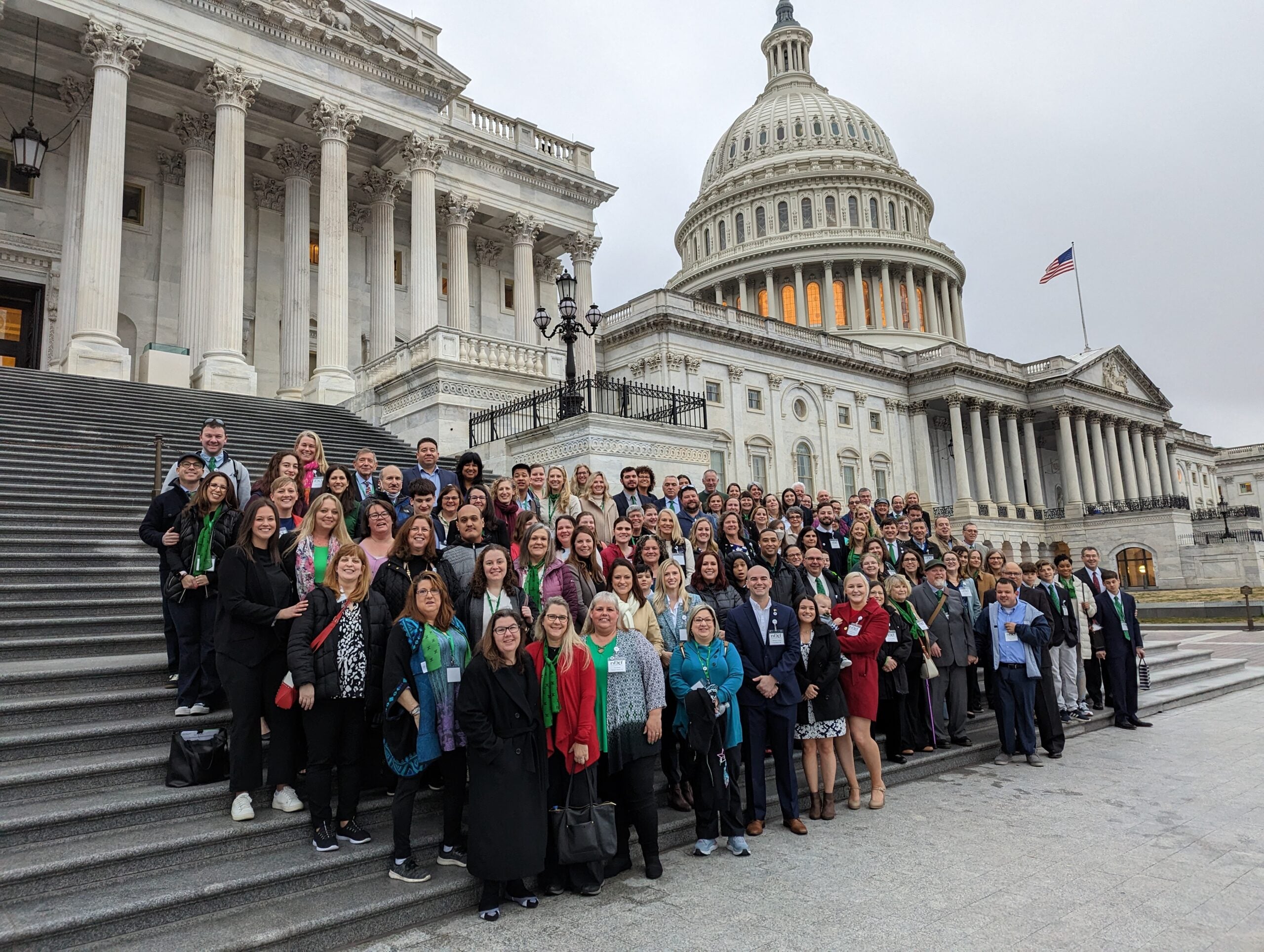 The NFXF departed to go to the capital at 6:15 am promptly. We shuttled by bus from the hotel to the Capitol. We arrived just as the sun began to rise. As we marched to the Capitol steps, there was indescribable energy. We all joined from different walks of life to advocate for Fragile X.
We opted for a photo on the steps of Capitol Hill. That will forever be a core memory. However, my favorite shot was of the self-advocates as they stood there proudly.
Next, we headed inside the United States Capitol Building for a tour of the Congressional House Floor. A special thank you to former Congressman Gregg Harper, who served as the NFXF personal tour guide! We sat in the congressional seats. Yes, the very same seats that our representatives are seated in when they vote on legislation. We learned of neat historical facts, such as in 1954 when four Puerto Rican Nationals fired shots onto the house floor. There is still a bullet hole in one of the podiums on the house floor. And the backs of the congressional seats are bulletproof. I gave the seat back a good hard knock.
After the Congressional House Floor tour, we were on our way to our meetings with our representatives. Most of the advocates had an identical meeting load with their state senators. There are two Senators for each state. Advocates also met with their Congressperson who represented their district. Each state has a different number of State Representatives; this is based on population density.
As we headed to our meetings, I thought, how will I find my way out? There were many hallways, and they all looked similar. Finally, we went down an escalator to the underground transportation tunnel. The tunnel is only accessible by staff. Talk about VIP treatment. Thanks again, former Congressman Gregg Harper! We rode the train in the underground transportation tunnel, which was fun. I rode with Miles and his family. Miles is a self-advocate. Miles loves trains. His dad David T. was a first-time attendee and all smiles. David T. said if it were up to Miles, they would ride the train all day!
I was accompanied by fellow Fragile X parent, Georgia resident Kimberly W. and her son Andrew. Andrew is a self-advocate. Andrew was a trooper. He took time off from his job at the Home Depot to participate in Advocacy Day 2023 on Capitol Hill. With all the preparation, I still had nervous jitters. We arrived at our first meeting. The office was full of busy energy. Phones ringing, calls answered, and emails headed out. An intern called us to meet with the representative's staffer. The staffer represented the senator or congressperson if they could not attend. I said my first word, and the rest flowed. It was just a conversation. This is a conversation I had many times before during my advocacy journey as a Fragile X parent. After the first meeting, the rest were a breeze. The day was long and rewarding.
At the end of Advocacy Day on Capitol Hill, I shook hands with former Congressman Gregg Harper. Who then told me he was proud of me. And to never place a ceiling on those affected by a Fragile X-associated condition.
Becoming active with the National Fragile X Foundation is very rewarding. There are many unique ways to accompany the NFXF during your journey with Fragile X. Subscribe to our weekly newsletter, fundraise to support NFXF programming, advocate with the NFXF, and share your journey with us by submitting an Xtraordinary Individual.