Successful FXCRC and Outcome Measures Meeting
Fragile X Clinical & Research Consortium Meeting
Our first in-person, treatment-focused meeting of the Fragile X Clinical & Research Consortium (FXCRC) since 2019 was a great success! Nearly 60 doctors, clinic coordinators and others from 20 of the 32 FXCRC clinics met at the Children's Hospital outside of Denver, CO earlier in October. The NFXF shared detailed information about its resources, facilitated conversations about Fragile X syndrome and the Fragile X premutation, and discussed future goals and directions. We also hosted a half-day meeting about the status of Outcome Measures for Fragile X syndrome the following day that included many of the participants from the FXCRC meeting.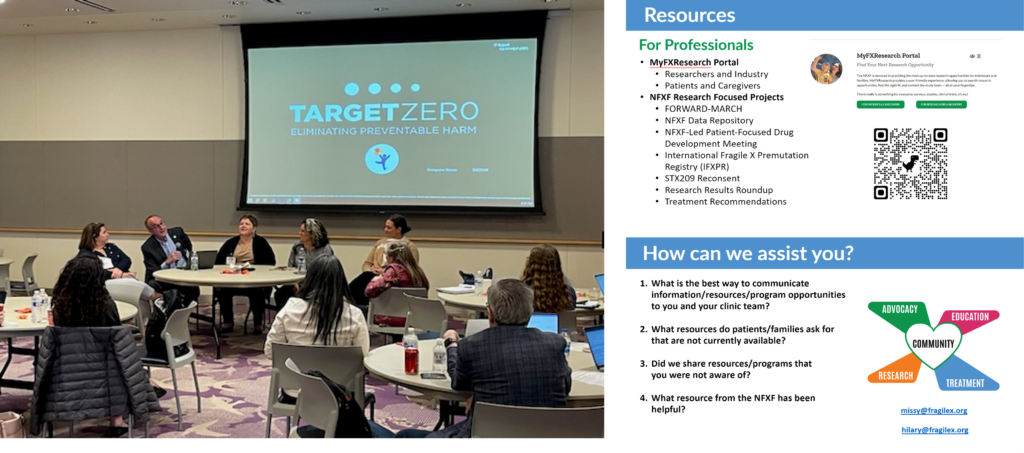 Status of outcome measures for Fragile X syndrome 
Members of the FXCRC clinics, the NFXF Team and Board, industry (pharma/biotech representatives), CDC and the FDA were present for presentations by top experts and the subsequent lively discussions. The FDA was active in the conversation, sharing their insights and suggested next steps. We received feedback from both researchers and industry that this meeting was a huge success and great progress towards the future. The NFXF will continue to explore opportunities to engage the FDA and others within the Fragile X community in the hopes of future treatments for Fragile X! 

Why do outcome measures matter?
We want successful trials, and in order to have successful trials, we need the right tools to measure any change the treatment being studied may be making. Without the right tools measuring change, we cannot prove that the investigational treatment is making a difference. These tools are called outcome measures. The outcome or endpoint of the trial is important to measure, as this is part of how FDA makes decisions determining the success of the trial. Outcome measures provide reliable evidence that treatment is making a difference. (The Importance of Outcome Measures in Healthcare: Key Things to Know (proemhealth.com))
The NFXF is committed to advancing research
Outcome measure development and engagement with the FDA and other agencies is only part of our research work. Learn more about our research programming here: 
learn more
Hilary Rosselot
Learn more from Dr. Liz Berry-Kravis about the important updates to the Tetra trials to make participation easier!
Kristin Bogart
A Message to the Fragile X Community from, Jeffrey M. Dayno, MD, President and Chief Executive Officer of Harmony Biosciences