Advocacy Day 2019 is done, and by all measures, it was another success. Fragile X advocates visited 56 Senate offices and 61 House offices – all of their home districts.
We had fun, connected with old friends, and met new ones. But, most importantly, we advanced Fragile X research, legislation to improve medical care for individuals with Fragile X, and raised awareness of Fragile X in Congress.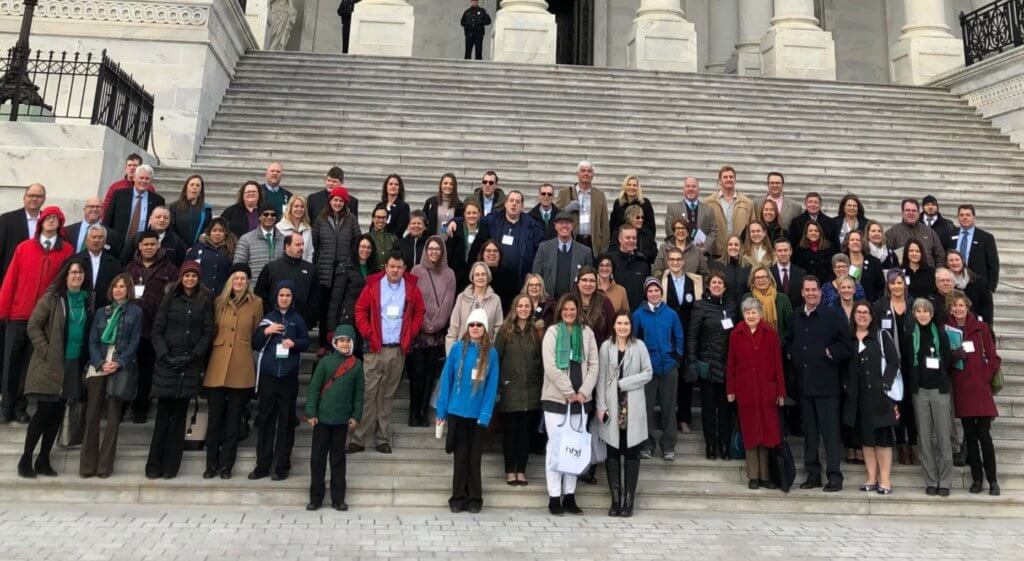 Time and again, throughout the day, we saw how respectable, solution-oriented voices from home districts help move the needle. Never was it clearer how being in DC, every year, gets things done. Here are some highlights:
Our NJ team got Rep. Chris Smith, R-NJ-4, to agree to serve as the co-chair of the Fragile X Caucus, replacing longtime Fragile X parent and champion, Gregg Harper, following his retirement from Congress. This wouldn't have happened without that hometown ask and the office seeing us each year and being remembered – in a good way.
We met with 7 of the 8 key Appropriations Committee chairs and ranking members that fund Fragile X research at the NIH, CDC, and DOD. These are hometown voices relaying how their support of research makes a real difference for their constituents.
We received positive interest from both sides of the aisle on all of our asks. We asked for:

Research: Continued support at the NIH and CDC and restoring the eligibility for DOD research funding.
HEADS UP Act: Increases access to medical care for all individuals with intellectual and developmental disabilities through loan forgiveness for doctors, increased reimbursement rates for Medicaid and Medicare, and funding for community health centers that serve the individuals and their unique medical needs.
ACE Kids Act: Improves Medicaid services for children with "complex medical conditions," including Fragile X syndrome by having one central facility coordinate care across multiple providers, and allowing patients to see specialists in other states.
We raised awareness of Fragile X, especially among new members of Congress. 1/5 of the House are new! 
We got an update on current Fragile X research and how federal investments make it possible from Dr. Elizabeth Berry-Kravis.
We received hot-off-the-presses news from Don Bailey on the status of the NIH Fragile X Strategic Plan and continued funding of the Fragile X research centers beyond 2019. The bottom line is the Centers will continue to be supported and their priorities will align with and advance the research priorities in the Fragile X Strategic Plan.
Now starts all of the follow-ups and continued advocacy throughout the year to "close the deal." You can help from home. Look for announcements about our new "Mail Congress" program to help your letters and emails standout and get noticed (hint: personal delivery service), our local advocacy program, and more exciting news!
If you would like to continue to receive advocacy specific news, please sign up for our advocacy emails and our Fragile X Advocacy Facebook group – bonus: you can see tons of photos from our latest Advocacy Day.
Finally, a special thank you to all of the families, siblings, and self-advocates who took their time and money to come to Advocacy Day and to NFXF donors who also help make Advocacy Day possible.