For the third year in a row, we are partnering with Rare Disease Legislative Advocates, a project of the EveryLife Foundation, to schedule Fragile X advocacy meetings with members of Congress and their staff during the August recess. These take place in home districts so advocates don't need to travel to DC and members of Congress hear from folks at home. We have a record number of advocates this year – 71 – and are the largest group participating!
In case you are an advocate who missed the email or are just curious what we are asking for, here is the email sent to advocates on 7/26/2019 to prepare for their meetings.
---
Thank you, again, for your patience waiting for the materials for the advocacy meetings in August. Partly I was waiting for Congress to take some actions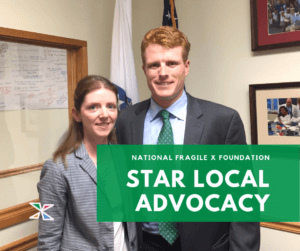 before they recess – which they did – and partly we have been jammin' with Awareness Month. Thank you to all of you who have shared, wore shirts, donated, etc. We are moving the needle.
First – if you don't hear about any meetings being scheduled by tonight, please let me know. They are supposed to send out updated schedules this evening.
Second, I know I am writing to both experienced advocates and new advocates. If you are a veteran, thank you for coming back year after year. If you are new, thank you for joining our efforts. If, after reading this email you still have questions, click the button at the bottom of this email. I am gauging interest/need/availability for a conference call next week to answer any remaining questions.
Third, as you prepare for your meetings, please remember that there will likely be other participants there. Some may be Fragile X advocates, some may be advocating from other disease/disorder perspectives. Be prepared to spend no more than 5 minutes presenting about Fragile X and our asks.
Fourth, here is some helpful information:
Fifth, grab a photo at your meeting and fill out the after-meeting report following the meeting so we can track responses from the offices.
Finally, if you are nervous and anxious, you are not alone. If, you are not alone in your anxiety, and, second, you are not alone in your support. I am here to answer any questions and help you along. Just remember – they are people too, tell your story like they were someone you just met or are a new teacher or clinician, and be nice. Treat them like you would want to be treated.