As I mentioned in the last Advocacy Update, there are several items before Congress right now (notably healthcare reform, Medicaid and SSI/SSDI) that could negatively impact families with Fragile X.
The NFXF sent a letter to key members of Congress today to raise awareness of Fragile X, address these issues, offer opportunities to dialogue and work towards solutions and establish stronger, longer term relationships.
You can help:
You can send the NFXF letter to staff members you have an existing relationship with or deliver it personally to staff or a member of Congress at an upcoming town hall or other local event.
You can send a more personal letter to your members of Congress. A draft, suggested letter is available here with instructions.
Become a STAR Local Advocate and work year-round on these and other issues. Apply here.
There are several members of Congress who will be especially critical in influencing these legislative proposals. If you live in one of these states, we are especially interested in your help: AK, AR, CO, KY, MI, MN, NC, NV, OH, TN, UT, WI and WV.
While you are working hard, the NFXF is:
Reaching out to key members of Congress, including the FX Caucus, with our message.
Investing in some digital ads micro-targeted to Congressional healthcare staff members to raise awareness of Fragile X with influential policy makers.
NIH and CDC Appropriations
Fragile X advocates asked Senators to support continued Fragile X programs at the CDC and NIH. They responded with a joint letter to the Senate Appropriations Committee to urge support for Fragile X. A special thank you to Senators Isakson (GA) and Stabenow (MI) for leading the effort. Other cosigners are:
Blumenthal (CT)
Gillibrand (NY)
Markey (MA)
Murphy (CT)
Peters (MI)
Reed (RI)
Warren (MA)
If your Senator signed the letter, take the time to send them a thank you note – or include it in your note about healthcare and budgets. If you live in Washington or Missouri, write Senators Murray or Blunt, who oversee the funding for NIH and CDC.
If you have any questions, need help or have feedback from the offices, please let me know at dan@fragilex.org.
Thank you.
Dan Whiting
Director of Communications and Government Relations
Author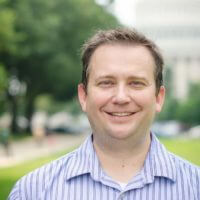 Dan Whiting
is the Director of Communications and Government Relations. He has nearly 20 years of experience in public policy and communications, serving on both the legislative and communications staff of a US Senator for 11 years, in the Bush Administration as Chief of Staff at the USDA Natural Resources Conservation Service, supporting advocacy at a national trade association, and, for nearly five years, as a senior strategist for communication initiatives across the DOD.