South Florida Fragile X Clinic (SFFXC)
A member of the National Fragile X Foundation's Fragile X Clinical & Research Consortium (FXCRC)
The South Florida Fragile X Clinic (SFFXC) at the Mailman Center for Child Development, University of Miami Miller School of Medicine, is Florida's sole tertiary care facility providing comprehensive care and treatment to children and adolescents affected by Fragile X. The clinic also offers compassionate support, services, and referrals for families to local and community programs.
The Team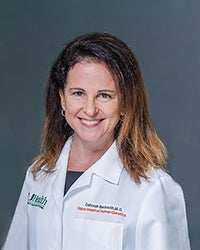 Deborah Barbouth, MD, FACMG, FAAP, Director of the SFFXC 
Dr. Deborah Barbouth joined the University of Miami Miller School of Medicine faculty in July 2005, marking the beginning of an enriching and transformative chapter in her career. Within the renowned Dr. John T. Macdonald Foundation Department of Human Genetics and Genomic Medicine, she holds the position of Associate Professor. She has obtained board certifications in Pediatrics, Clinical Genetics, and Biochemical Genetics. She earned my medical degree magna cum laude from Maimonides University in Buenos Aires, Argentina, and further trained in Pediatrics at Jackson Memorial Hospital/University of Miami. Deborah's thirst for knowledge and commitment to patient care led me to complete clinical training in Medical Genetics at both the Albert Einstein College of Medicine and the University of Miami, followed by additional specialized training in clinical biochemical genetics. 
Throughout her career, Dr. Barbouth has contributed to the scientific and medical communities. Presenting numerous abstracts and platforms at esteemed scientific and professional gatherings, she has shared valuable insights and research findings. She has also played a significant role in shaping future medical professionals through her involvement in teaching Genetics at the Medical School for over 15 years. 
Dr. Barbouth lives in Miami, and says she finds joy and fulfillment in her roles as a wife and mother of four children. She embraces a balanced lifestyle, and indulges in activities like yoga, reading and walking. Her passion for Integrative Medicine has recently blossomed, and and she looks forward to pursuing a fellowship in this field as part of the Osher Collaborative Faculty fellowship program to further expand her knowledge and skills in this evolving discipline. 
Rena Pressman, Genetic Counselor
The clinic's multidisciplinary team is coordinated by the experienced and dedicated genetic counselor, Rena Pressman, who brings a wealth of knowledge in Fragile X Syndrome to the clinic. They are grateful to have a specialized clinic at Jackson Memorial Hospital that caters specifically to the needs of children and adults with special needs during the critical transition to adult services. This collaboration allows the team to provide comprehensive care and support to individuals with Fragile X syndrome throughout their lives. 
With the expertise of their team and the collaborative efforts with other specialists, SFFXC strives to deliver exceptional care and make a positive impact on the lives of their patients with Fragile X and their families.  
Dr. Barbouth shares, "Over the course of 14 years, the clinic has become a cherished part of my life, offering compassionate care and support to countless families, some of whom have become dear friends. We have had the privilege of serving over 200 families from around the world, with a special focus on Latin America, given our bilingual capabilities. As the medical director of this multidisciplinary clinic, I have been fortunate to contribute to the clinical care of patients and delve into the realm of translational genetics. The SFFXC stands as Florida's sole tertiary care facility providing comprehensive care and treatment to children and adolescents affected by Fragile X, while also offering compassionate support, services, and referrals to local and community programs. With the long-term vision of having a Fragile X clinic that serves all members of a family, I expanded the clinic to involve an adult neurologist and psychiatrists in order to serve adults with Fragile X-associated tremor/ataxia syndrome (FXTAS), adults with Fragile X, and mothers of individuals with Fragile X.  Since 2011, I have been actively involved in multiple FDA clinical trials for Fragile X syndrome, serving as principal investigator (PI) and Co-PI. I am mentoring several medical students on research projects designed to improve patient care and the overall understanding of Fragile X syndrome. As an active member of the Fragile X Clinical and Research Consortium, I participate in developing best clinical practices for Fragile X.  We also collaborate in the Fragile X national registry and database, FORWARD-MARCH."
Thank you South Florida Fragile X Clinic and Dr. Barbouth!