This Monday—July 22—is National Fragile X Awareness Day. It is the one day a year, right in the middle of National Fragile X Awareness Month, when we double-down, nay 100-down, our combined efforts to raise awareness of Fragile X. Our combined voices ring far and wide. We wear green, sport pins, share on social media, hold events, light up buildings around the country (thanks FRAXA), secure proclamations from our elected officials, and more. We are limited only by our creativity.
This year, let's also do something called Pack Your Lunch for Fragile X. Share with your coworkers, friends, and neighbors about Fragile X. Urge them to:
Wear green on Monday for Fragile X.
Pack their lunch instead of buying lunch, and with the money they save donate $10 to the National Fragile X Foundation to help provide support, awareness, education, and research for Fragile X.
If just half of our 14,500 followers on Facebook get one person to donate $10, we will raise over $72,000! Imagine the impact of packing your lunch just one day! Now imagine you and your spouse! Or you, your spouse, and two coworkers each! It snowballs!
Step it up! Invite those who pack their lunch to join you for lunch and offer to answer any questions they have about Fragile X.
Feeling extra generous? Offer to buy the pizza if they donate at least $10.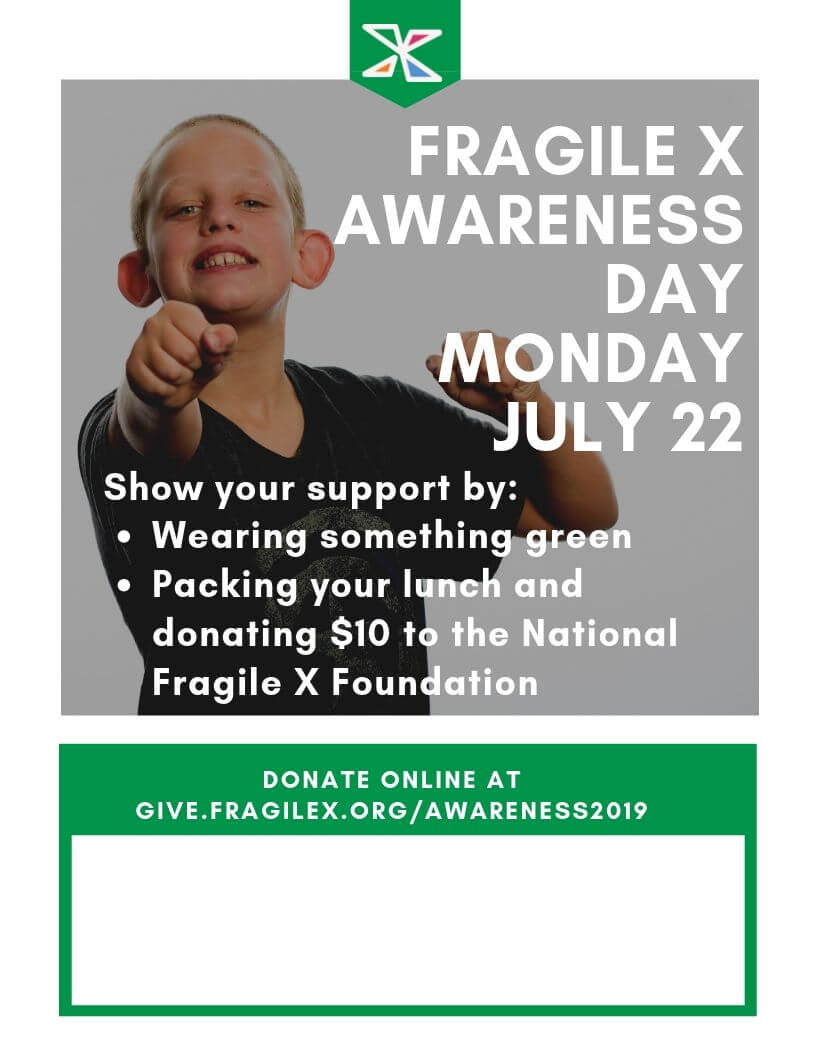 Fragile X Awareness Day Poster
Click to view as PDF
Let's join together:
Send out a note to your coworkers, friends, and neighbors.
Hang the poster in your lunch room—there is space to write in your personal details.
Take photos and share them using #PackYourLunchForFragileX.
If you want to participate, fill out the form below and we will email you the poster and a What is Fragile X flyer to print (or you can download by clicking on the image at right). By registering you will also be entered into a drawing for one of three $50 Amazon gift cards and several Fragile X swag bags.
Have fun!!!!!