If you have ever spent more than five minutes with Dillon Kelley, you know two things—you know about Fragile X and you know that, one day, Dillon Kelley will be a member of Congress.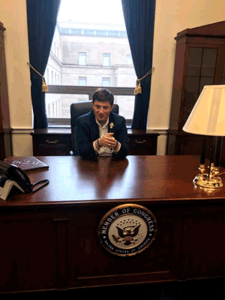 Dillon is a passionate, hard-working, and outgoing guy who has Fragile X syndrome.
This fall, Dillon worked on Capitol Hill as an intern for the Committee on House Administration. The Committee is currently chaired by Rep. Gregg Harper, whose son, Livingston, has Fragile X syndrome. Chairman Harper has been a champion for Fragile X and for those living with disabilities during his 10 years in Congress. Dillon was participating in a program to help those living with intellectual disabilities intern in Congress. The program was started by Harper in 2010. The Committee works with George Mason University's LIFE Program—a post-secondary education program for young adults with intellectual disabilities—to place students in House and Senate offices. So far, nearly 200 offices have participated.
Chairman Harper is retiring from Congress, but the program will continue after his departure, under the recently renamed, Gregg and Livingston Harper Congressional Internship Program for Individuals with Intellectual Disabilities. Chairman Harper said, "I and many others on Capitol Hill have been positively impacted by the influence and hard work of these interns."
Dillon took some time to write for us some reflections on his internship:
My internship experience has been very good because I got to learn how a committee runs, and I also got to sit in the Senate hearing for United States Supreme Court Judge Kavanaugh. My daily tasks included various errands and assisting with key events that the Committee hosted, such as New Member Orientation and the Professional Development Retreat for schedulers. I also assisted interns who were a part of the Gregg and Livingston Harper Congressional Internship Program for Individuals with Intellectual Disabilities. I got to attend different Congressional briefings throughout my internship on Capitol Hill and walking around the Hill is very cool. I was very happy that I got to work on Capitol Hill for four months and working on the Committee on House Administration and learning a lot about the Committee from my colleagues has been a great experience. I think everyone who has the chance should participate in an internship on Capitol Hill. It is an awesome place to work and to get your foot in the door on important policies.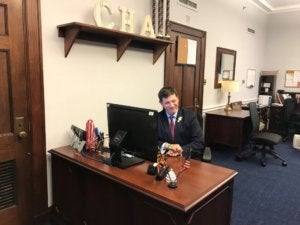 It isn't the first time Dillon has been on the Hill—he has participated in the NFXF Advocacy Day for years, and, as Dillon will tell you, he will be back one day as a member of Congress.
Dillon and the entire Kelley family work hard every day to Stand Up to Fragile X through advocacy, awareness, fundraising, and more. Will you join them? You can Donate Now securely online or discover Other Ways to Give.
 Join Us for Advocacy Day
NFXF Advocacy Day is a time when around 150 individuals affected by Fragile X join together to advocate Congress for research and policies to help Fragile X families. We would love to have you join us! Dillon will be there along with around 25 other self-advocates. Learn more and read about a past Advocacy Day.