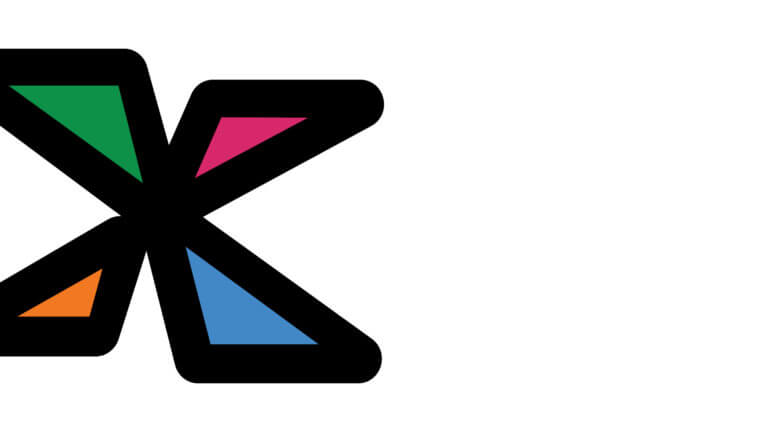 Marcae Robertson
Marcae Robertson was nominated by her husband, Nick Robertson
What makes Marcae Xtraordinary to you?
Marcae is there for Hope all the time. She has willingly put her life on hold for years to help Hope continue to see goals met and Hope move forward. Marcae was a special needs teacher before Hope was born, so she had a heart for special needs children. Moving from teacher to full-time parent was a great sacrifice, but Marcae has continued to step up over and over.
—Nick Robertson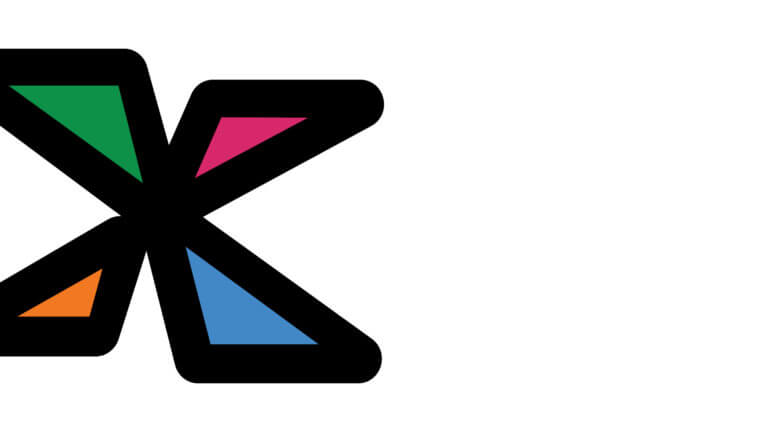 Deby Burgess
Deby Burgess was nominated by here sister-in-law Kerri Bower
What makes Deby Xtraordinary to you?
Deby Burgess is the world's greatest advocate for Fragile X. Her son John David has Fragile X syndrome and since his diagnosis when he was a baby, she has immersed herself in the Fragile X community, gathering all the information available and sharing this information with anyone needing it. She has been a wonderful source of comfort and information to many, but especially to our family as our daughter is a permutation carrier. Deby has worked hard on Becca's behalf to make sure she is as informed as possible. Giving her hope and comfort. Deby Burgess is absolutely one of the most Xtraordinary people I know.
—Kerri Bower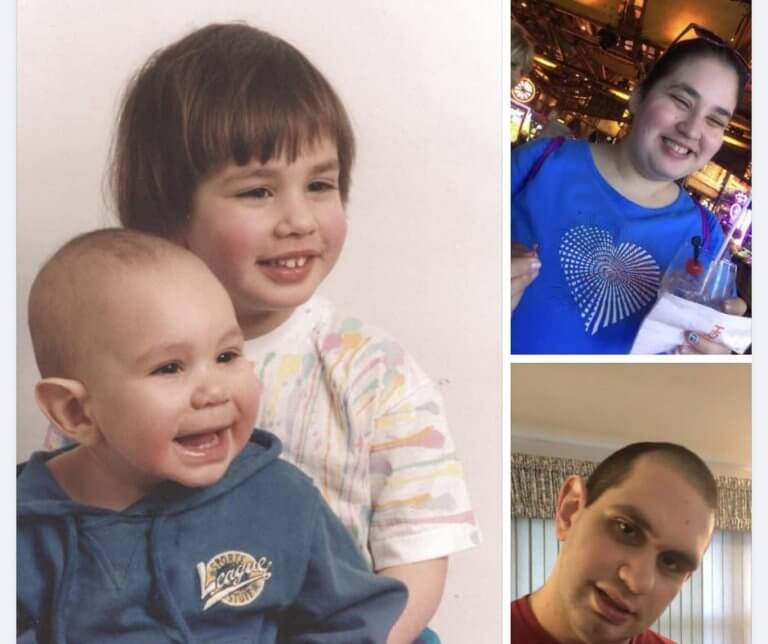 Andrew and Tammy Selinger
Andrew and Tammy Selinger were nominated by their cousin Ann Ross
What makes Andrew and Tammy Xtraordinary to you?
For 25 years Tammy and Andy have put 110 percent of their energy into learning and advocating about Fragile X. They have built a huge chapter in Hartford, fought for and obtained excellent programming for their children and others, raised funds for research, all while demonstrating love to everyone they touch. They have met with politicians, held conferences, and met with families to help them through the navigating needed with a special needs child. I am truly amazed by their energy and can't imagine anyone is more deserving than them.
—Ann Ross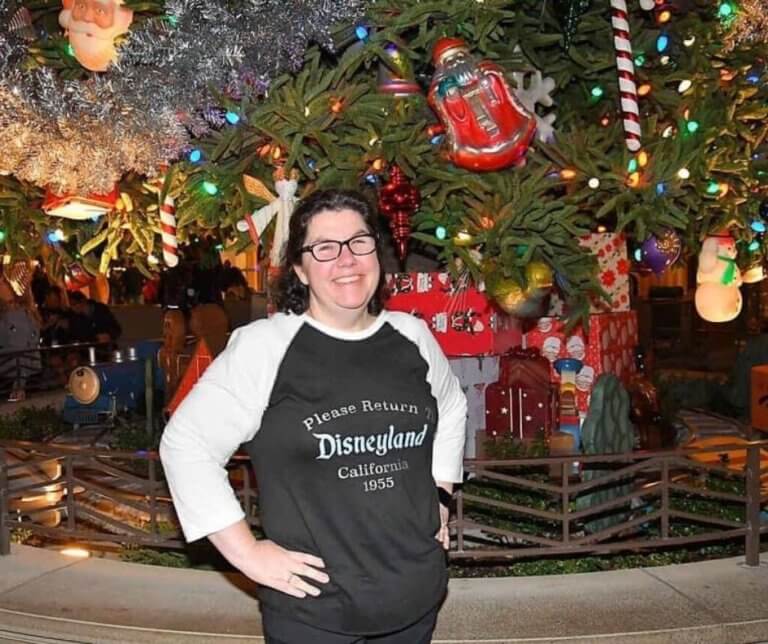 Missy Zolecki
Missy Zolecki was nominated by her daughter Paige Zolecki
What makes Missy Xtraordinary to you?
My mom goes out of her way to help so many people. She is constantly working past normal hours to get everything done and perfect. She has taught me and my family so much about Fragile X and continues to inspire us all to be better people!
—Paige Zolecki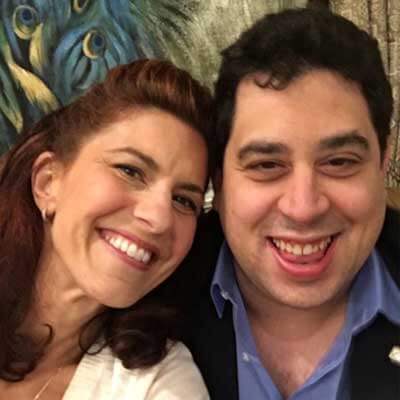 Tammi Flannel
Tammi Flannel was nominated by Joey Gerardi's dad, Joseph Gerardi
What makes Crystal Xtraordinary to you?
As many of you may have seen, she was featured in "Determined Life–Joey Gerardi," his "movie" on YouTube in 2009, and she still is with him today.
—Joseph Gerardi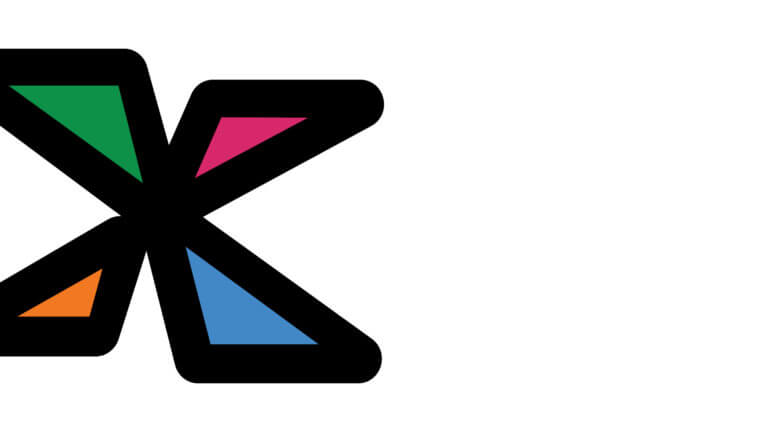 Crystal Billingsley
Crystal Billingsley was nominated by her mother, Rhonda Phillips
What makes Crystal Xtraordinary to you?
Our daughter at 29 years old gave birth to what seemed as a normal boy. Not long afterwards something seemed wrong.
As a baby he was diagnosed with Fragile X. The doctors told her he wasn't born with an owners manual. Since then she and her daughter were diagnosed as carriers. She did all the research and now has a very happy, smart little boy. She homeschooled both children and helped my husband to find out that he also is a carrier. She helped me know what we were about to face with my husband. He now is on disability and is seeing a new life that we never knew existed. She saw all the symptoms before we knew anything was wrong. She helped me prepare for the unknown.
She takes each day as it comes, plans their vacations so Jared can have time to rest. She finds toys made for a Fragile X little boy, it's amazing to see what he gets at Christmas. Jared has exceeded the doctor's expectations. He's able to do things they said would never happen. Crystal is one of the most dedicated moms I've ever seen, Jared doesn't know he's a special needs boy, whatever he wants to do he can with her guidance and encouragement.
I'm so proud to say she's my daughter and they're my grand-babies.
—Rhonda Phillips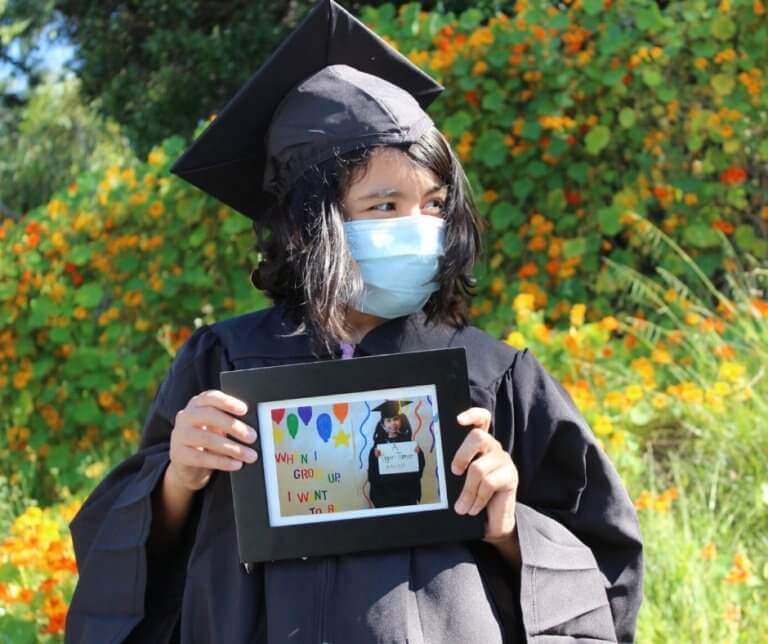 Anna Fonseca
Anna Fonseca was nominated by her mother, Lorraine Fonseca
What makes Anna Xtraordinary to you?
She is exceptionally kind, empathetic, funny, and sassy. She has worked so hard with all her therapy and schoolwork. There were some bumps, but my daughter graduated from elementary school with being almost fully mainstreamed in her classroom. I am so proud of her and how far she has come.
—Lorraine Fonseca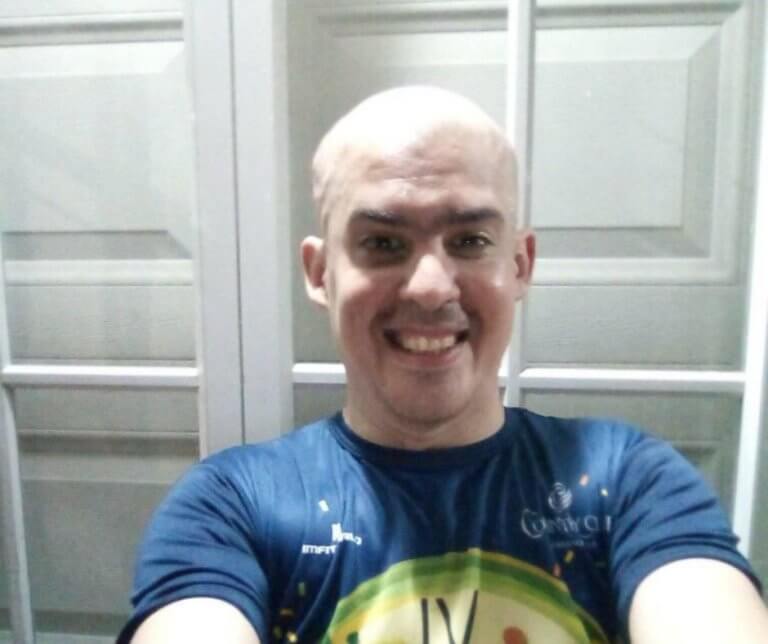 Mauricio Jose Bishoff
Mauricio Jose Bishoff was nominated by one of his clinicians Lina Rosa
What makes Mauricio Xtraordinary to you?
He is a Fragile X chef, he paints, he can handle a buffet for 300 people.
—Lina Rosa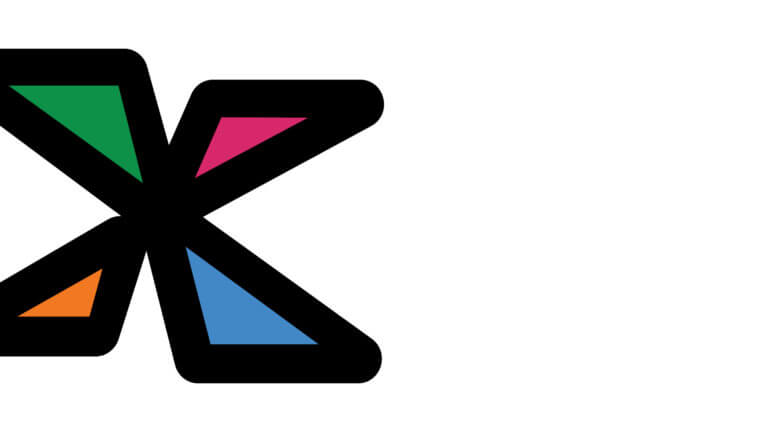 Katie Matthies
Katie Matthies was nominated by the mother of one her students, Lori Berzner
What makes Katie Xtraordinary to you?
Mrs. Matthies has been my son's teacher in his life skills class for the past four years. She is in constant communication with me not only about any concerns but also his growth. She has developed strategies for Michael to overcome his severe anxieties. Michael was not fully toilet trained when he entered her class in sixth grade and now he takes care of his self-care needs himself. He had difficulty transitioning from his room to specials and the lunchroom. This year Michael was able to go out at recess and play soccer with his typical peers. She would visit him at his day camp and help with strategies to make camp a rewarding experience.
Without Mrs. Matthies, love, concern, and knowledge Michael never would have made the amazing strides he's accomplished.
—Lori Berzner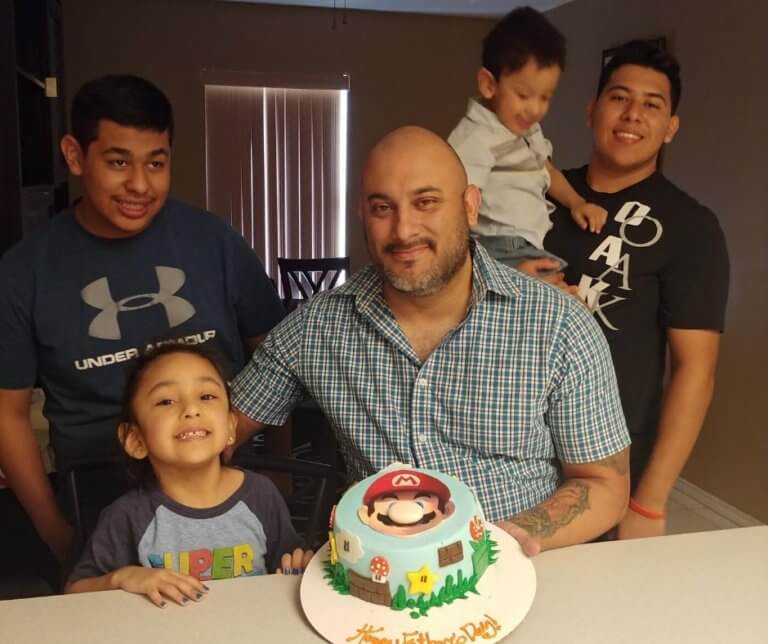 Frank Perez
Frank Perez (shown with their four children) was nominated by his wife, Sislai Ruiz
What makes Natalie Xtraordinary to you?
He is the step-dad to my two older children and my 17-year-old has Fragile X. Then came our two and the youngest, who is 3, also has Fragile X. He is the step-father he doesn't have to be and the father he's grown to be. He loves these two unconditionally and doesn't have to. His heart is always in the right place and for that I feel he is extraordinary because having two children with Fragile X is a lot, but with him, life is just perfect.
—Sislai Ruiz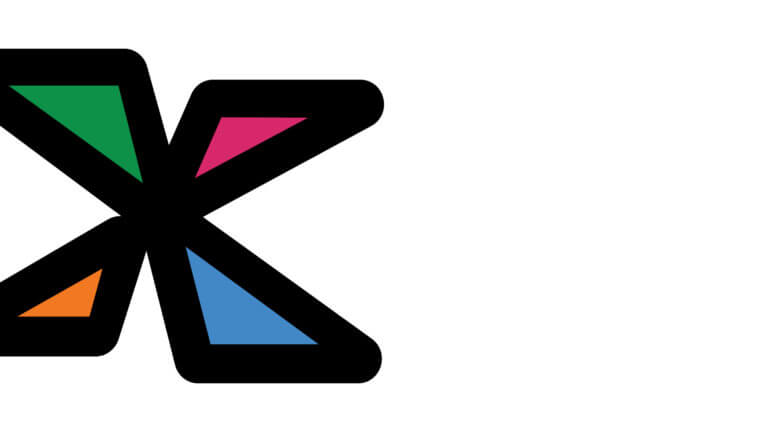 Natalie
Natalie was nominated by the mother of a young boy she babysits, Erin Nauert
What makes Natalie Xtraordinary to you?
Natalie came into our lives just over a month ago. She has formed a relationship with my son who has FX syndrome. She took it slow and let him lead the way! She has been a life saver for our family!!!
—Erin Nauert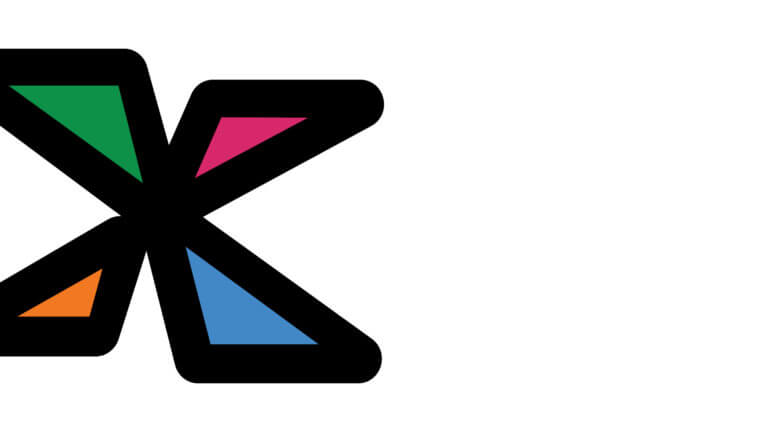 Jayne Dixon Weber
Jayne Dixon Weber was nominated by her sister Ann Dixon
What makes Jayne Xtraordinary to you?
My sister Jayne is Xtraordinary to me in so many ways. Jayne has devoted her life to her son, Ian, and Fragile X.
First and foremost her outstanding love and care for her son Ian. Jayne defines patience, unconditional love, and perseverance. I know there are wonderful days and there are hard days. But, Jayne knows that structure and organization are key to Ian's success. She and her husband are the heart and soul of Ian's kindness and generosity. Because of Jayne's inclusive spirit, Ian is well known to the Boulder [Colorado] community. He has many friends in the fire department (his favorite), at CU, King's Super, mail carriers, and garbage collectors. Ian is always looking for his friends to give them their favorite drink.
Jayne's other Xtraordinary quality is her dedication to Fragile X. Jayne works with so many families on their journey into the Fragile X world. Families with new diagnosis are going through a range of emotions and Jayne is there to support them through every step of the way. This is a perfect role for her. She is living it with her son, she has a strong rapport with the Fragile X team, and she is constantly researching and looking for ways to improve the quality of life for those affected by Fragile X.
As a young girl growing up in Kansas City, I know Fragile X was not part of her future plans. But, in true Midwest fashion, she took the bull by the horns and faced it head on. Jayne doesn't look for sympathy, she looks for the next adventure with Ian.
Love you Jlizabeth!!!
—Ann Dixon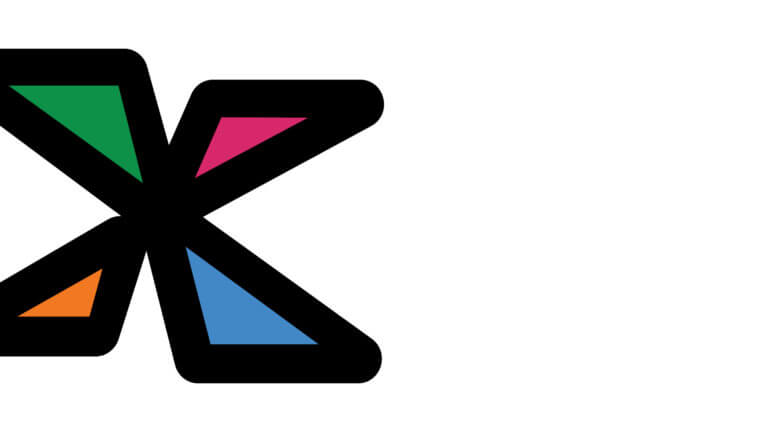 Doug Weiner
Doug Weiner was nominated by his mother, Susan Weiner
What makes Doug Xtraordinary to you?
He has taken a year off from work to help Jonah, his son with Fragile X, to work with him every day and Jonah has improved enormously, speech-wise and doing exercise and communicating so much better. What beautiful improvement, and I am so so proud of Doug and adore Jonah.
—Susan Weiner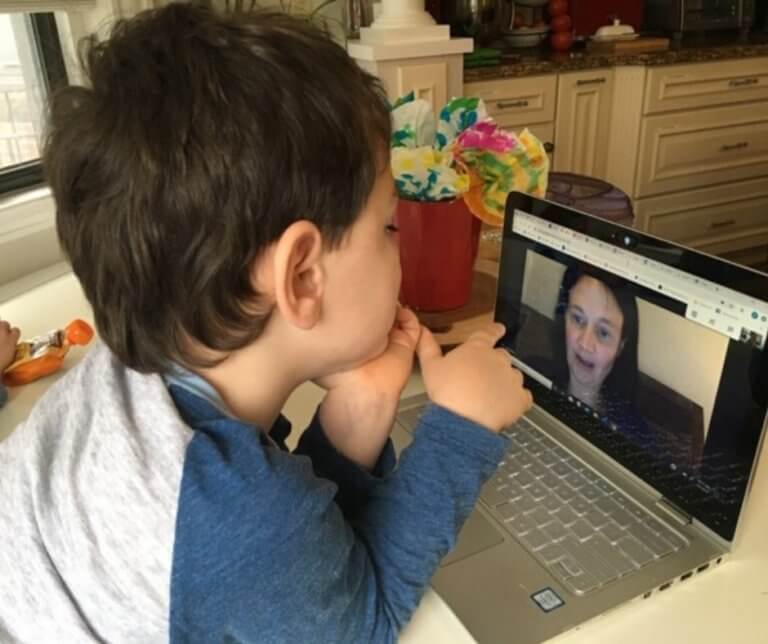 Deb Caruso
Deb Caruso (shown on the laptop screen) was nominated by the mother of one of her patient's, Kelly Quaye
What makes Deb Xtraordinary to you?
Usha has been an Xtraordinary addition to our son's life since two years ago. She goes above and beyond to meet him where he's at, and is an Xtraordinary advocate for his holistic needs and unique learning profile. Words don't adequately express how it feels to have a team member so committed to ensuring our child's success, but we hope this nomination is a gesture of our immense gratitude.
—Kelly Quaye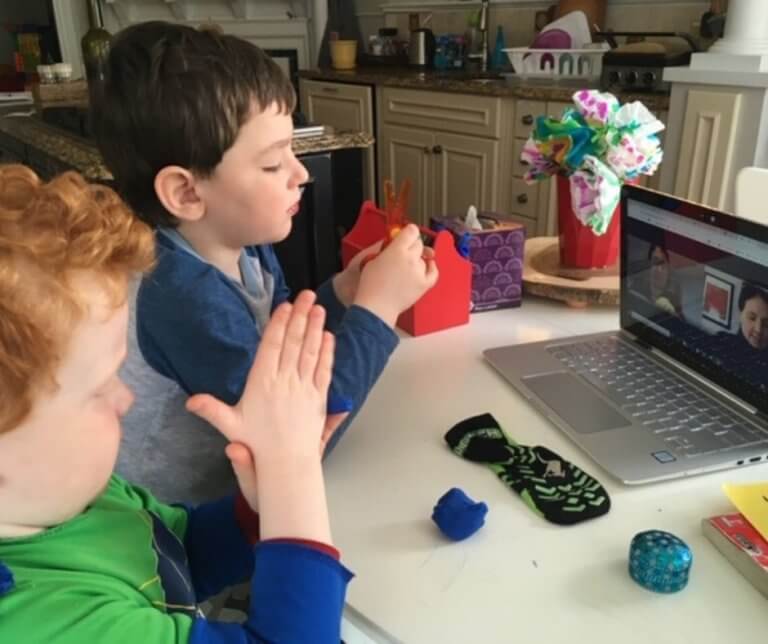 Deb Caruso
Deb Caruso (shown on the laptop screen) was nominated by Kelly Quaye, the mother of her patient
What makes Deb Xtraordinary to you?
Deb is an incredible OT [occupational therapist] and Xtraordinary support to our son and our family. We feel incredibly lucky to have Deb on our team, and are beyond grateful for the relationship she and our son has fostered together. We hope this nomination helps express our gratitude.
—Kelly Quaye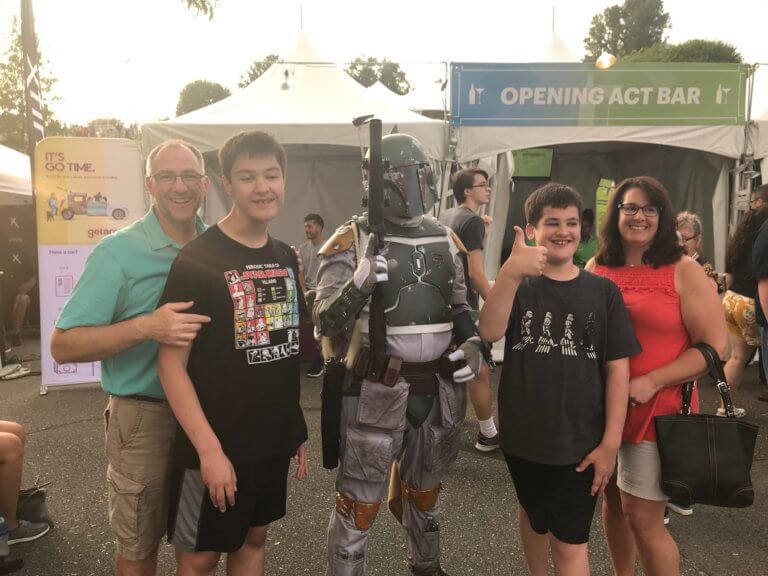 Kara Frech
Kara Frech was nominated by Barbara Haas-Givler, her Aunt Josie DiSciascio, and her mother, Rita Morley
What makes Kara Xtraordinary to you?
Kara has been an exceptional mother and Community Support Network leader who goes above and beyond. She is a "mover and shaker" who organizes so many activities and fundraisers for our Fragile X community. Two phenomenal X strides walks, bowling and baseball games, mother's night out, and educational seminars are just a few of her accomplishments.
—Barbara Haas-Givler, Director, Education and Behavioral Outreach & Clinic Director, Geisinger Fragile X Clinic
I'd like to nominate an absolutely awesome mother — my niece — Kara Frech, and her husband, Steve. Her boys Andrew (16) and Jason (13) have the very, very best advocates for them. Kara educated their teachers about Fragile X from the time they were very young. Their everyday schedule, school days, recently on-line through virtual classes — is always right on. She keeps up — above and beyond their needs and works tirelessly with the Fragile X community in arranging get-togethers, X Strides for SE PA [southeast Penn.], advocating in Washington, DC, for funding, and seeks out any new opportunities that are available to help Andrew and Jason.
—Josie DiSciascio, Kara's Aunt
Kara is Xtraordinary in many ways. She is has been a remarkable advocate for her two sons, Andrew (16 years) and Jason (14 years) ever since learning of their FX diagnosis. Kara is a leader of the Southeastern PA chapter. She has organized two X Strides events that raised money for the organization. She is always available to assist families who are new to the process of trying to get assistance and services for their children. She organizes events, such as, Moms' Night Out and bowling for social activities. She has worked to bring in speakers and set up information sessions regarding clinical drug trials in the area. Kara has attended Advocacy Days in Washington, DC, for many years, both by herself and with her boys. She and her family have attended the FX conferences. This year she participated in some of the virtual sessions.
She and her husband, Steve, are actively involved in the local baseball and basketball special needs teams. She makes sure that her boys are included in as many activities with sports or social groups as possible. She is active on social media for Fragile X awareness and fundraising.
Kara continuously works with Andrew and Jason to help them to be as independent as they can be. She advocates for them with the local school administrators, teachers, and aides to be sure that they receive proper assistance and schooling for their levels.
I can't think of a better person to receive recognition for her Xtraordinary efforts.
—Rita Morley, Kara's Mother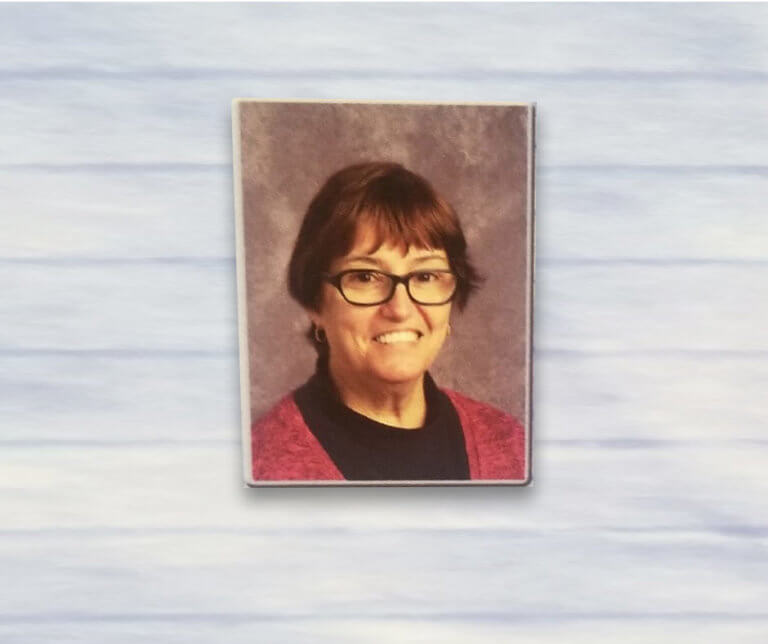 Sandy Neglia
Sandy Neglia was nominated by the mother of one of her students, Cara Capela
What makes Sandy Xtraordinary to you?
Her role as a teacher is misleading because she is someone who nurtures, encourages, and is ready and willing at any time to help support others. And she happens to be a special educator — which she is, in every sense of the word.
—Cara Capela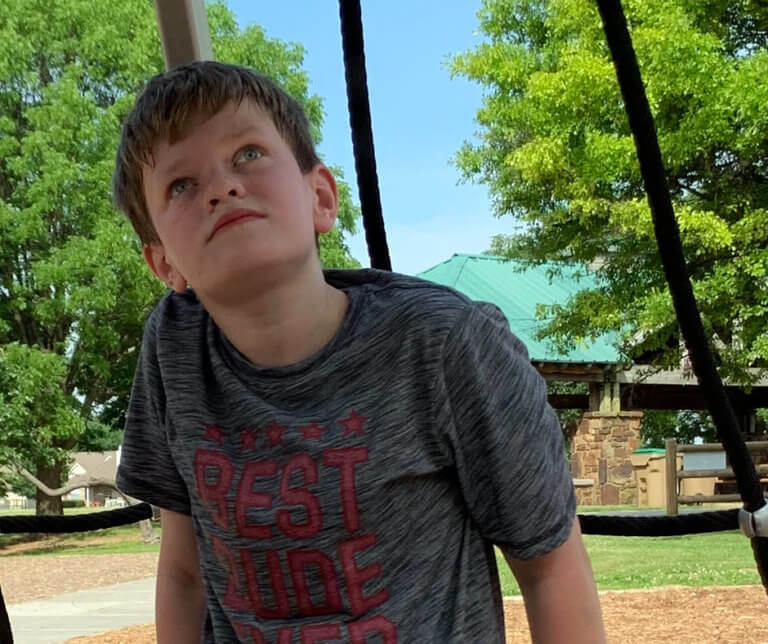 Leyton Stein
Leyton Stein was nominated by his grandmother Jodie Nida
What makes Leyton Xtraordinary to you?
Leyton is 11 years old and loves so many things. He is curious, funny, mischievous, and caring. A few of his favorite things include riding his bike, playing with his brother and cousins, swimming, listening to an eclectic variety of music, collecting electric fans and watching videos on his iPad. While he has his share of life challenges, his family has always treated him just like his neurotypical brother and he has thrived with their love and attention. Leyton's quick smile and big hugs have been the key to him working his way into the hearts of all of the people he meets!
—Jodie Nida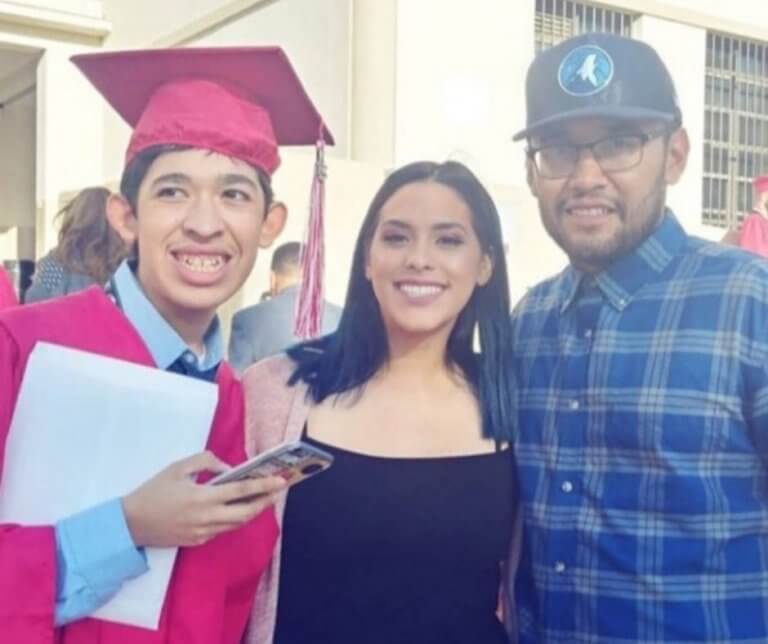 Juan & Victoria Pacheco
Victoria Pacheco and her husband, Juan, were nominated by Victora's Aunt Janet Rivera
What makes Victora Xtraordinary to you?
Oh my goodness!!! Victoria has always been and continues to support Kenny in many different areas (babysitter, birthdays, girlfriend, outings, and school especially during his senior year, preparing for prom, events, and graduation). Victoria getting married was a little difficult for Kenny to share Victoria but now Kenny has more support with Juan. Juan has taught Kenny new things (Xbox and outdoor games). What makes this relationship more special is the new baby, Cassidy. Victoria and Juan have a baby girl, Cassidy and Kenny feels like he is the big brother and he has shown lots of growth in being responsible to take care of Cassidy.
—Janet Rivera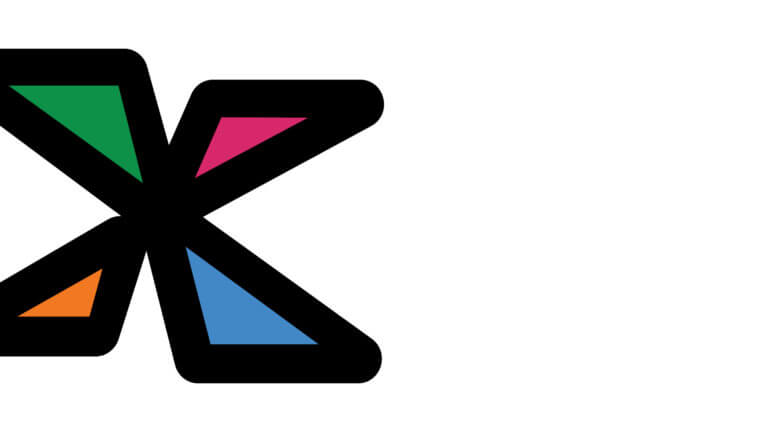 Linda Zumbrum
Linda Zumbrum was nominated by her nephew's mother, Nancy Ford
What makes Jane Xtraordinary to you?
When Nate has been hospitalized for long periods of time she has been there for us. Her support and love shine through as she relates to him!
—Nancy Ford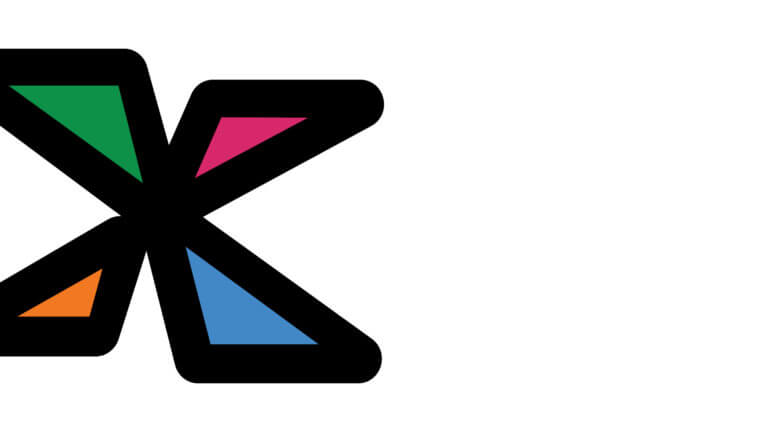 Jane Zumbrum
Jane Zumbrum was nominated by her nephew's mother, Nancy Ford
What makes Jane Xtraordinary to you?
Jane also has a son with Fragile X and gives her energy to him daily. Also she has been there for my son, Nate, when he had lengthy hospital stays, showing love & care!
—Nancy Ford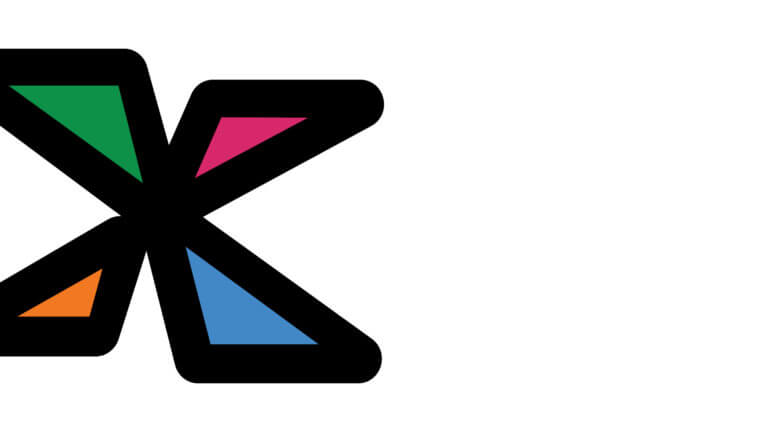 Sibling and Self-Advocate Network
The Sibling and Self-Advocate Network was nominated by one of the co-leader's (Kelley) mother Denise Devine
What makes the Sibling and Self-Advocate Network Xtraordinary to you?
The group has challenges that no other group has, they are spread all over the country. This makes in-person meetings impossible, only at our International conference they can physically be together. And "oh what fun they have," and they energize the group and reconnect. With the pandemic they have shared and organized via Zoom with members, and will probably be the only mode of connecting until the next International Conference in person. By far probably the most active group during the pandemic! So proud as this group started 10 years ago with an idea and a few teenagers, to support Siblings and Self Advocates.
—Denise Devine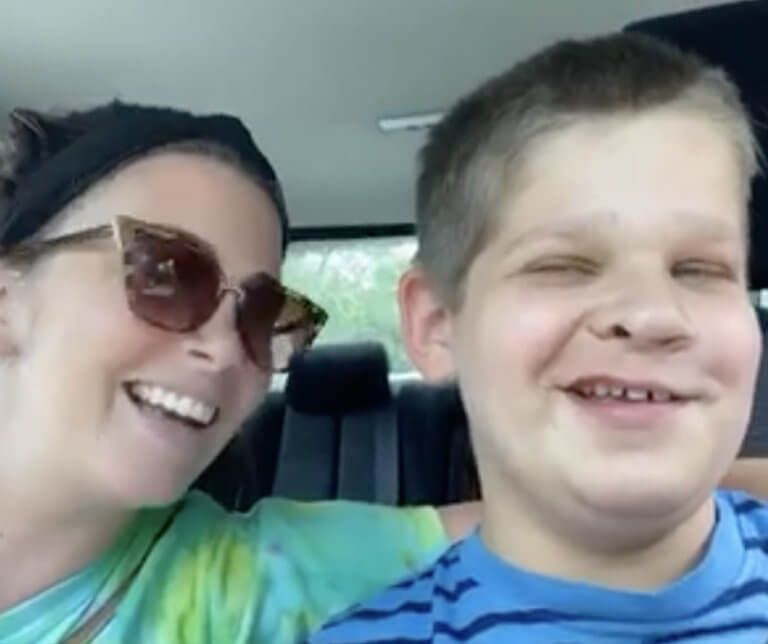 Samantha Snyder
Samantha Snyder babysits for Kyle, shown here, and his brother Jackson, and was nominated by the boys' mother Erin Nauert
What makes Samantha Xtraordinary to you?
Sam came into our lives almost three years ago. My husband was traveling during the week for work and I needed extra help with Kyle (FX) and Jackson (typical). She jumped right in to our crazy life! She is caring, and loves my boys so much! She is patient with Kyle and knows just what to do when he is having a hard time. We are so lucky to have her!!! She is Xtraordinary for sure!!!!
—Erin Nauert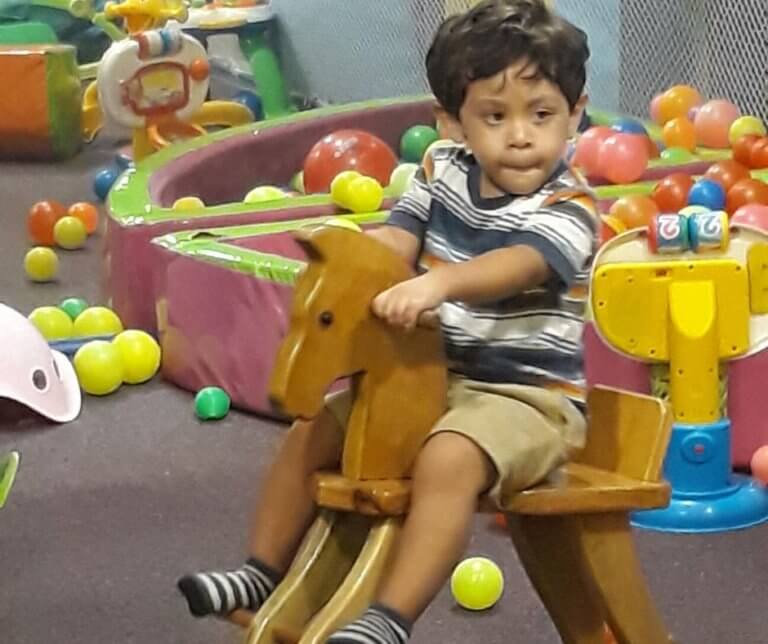 José Ricardo
José Ricardo was nominated by his dad, Ricardo Dominguez
What makes José Xtraordinary to you?
Es muy alegre y amoroso. Disfruta jugar en familia. Tiene todos los deseos de avanzar y progresar.
—Ricardo Dominguez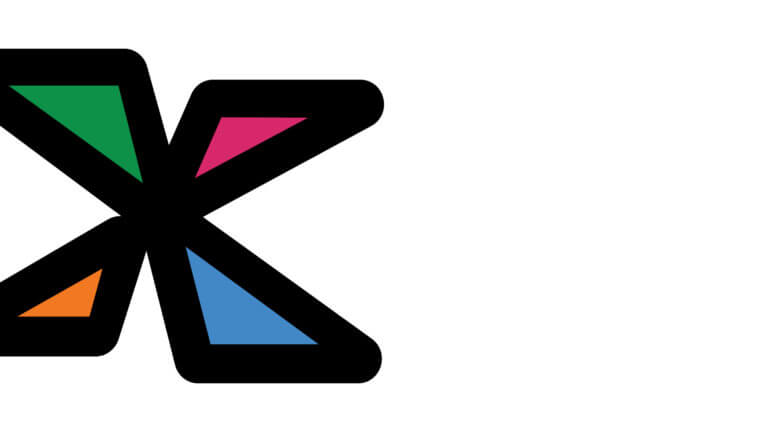 Erin Nauert
Erin Nauert was nominated by her mother, Betty Kohn
What makes Erin Xtraordinary to you?
My daughter Erin has spent her 30s trying to have children. She miscarried twice before she had her son, Kyle. It was obvious within a few months that he was different from typically developing children.
When Kyle was two-and-a-half years old he was tested and the FXS diagnosis was confirmed. Since then she has been active with other FX parents, doing fundraisers, organizing walks, going to seminars, keeping in touch with Dr. Erickson in Cincinnati … but mostly advocating for Kyle, who just turned 12.
She has gone to school for his first few years of public school and explained to the children why Kyle is different. She also gave lectures to Case Western Reserves interns and residents.
When Kyle was four, she and her husband decided they wanted another child. Between the hormones, the doctor visits, and IVF, she still failed to carry to a full term. She miscarried or didn't get pregnant 10 times over the next nine years. Finally, they decided to use a surrogate and on the second attempt the surrogate got pregnant and carried full term.
Of course, all the testing they had to do to find a non-FX fetus. So now she is at home with 12-year-old Kyle and three-year-old Jack, both of whom need full time watching. I am in awe of my daughter. Despite her years of disappointment, she is happy, loving, and doesn't complain.
She worked with Dr. Erickson a long time to get a good mix of medicines to help Kyle with anxiety, anger, and frustration. Most days he is OK but when he is not, it is hard on everyone. He hits or throws things and has even gone after his little brother. My son-in-law was working in Canada the first year of Jack's life, which made it even harder to keep track of both boys. She has hired help but lives with the knowledge that Kyle will always need help to navigate life. My daughter is a trooper who is XTRAORDINARY!
—Betty Kohn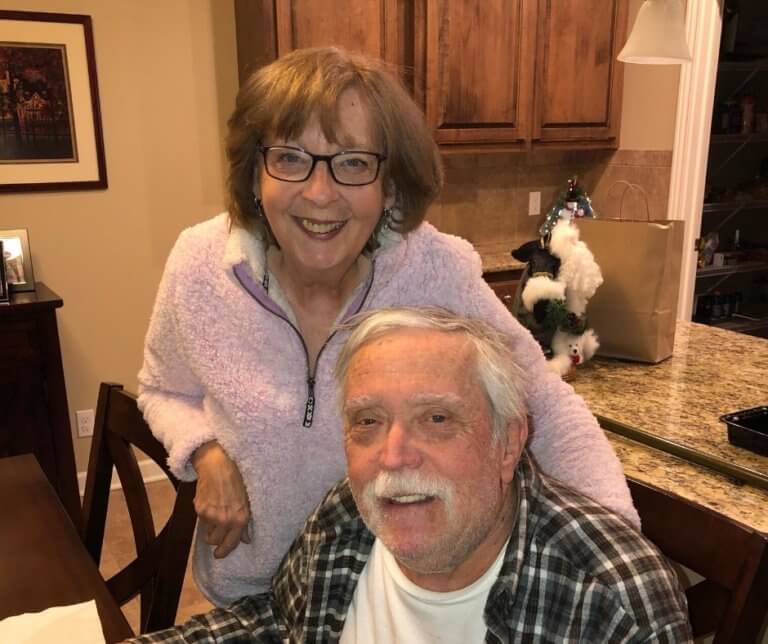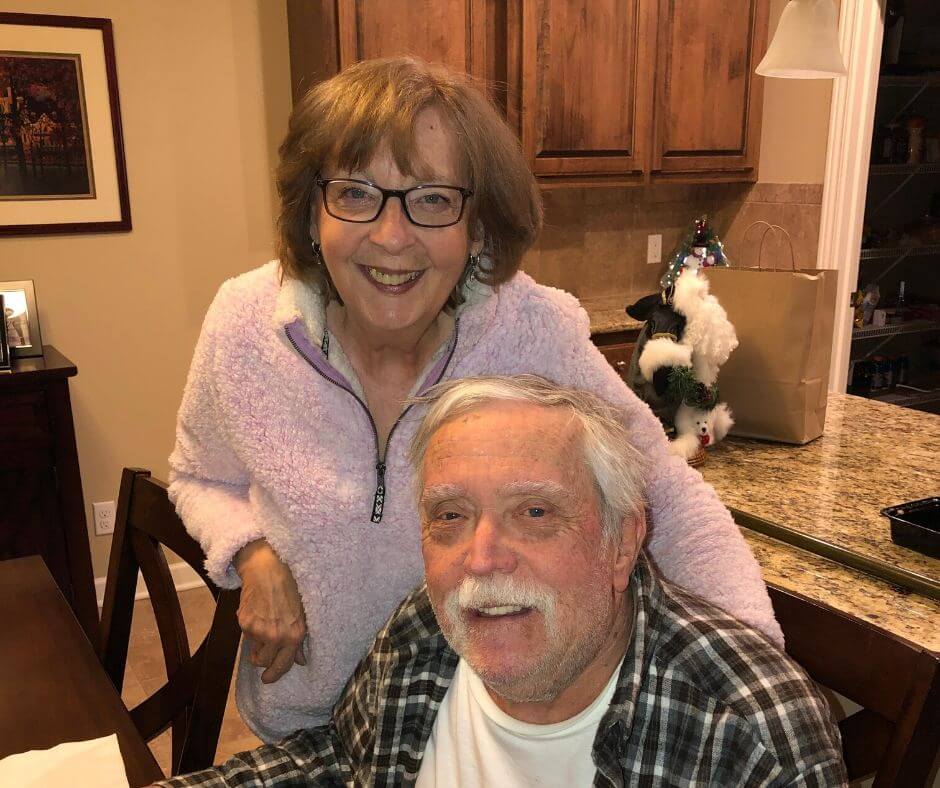 Kathy Menke
Kathy Menke, shown here with her husband, was nominated by her daughter Kelly Randels Coleman
What makes Kathy Xtraordinary to you?
My mom is Xtraordinary to our family for several reasons. One is that she is the best caretaker to my dad who has stage V FXTAS. She has made it possible for him to stay home during all of the physical and cognitive decline related to FXTAS. It has been extremely challenging at times, but she always made sure my dad's needs were met. Just when I think she is about to take a deep breath and count to 10, he tells her he loves her. Completely out of nowhere. And I can see her smile and know everything is going to be OK.
She is the best grandma. My oldest son, Cody, has FXS full mutation. She has been to nearly every doctor appointment with me. She has a very special relationship with him. He calls her every morning and they will talk for 30+ minutes. They even have a book club together where she reads to him over FaceTime while he "follows long" with his copy of the book.
And as a mom. She is one of my best friends and she always knows what to say to help me put things into perspective. She does her best to relate to things that are happening so that she can give me her best advice.
We are lucky to have her tackle all the different conditions of FXS and all of our needs.
—Kelly Randels Coleman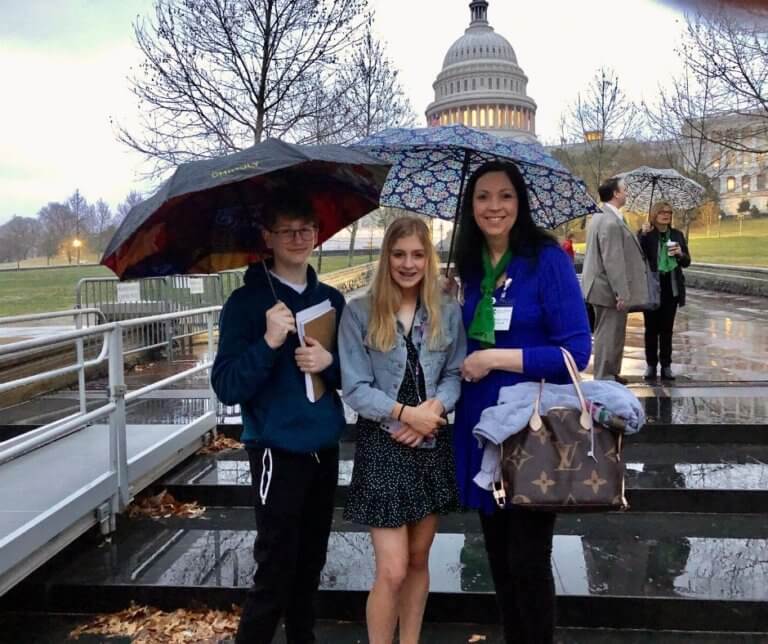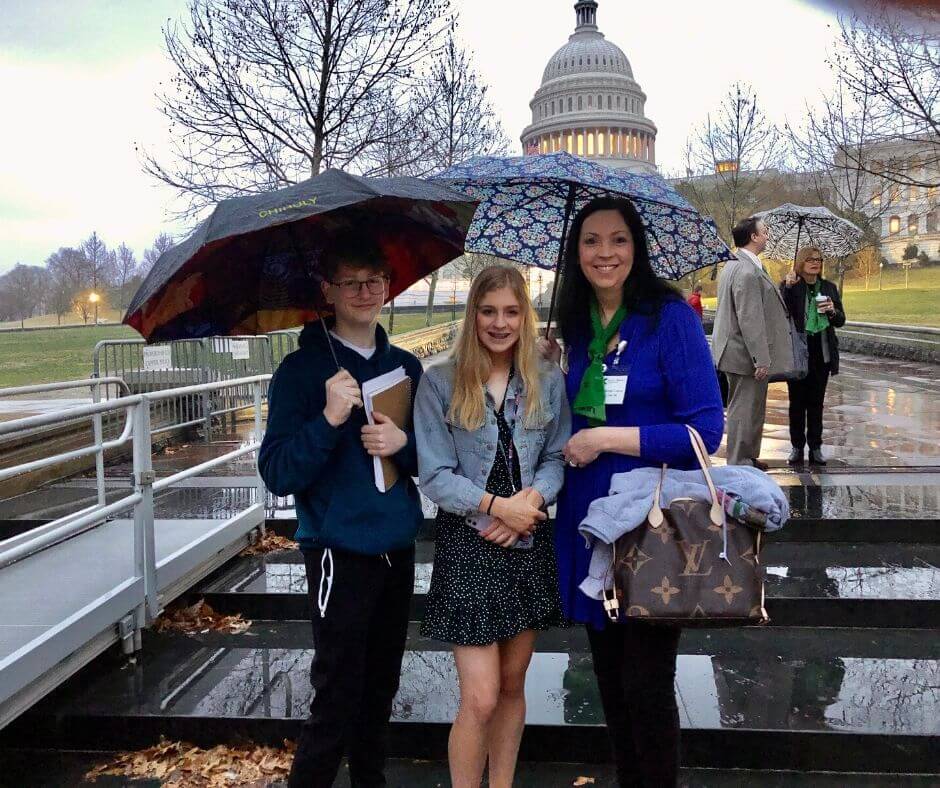 Jaden Randels and Kacie Coleman
Jaden Randels and Kacie Coleman were nominated by Kelly Randels Coleman
What makes Jaden and Kacie Xtraordinary to you?
Jaden and Kacie are Xtraordinary to me because they came with me to Advocacy Day 2020 as sibling advocates. We had three meetings set up with representatives from our state. During the first meeting, I did most of the talking… however, they quickly took the lead and impressed me with their conversations with state representatives. Jaden and Kacie were very articulate and talked about the joys of having a sibling with full mutation FXS and also the challenges. I was and am so proud. They are Xtraordinary sibling advocates!
—Kelly Randels Coleman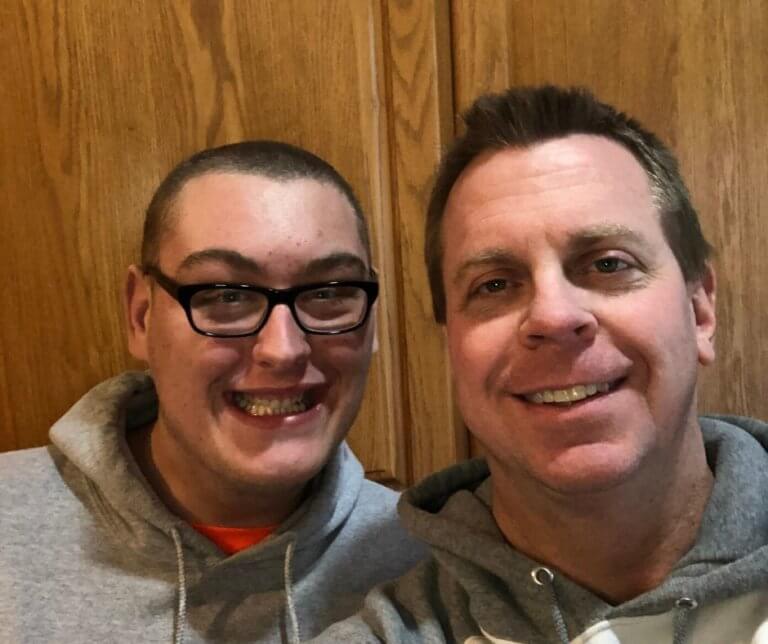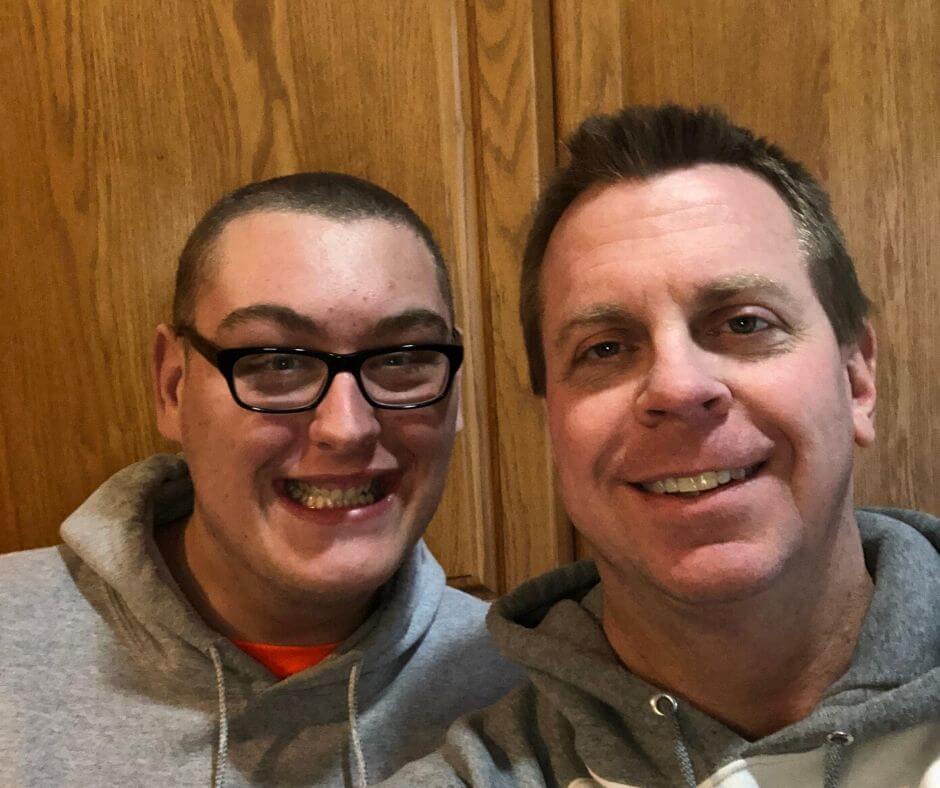 Garrett Coleman
Garrett Coleman was nominated by his wife, Kelly Randels Coleman
What makes Garrett Xtraordinary to you?
Garrett, my husband, is Xtraordinary. He is one of my son's, Cody, best friends. Cody has full mutation.
Being a bonus dad can be challenging at times and then you add the challenges of FXS on top of that and Garrett does great. Garrett handles Cody's moods with grace and understanding. He is so funny with Cody. The two of them together are like two peas in a pod. Most of the time, Garrett can get Cody to do things he may be anxious about. If Cody is angry with me, Garrett will distract him and make things better. We are very lucky to have Garrett in our lives.
—Kelly Randels Coleman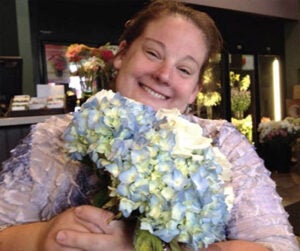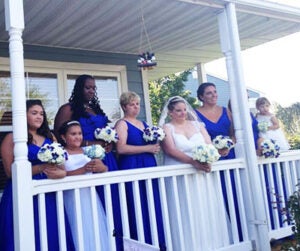 Christine Burkhart
Christine Burkhart was nominated by her friend and co-worker Maryann Laudando, her employer Christine Sauro, and Rosemary Schiavone
What makes Christine Xtraordinary to you?
Kind. Generous, helpful. Gives with all her heart! She goes out of her way to make people happy!!! Enjoys sharing her love of reading with students!!! All around great person.
—Maryann Laudando,
Christine's Friend and Co-Worker
Christine is an Assistant Teacher at our Early Learning/Childcare Center. She is such a wonderful addition to our staff! She is such a kind, hardworking, trustworthy, and dependable person. She is a valuable member of our team and loved by all staff, families and children. She is a true gem!
—Christine Sauro,
Christine's Employer
A young girl who turned into a beautiful woman … determined to succeed, she brings smiles to all with thoughtfulness, loves deeply, and devotes all of herself. Excellent worker, wife, and friend. … ❤️❤️❤️❤️
—Rosemary Schiavone
(who tells us Christine is "like a daughter" to her)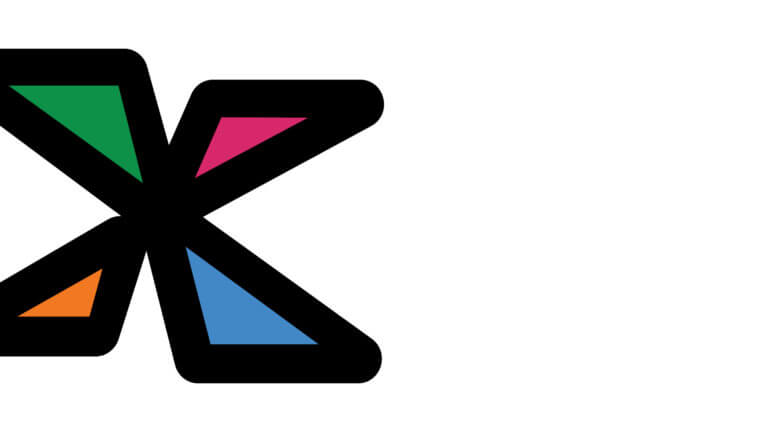 Danielle La Chapelle Andriassi
Danielle La Chapelle Andriassi was nominated by her friend Denise Alvinito
What makes Danielle Xtraordinary to you?
Danielle was mother to AJ, a 34-year-old Fragile X male, and wife to Jacques. She helped so many parents and would advocate for our kids. She fought cancer, had surgeries, and prioritized her friends and their missions for their kids. Danielle lost her battle and had a stroke and passed away in March 2020. Due to COVID-19, we could not have a service for her. She was a true warrior and should be recognized and remembered.
—Denise Alvinito
May you rest in peace Danielle.