Watch Housing Options for Adults With Fragile X Syndrome
With Dushawn Powell, Anita Inz, Susan Buchanan, and Moderated by Jayne Dixon Weber
Thank you for your interest in our housing webinar. We hope you enjoy it, and as always, please let us know if you have any questions, feedback, or need additional help. The main video of the panel discussion is above, and the three prepared videos are below.
Our Panel on Adult Housing Shares Their Personal Stories and First-Hand Experiences
Guided by moderator Jayne Dixon Weber, our three guests — Dushawn Powell, Anita Inz, and Susan Buchanan — discuss adult housing for individuals living with developmental disabilities from the perspective of parents and social workers.
Before the live webinar, we asked each of the presenters to prepare a video about their housing options. We then asked registered attendees to review them prior to the live webinar so they could prepare their questions, which they discuss in the video.
These are the videos shared with attendees, and where you can find more in-depth information on each housing option from each of our presenters:
Anita Inz
Anita discusses POINT↗, where her son is currently living. Founded in 2008 by 15 families and two collaborating agencies, POINT supports adults ages 21 and older with developmental and learning disabilities to live independently in apartments located throughout downtown White Plains, New York. She shares an overview of the history and current status of POINT.
Dushawn Powell
Dushawn is the director of Hearts & Minds Inc.↗, a residential facility for people with developmental disabilities, located in southern California.
We have additional resources on the topic of adults below, and if you have questions or need help, please don't hesitate to contact us.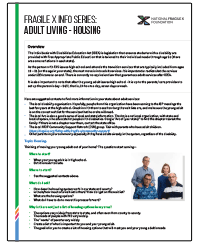 INFO SERIES ON ADULT HOUSING
Read or download a printable PDF. Who to contact, what to look for, and other important considerations are summarized in Adult Housing from our Fragile X Info Series.
Questions?
If you're a parent or caregiver and have questions about the information presented here, we'd love to hear from you! You can reach out to Missy Zolecki using the contact info or our contact form below.