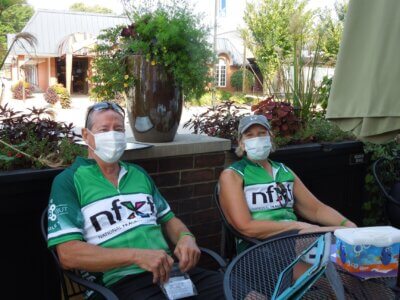 The 5th Annual Bike to X Out Fragile X is in the books and is another success in raising support and awareness of Fragile X in Iowa.
Nancy Carlson, NFXF Heartland chapter leader and Fragile X mom, reports:
---
Even though this event was postponed from June to August due to COVID-19, we had a great turnout. The weather was fantastic and even a little cooler than a typical August day in Iowa.
We had 52 people register and 42 people rode. The route was only 40 miles this year, unlike the 58 last year. This was due to a trail closure under I-80/35. Jeff Sexton, an FX parent, brought 12 riders with him. Mickey Brueland, an FX carrier and aunt to a Fragile X full mutation (FXFM) nephew, started the day with $321 in donations and worked hard to get that to $591 by the end of the ride! She won a $100 gift card to Mistress Brewing Co. in Ankeny and a $50 gift card to Northern Lights Pizza Co.
We also had a mother-and-son ride. The mom was a special education teacher in the 1980s and had heard of Fragile X. We had one rider that wasn't connected with anyone when the day started, but by the end was part of Team Me-off.
This year, we had more donations than in the past four years, and we are very grateful. In the end, we fell short of bettering last year's $7,400, but not by much. The final came in at $6,991.65 after expenses.
More from the Heartland Chapter
Dan Whiting
Over 140 runners, walkers, and volunteers converged at the beautiful Briarwood Golf Club on Saturday, September 29, 2018, for the first annual X Strides Heartland event, organized by Nancy Carlson and Jeff Sexton.  The [...]
NFXF
Get ready for the 2nd annual Bike to X Out Fragile X event! Voted our most innovative event of 2016, this 56 mile ride includes food, fun, beer and raffle items!
NFXF
Heartland Fragile X hosted their first Bike Out Fragile X event, and it was tremendous success!