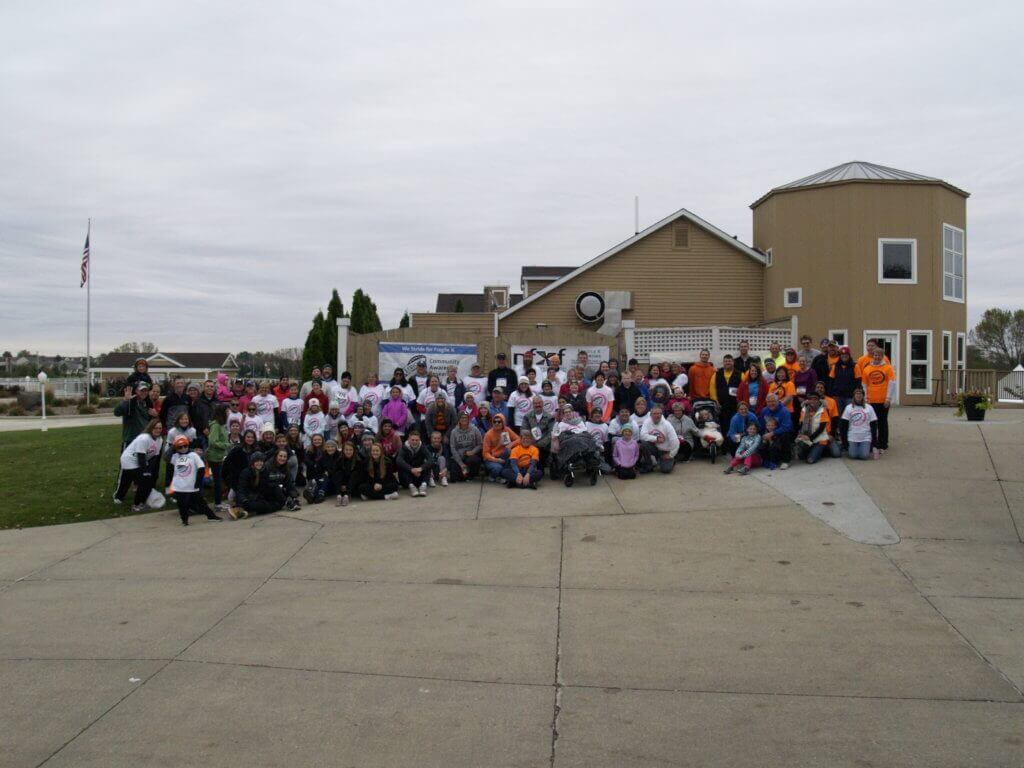 Over 140 runners, walkers, and volunteers converged at the beautiful Briarwood Golf Club on Saturday, September 29, 2018, for the first annual X Strides Heartland event, organized by Nancy Carlson and Jeff Sexton.
 The starting line was full of enthusiastic participants who eagerly launched off the starting line at 8 AM sharp for the 5-mile run/1-mile walk event.
All told the NFXF Heartland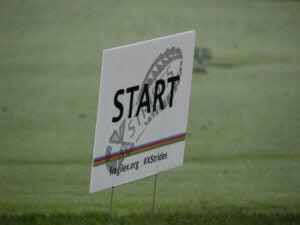 Chapter raised $8,975 in their first X Strides Heartland Walk/Run. Net proceeds will be shared with the National Fragile X Foundation to help families in Iowa, South Dakota, and across the U.S.

We're happy to feature most of the participants in the event photos, including the Ankeny Centennial High School's Circle of Friends who were out in force. All 20 of them cheered and encouraged the runners, which included two of their classmates. One of the classmates with Fragile X walked the mile, accompanied by his parents. Another went the full five miles assisted by her classmate, who pushed her wheelchair for the length of the run.
Healthy Participation!
Walking and running is a healthy way to strengthen and tone one's body, as well as your overall sense of well-being. In keeping with the healthy environment,
homemade protein balls, granola bars (yum), and, of course, water was available for everyone. The club prepared breakfast and offered drinks and sandwiches to the participants and volunteers. It was a successful event, that included four families—and their extended families—living with Fragile X syndrome.
Families at the Finish Line
Special thanks to Nancy Carlson and Jeff Sexton, both Fragile X parents. Jeff is a member of the Briarwood Golf Club, and engaged other club members through sponsorships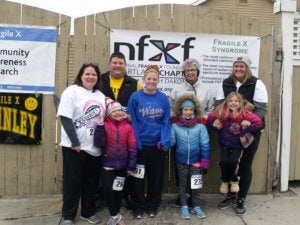 and volunteering. Accompanying Jeff and his son, were their extended family,  his son's teacher and teacher's aid.
Amongst the finishers were members of the family and extended family of Angie Bacon, also a Fragile X parent. Other Fragile X families included Ken, Nancy, and Derek Carlson, and Tim, Chris, and Cole Quinlin.
The X Strides Heartland Walk/Run with Fragile X family participants is a great way to draw attention to the research that is going on with respect to the benefits of interventional exercise for those with Fragile X syndrome.
Jeff and Nancy are already busy planning ahead for X Strides 2019, stay tuned!
If you are interested in hosting your own X Strides, please contact us for more information.