By Jayne Dixon Weber
Back to school season can be stressful for families and children living with Fragile X syndrome, which also means receiving questions like this one: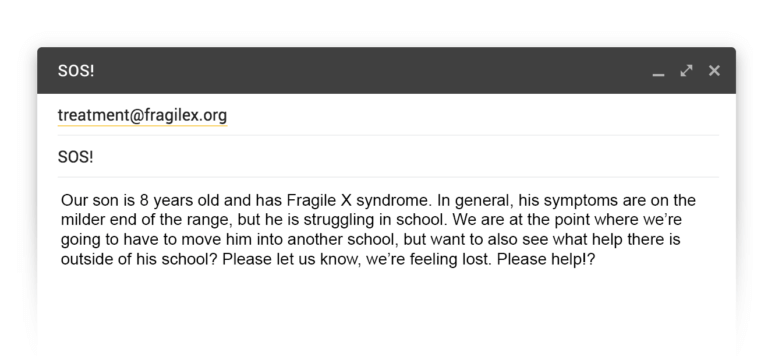 To help this parent (and you) we have compiled our most popular school and education resources, including some specifically for teachers.
For Teachers
The Top 10 Things Teachers Should Know About Fragile X Syndrome: Strengths, Challenges, and How They Learn
For the teachers out there—or for parents to forward to a teacher—these are the top 10 things that will help bring out each child's strengths.
Lesson Planning Guide
This guide is intended for classroom teachers who may have little or no exposure to Fragile X syndrome. Our goal is to help make the teaching and learning environment from preschool through high school more effective, more efficient, and more rewarding for teachers and their students with FXS who come under their care.
For Parents
School Transition Strategies
To address the often difficult milestone of a new school, our in-house expert and director of community services Jayne Dixon Weber created this essential list of tips and strategies based on her and other Fragile X parents' experiences.
Preparing for Your Child's Individual Education Program (IEP)
Going to an IEP (individualized education program) meeting for her son was always an emotional experience for Jayne. After a couple of years of meetings with teachers, psychologists, and administrators, Jayne decided to make some changes. This is her story about how not to be intimidated by your IEP.
OT, SLP, AT & IEP … Making Sense of Special Education Alphabet Soup
Creating an IEP can be an incredibly confusing experience, and the "alphabet soup" of acronyms and legalese often increases anxiety and uneasiness. One way to offset these feelings is to prepare ahead of time.
Back to School Without a Bang: Managing Difficult Back-to-School Transitions for Students With Fragile X Syndrome
Several strategies can help in guiding a successful transition. If the student is going back to the same school with the same teaching staff, the transition process is easier and requires less support.
Early Childhood (Birth to 5 Years)
For all children within the early childhood age range (birth to five years), inclusive, nurturing, and developmentally appropriate environments and caregiving are essential to growth and development. This document focuses on assessment, family, environment, and transition.
Elementary School
Attending elementary school may be a child's first encounter with school and the experience can be difficult, especially when separating from a parent for the first time. This document lists a number of strategies and supports that have proven successful.
Middle and High School
The transition into middle school or high school serves as an exciting time for many families but is often accompanied by stress and anxiety. This document focuses on many of the important milestones that may be challenging for individuals and their families during this time, and what may come next.