Meet Spencer. He has Fragile X syndrome and he is a huge Power Rangers fan! He is the reason Brennan Mejia, the Red Power Ranger in Dino Charge and Dino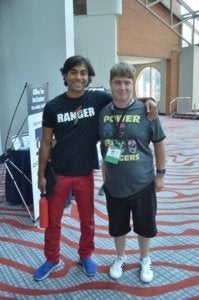 Super Charge, came to the 2018 International Fragile X Conference! Spencer wants more people to know about Fragile X syndrome. He says, "the more people that know, the better!"  
Spencer also presented on a panel at the Conference, along with other adult males with Fragile X syndrome. They all did a stellar job! You can watch it here.
About Faces of Fragile X
We asked parents, caregivers, and others to answer a few questions about their loved ones with Fragile X. We are also featuring stories, like this one, from interviews conducted by Ashlyn Southard at the 16th NFXF International Fragile X Conference.  These are the Faces of Fragile X, and This is Fragile X. If you would like to learn more about Fragile X, start here.
Get our free e-book, Fragile X 101, below.