Meet our friend David. David likes the show Law and Order because they fight the bad guys. He had a lot of fun at last year's Conference. He loved to go to the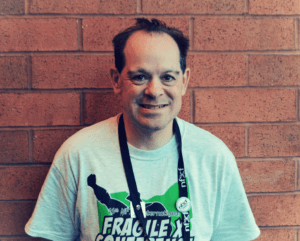 dance session led by David Solomon. He likes to watch movies and television, and he likes music, specifically hip hop. Katy Perry is his favorite artist! He likes to watch football and is a Seahawks fan! David describes himself as friendly and everyone agrees.
If you cross paths with David he is a friend you will want to make.   
About Faces of Fragile X
We asked parents, caregivers, and others to answer a few questions about their loved ones with Fragile X. We are also featuring stories, like this one, from interviews conducted by Ashlyn Southard at the 16th NFXF International Fragile X Conference.  These are the Faces of Fragile X, and This is Fragile X. If you would like to learn more about Fragile X, start here.