[mpc_textblock content_width="100″]We started November giving thanks for a couple who have spent a lifetime helping the Fragile X community.
Margaret and Marty Israel have been volunteering for the Fragile X community for 37 years. On November 4th, they received the NFXF Lifetime Achievement Award at a reception in their hometown of St. Louis.
Their son, Sam, was diagnosed with Fragile X syndrome at the age of 5 1/2. The NFXF didn't exist then, but that didn't stop Margaret from doing everything possible to get the rest of her family tested and to learn as much as she could to help her son, including attending the first International FX Conference in Denver in 1987.
After attending her third conference, Margaret was inspired to launch the Fragile X Resource Center of Missouri (FXCRMO) in 1992 with the goal of bringing other families together. Margaret made it their mission to spread awareness, to let as "many people as possible know about our kids". Twenty-five years later the FXCRMO is still going strong – connecting families and spreading awareness – a wonderful legacy that Margaret created.
The FXRCMO just hosted their 24th annual educational symposium. Thanks to the group's successful fundraising efforts, parents, teachers, medical, and treatment professionals attend these informative events free of charge. Margaret always insisted that there should be no barriers to anyone wanting to learn about FX.[/mpc_textblock]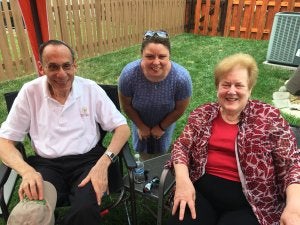 [mpc_textblock content_width="100″]Marty, of course, was always supportive of Margaret's efforts and made it his personal mission to become well-versed in the science of Fragile X. He used that knowledge to write papers, make presentations and, most importantly, serve as the go-to support guy for the symposiums – all 24 and counting!
Their son, Sam, also plays an important role as a self-advocate at every conference and more recently at our annual Advocacy Day events where he accompanies other Missouri NFXF advocates calling on their members of Congress to advocate for federal funding for Fragile X research and legislation that will improve the lives and opportunities of everyone living with Fragile X.
In addition, Margaret and Marty have always been available to counsel and advise every family that they meet who are traveling the FX journey. Many of you, no matter where you live, spoke to them when you were first diagnosed.[/mpc_textblock]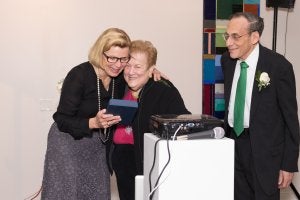 [mpc_textblock content_width="100″]When I presented the award, I shared some of Margaret's sage advice I have received over the years: When I presented the award, I shared some of Margaret's sage advice I have received over the years:
There's always more than one way to do thing. The most important thing is to just get it done.
Always make sure everyone is included.
You must have fun and be able to laugh.
Remember the importance of the dads in your kids' lives.
Always look for the positive aspects of your kids.
And remember, if it weren't for FX, we wouldn't even know each other.
This November, we give a special thanks to Margaret and Marty Israel for all they have done and continue to do to make the Fragile X community stronger.
If you would like to help honor their achievements and support their continued work, you can still send a donation through https://give.fragilex.org/israels.
Sincerely,
Linda and the entire NFXF team[/mpc_textblock]