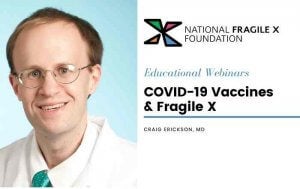 Our dear friend Dr. Craig Erickson joins us once again to share his knowledge on Fragile X and provide medical advice.
Listen to two very important recordings from Dr. Erickson:
COVID-19 Vaccines and Fragile X covers vaccines for individuals living with Fragile X full mutations and premutations, including COVID-19 vaccine safety in general.
Dr. Erickson Answers Medication Questions is a follow-up to the COVID-19 webinar and includes Q&A on all medications related to Fragile X.
Listen Now
Enter your name and email address below for instant access to both on-demand recordings: