We are excited to share journal publications like this one resulting from FORWARD data. There are many more papers currently in development, and the future for Fragile X syndrome research is bright as more data is gathered.
Preventive Care Services and Health Behaviors in Children with Fragile X Syndrome
Summary
Published in the Disability and Health Journal, researchers from the Centers for Disease Control and Prevention and other organizations presented FORWARD data on preventive services received by children and young adults with FXS. This research can help clinicians identify preventive care services that patients with FXS may need.
Key findings:
Only one in four children and young adults with FXS met the physical activity guidance from the United States Department of Health and Human Service (DHHS). DHHS recommends children 6–17 years of age get one hour of physical activity every day, while adults need about 2.5 hours per week.
Slightly more than half of the children and young adults with FXS met the CDC recommendation for an annual influenza vaccination.
Almost three out of four children and young adults with FXS met dental care guidance from the American Academy of Pediatric Dentistry (AAPD). The AAPD recommends children have their first dental exam at the time of their first tooth eruption, or by one year of age, followed by regular exams every 6 months for children and adults.
About nine out of ten children and young adults with FXS received the immunizations recommended by CDC between birth and 18 years of age.
Gilbertson K, et al. (2019). Preventive care services and health behaviors in children with fragile X syndrome. Disabil Health J. 12, 564-573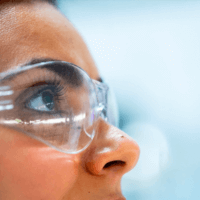 About the FORWARD Registry & Database
FORWARD is made possible by all the participating families sharing their life experiences for research. By giving families, doctors, scientific researchers, and policymakers an inside look into how Fragile X syndrome presents itself across the human lifespan, you're involvement is a huge contribution toward more positive health outcomes and better care and services for future generations.
Below are more journal publications resulting from FORWARD data. 
more from forward
Amie Milunovich
FORWARD // This study is one of the first to examine early language development through vocal production and the language learning environment in infants and toddlers with FXS utilizing an automated vocal analysis system.
Amie Milunovich
Research Summary // The present challenge is to move from accurate diagnosis to public health action for FXS, requiring better understanding of the natural history of FXS.