Bringing Your STX209 Data Home
The National Fragile X Foundation, with the help of several professionals, has secured agreement to obtain STX209 trial participant data through a reconsent process. Science cannot move forward without your participation, so we have partnered with Dr. Elizabeth Berry-Kravis to create an eConsent option for bringing your STX209 data home to the NFXF Data Repository.
WATCH
STX209 Reconsent Discussion With Dr. Elizabeth Berry-Kravis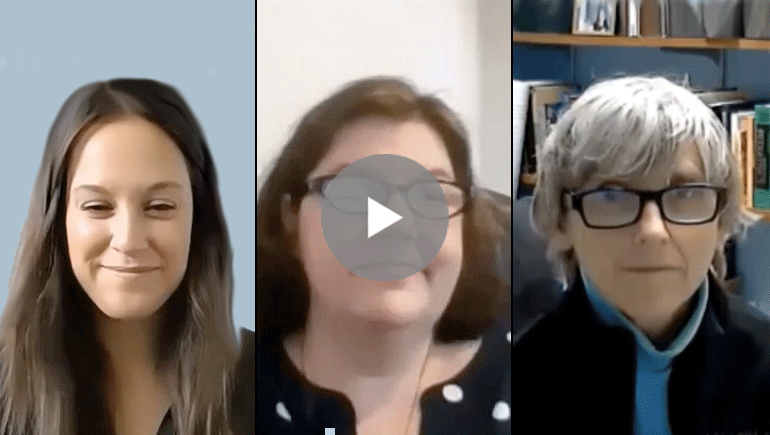 Here we've provided a quick video (6:35) featuring Dr. Berry-Kravis, Hilary Rosselot (NFXF director of research facilitation), and Missy Zolecki (NFXF director of community engagement), who discuss this exciting new project and what it means for all of us.
You may begin the reconsent process at any time, or continue below to learn more about:
About the STX209 Trials
The STX209 trials were medication trials studying arbaclofen in Fragile X syndrome. Many families participated in these studies over multiple years. In the two Phase III trials, arbaclofen did not meet the primary outcome of improved social avoidance in FXS in either study. This resulted in the STX209 program shutting down. The data from these trials stayed with the sponsor organization for safe keeping.
For more information on these trials:
Families and professionals expressed their disappointment in the STX209 program ending. There was hope that the data would be made available for future research and possibly to even help with future trials to study arbaclofen in FXS for a drug approval. Until now, this has not been an option.
We have been able to work with the organization storing the data to move forward with obtaining your data, but we need your help!
How We Want to Use the Data
We want this data to live in the NFXF Data Repository for future research. Participants, their families, and professionals spent a lot of time and energy on these trials. The data could be useful for different types of future research, including new arbaclofen or other medication trials, and we believe NFXF is best equipped to house this data. Your past data could help advance other scientific achievements in Fragile X.
Why NFXF?
NFXF is a patient advocacy group, and we are not going anywhere! No trial data should be lost after the trial concludes — it should reside in the community for researchers to utilize for scientific achievement. The NFXF Data Repository is the most appropriate place for your data to live. We can make the data available to the larger community for de-identified, secure research. Including the data as a part of the NFXF Data Repository is the start of what we hope will happen with all future trial data.
NFXF is committed to advocating for this data transfer approach in all future clinical trials so no data is ever lost.
This means that after an initial research project has concluded, any leftover, de-identified data should be rolled over into the NFXF Data Repository to be made available for future research. This could alleviate burden on the FX community, as researchers could start their research using the NFXF Data Repository. Bringing the STX209 data home is a step toward a brighter future for Fragile X!
Prior STX209 Trial Participants
We know it takes time and dedication to participate in a trial. Science cannot move forward without your participation. The original data has been unavailable for many years, help us bring it back to our community by providing consent to bring the data home!
Who Can Participate
Only those individuals who had previously participated in the STX209 trials. The participant and/or a parent, caregiver, or legally authorized representative must be available to provide consent.
What's Involved
Providing consent for data transfer is completed via an online form (the secure database is provided by Rush University), which asks a few questions about yourself and which study site you went to when you participated in the STX209 studies. This should take no more than 15 minutes. If needed, you'll be able to save your work and come back to it if you're not able to complete it one sitting.
What Happens Next
Once completed, your past STX209 data will be transferred to the NFXF Data Repository, where the now de-identified clinical and biological data may be queried by other researchers conducting projects in Fragile X.
Registrants may also be contacted about research studies they may be eligible to participate in, including future treatment studies.
If any of your questions have not been answered here, we have additional FAQs below. Still have questions? Contact us, and we'll do everything we can to assist you and your family with the STX209 reconsent process.
Frequently Asked Questions
Questions?
If you have questions about anything research-related, we'd love to hear from you! You can reach out to Hilary Rosselot directly, or submit your question or comment through our contact form below.