The Fragile X Clinic: What Does It Mean For You?
By Sharyn Lincoln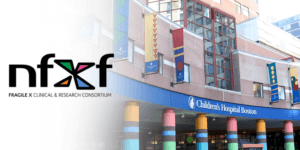 At the Fragile X clinic at Boston Children's Hospital we often hear families ask why they should go to a Fragile X clinic if they are happy with the care they are currently receiving from their local providers. The main reason is that our clinics specialize in all things Fragile X — we get you and your child. Everyone here — clinicians, genetic counselors, social workers, therapists, and all other members of the clinic — we know Fragile X syndrome.
Specialty Fragile X clinics are a relatively new thing. The Rush University and MIND clinics have been around for a long time, but new clinics are now joining the Fragile X Clinical and Research Consortium (FXCRC). Here are a few reasons why you should visit your local Fragile X clinic:
All Fragile X clinics in the FXCRC are connected to each other, providing even the newer clinics with the knowledge and expertise of those who have been in the field for a long period of time.
They know about the difficulties families have to face when finding the right services or finding local providers who have heard of Fragile X.
Providers in a Fragile X clinic can work with your local providers to help manage any ongoing or acute issues.
Although many families are very up-to-date on everything Fragile X-related, the providers at the clinics may know of new information that has not made it to the general public yet.
Clinics know what research is being done and in the pipeline, and can help you find research opportunities. The largest project that involves nearly all of the clinics is the FORWARD Registry and Database. You may want to ask about this project at your next clinic visit. (Note: When viewing the clinic map, we have separate icons to indicate whether or not they participate in the FORWARD Registry & Database.)
Clinicians at FXCRC clinics go to the NFXF conferences, local conferences, NFXF Advocacy Day, and more! In other words, part of their job is to live Fragile X.
Although all clinics provide medical services and can be your primary care for Fragile X-related issues, a Fragile X clinic does NOT take the place of your primary care provider. Your primary care provider still needs to deal with the everyday things, including illnesses, vaccines, and routine health screenings.
When Should You Visit?
Families ask when or how often they should visit a clinic. I recommend routine yearly or every other year visits. This allows the clinic to get to know you and your family better. We get to know what your child is usually like — when things are going well and when things aren't going so well. This helps us better assess an acute issue, which can be very difficult when first meeting a patient, or if we have not seen someone for an extended period of time.
Another time to visit the clinic is when there is a new and unexpected development. For example, if your child starts to have behavioral problems that were not there before or if they've changed schools and you feel the programming isn't appropriate for them.
Families with a new diagnosis of a Fragile X-associated disorder (FXD) should also contact their local clinic. Seeing providers with expertise in Fragile X can provide the information and support families need when they receive a new diagnosis.
Many of the Fragile X clinics are based in children's hospitals and may not be able to see adults. However, some clinics will not be able to see adults with FXS because it is considered a "pediatric" disorder even though we know its impact is lifelong. It is important to keep in mind that clinics may not be able to refer you to other medical providers within their hospital, but they often have contacts with clinicians who can see adults with FXS. This also applies to individuals with Fragile X tremor/ataxia syndrome (FXTAS) or Fragile X primary ovarian insufficiency (FXPOI), or to those who are suspected to have FXTAS or FXPOI.
For example, in Boston, we have colleagues at other hospitals that we refer to when we get questions about managing or diagnosing FXTAS or FXPOI. Therefore, even if the clinic is in a children's hospital, it is always worthwhile contacting them to see if they can see adults with FXS or have clinicians they can refer to who know FXS and other FXDs.
What If You Can't Visit a Clinic Regularly?
We understand that it can be very difficult to travel to a clinic for a variety of reasons. Money can be an issue, as can simply traveling with your child. Clinics can provide letters of medical necessity to help with obtaining insurance approval for a visit.
If financial issues for traveling are an issue, assistance may be available through the Fly With Me Fund.**
We understand that traveling with your child can be a challenge. If you have to take a plane, clinics may be able to provide you with a letter to help ease your way through the airport. If you can't attend a clinic yearly, talk to your providers about checking in by telephone or email on a yearly basis.
While clinic visits can be very stressful for all involved, they are opportunities to show improvements your child has made and to gather information about what is going on in the Fragile X world. Visiting a clinic is also an opportunity to discuss any questions or concerns you may have about your child's development.
The number of Fragile X clinics continues to grow. If your state doesn't have a Fragile X clinic, you can talk to your providers about possibly starting a clinic. They in turn can talk to members of the FXCRC about what is involved in starting and maintaining a Fragile X clinic.
Fragile X clinics have a lot to offer by way of evaluations and information, and all of the clinics are invested in FXDs and improving the lives of our patients and families. We look forward to seeing you at one of our clinics!
Related Information
*As of July 15, 2021.
**The Fly with Me Fund provides financial assistance for families to travel to a Fragile X member clinic of the FX Clinical and Research Consortium (FXCRC) to receive the most appropriate evaluation and treatment services. To begin the application process, please talk to the clinic coordinator when you schedule your appointment. Special thanks to the Silver Family for their continuous fundraising efforts that help make this program possible.
AUTHOR

Sharyn Lincoln
 is a licensed genetic counselor practicing at Boston Children's Hospital (
Division of Genetics and Genomics
), program coordinator for the hospital's
Fragile X Program
, and site coordinator for the 
Undiagnosed Diseases Network
. Ms. Lincoln is the co-chair of the
Fragile X Clinic and Research Consortium
(FXCRC) Executive Council as well as a member of the FXCRC's Clinical Committee and Research Committee. She is in close communication with the New England Community Support Network groups and actively participates in local Fragile X conferences and events. In addition to her clinical responsibilities, Ms. Lincoln is a member of the genetics program quality team, which is responsible for developing and implementing outcome and process measures for the genetics program.