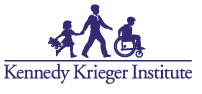 Kennedy Krieger Institute is looking for adolescents and adults, ages 16 through 50 years, with Fragile X syndrome to participate in a research study.
PURPOSE: The purpose of this study is to determine if an investigational drug is an effective and safe treatment for symptoms associated with Fragile X syndrome.
PROCEDURES: Participation in this study will require up to 8 visits (each lasting 2-7 hours) to the Kennedy Krieger Institute in Baltimore, MD and up to 10 between-visit phone calls with the study doctor over an 18-week period. Eligible participants may receive reimbursement for time and travel. The investigational drug and all study-related evaluations are provided at no cost to the participants.
If you are interested in learning more about this study, please contact:
Study Coordinator (443) 923-7619 or email: ResearchTrials@kennedykrieger.org
Michael Johnston MD, Principal Investigator, NA_00049393 www.clinicaltrials.gov (#NCT01517698)
Project sponsors: Hoffmann-La Roche Inc.
John Hopkins Medicine: Approved October 17, 2012