By Cindi Rogers
When our family began our journey in the Fragile X world in 1991, I could not say that I had a lot of hope for our two boys' future.
Everything was so full of uncertainty. Questions surrounded our family's life and what the future would hold. If I had completely given into doubt, I would have lost momentum toward attaining any kind of hope.
Through the years, I did see little glimmers of hopeful things, especially through the other children my sons went to school with. These "other kids" were at first one of my main worries as we approached the much-anticipated day that our boys would start kindergarten. I kept remembering when I was a kid, and how cruel we all were. "Take no prisoners," I thought. Well, was I pleasantly surprised!
Both my boys have enjoyed amazing relationships with friends — both on a large and small scale — during their school years. The kids themselves embraced Jake and Joe — it was their parents I found to be more challenging. My boys both had experiences with an integrated classroom where peer modeling was a practice. This allowed other kids to get to know them, and vice versa.
Unified Basketball
As they approached high school, both boys had the opportunity to join a unified basketball team through Columbine High School (yes, the same one . . . in Littleton, Colorado). Even though this program was new to the school, many kids embraced the chance to work with special needs kids to help them be successful. Learning how to take turns, learning how to listen to the coach, and learning when it was their turn to be on the court, were just a few of the lessons Jake and Joe attained during their first year of playing. And there really was no focus on making a basket!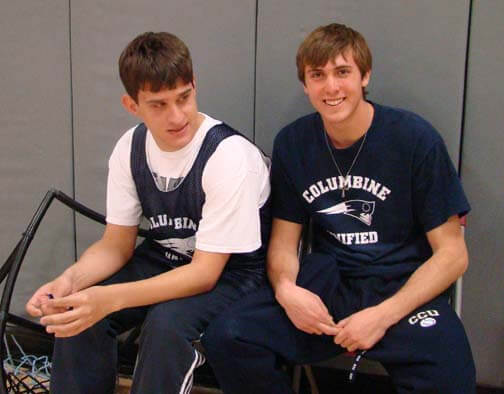 Jake with his favorite basketball partner, Daniel.
Amazingly, with just a little bit of peer modeling and encouragement, both boys were happily participating and, most of all, having fun. During his seventh season of playing, Jake (now 23), finally managed to make his first basket, and subsequently has made hundreds more. Our younger son, Joe, perfected that task very quickly and relished the audience applause (now that's a motivator!). The ongoing eager participation of the leaders and the helpers on this team continuously provide me with hope.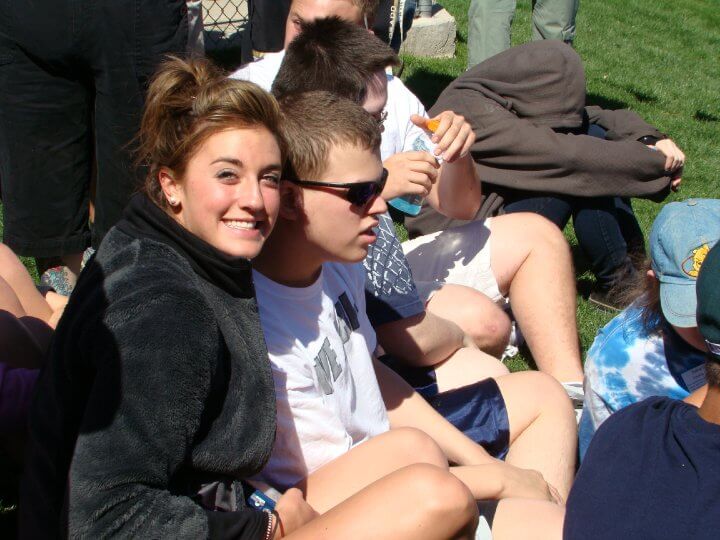 One of Joe's favorite people, Maddie.
What else gives me hope? Many of the "kids" who have been the peers for this team have gone on to colleges and universities to become occupational therapists, speech therapists, and special education teachers due to their experience with this team. There is comfort in knowing that future generations will know our kids, will perhaps even work with their population professionally.
Knowing that they are not afraid gives me great hope.
Over the 21 years since our diagnosis, there have been hundreds if not thousands of things that have given my husband and me hope. It is now our mission to share our experiences with families all over the world so that they can benefit in the many ways we have. Now that's a meaningful life — full of hope!
AUTHOR
Cindi Rogers lives in Littleton, Colorado, and is the mother of two boys with Fragile X syndrome.