Help Raise Funds
Find the "FUN" in Fundraising!
Fundraising is more than just raising money for the foundation. It's about building awareness, extending our reach beyond families living with Fragile X, and having FUN with others who care about our mission. Join us as a volunteer, become a fundraiser, or attend an event … it's FUN!
And please let us know how we can help. You can reach us by email or at (800) 688-8765.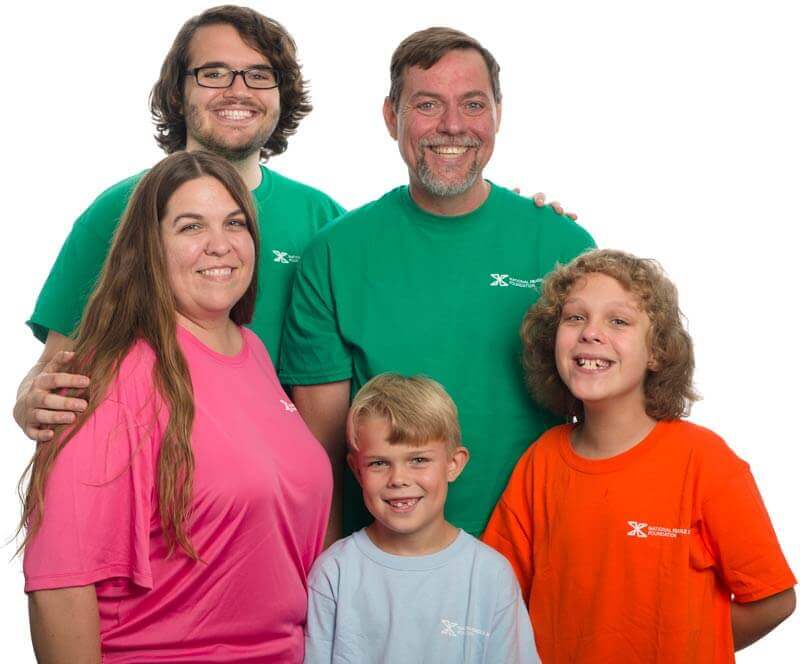 Become a Fundraiser
You can start fundraising as an individual, by joining a team, or by creating your own team. Click below and follow the instructions, and please let us know if we can help in any way.
Join an X Strides Event
X Strides are the official walk/runs of the National Fragile X Foundation. They raise awareness of Fragile X, build community, and raise funds to support our mission. Upcoming X Strides events are listed in our events calendar.
Attend a Fundraising Event
Our local chapters are a great place to find events that you can either help organize or participate in to show your support. Upcoming fundraisers are listed in our events calendar (check back often), or you can contact your nearest chapter directly to learn more.
MORE FOR YOU
A Workplace Fundraiser You'll Want to Copy
Matt Faruolo lives in Colorado and has two nephews with Fragile X syndrome. He wanted to do something to raise awareness about Fragile X, so he decided to host a weeklong fundraising event at work. Matt shared how he did it so we could share it with you!
'Fishing for a Cure' and Inspiration for Other Unique Fundraisers
Supporters often ask for fundraising ideas. They're looking for methods to get involved on a deeper, more interactive level — to bring people together in a way that spreads positivity, encourages advocacy, and inspires more contributions.
NFXF International Fragile X Conference
The NFXF International Fragile X Conference is the largest of its kind in the world. This biennial event brings professionals, caregivers, self-advocates, and family members together in one place — a truly unique experience for a community all-too-familiar with the question: Fragile what? In addition to providing a space for friendship and solidarity, sessions focus on strategies and techniques for living with Fragile X, as well as an opportunity to discover emerging research and opportunities.
Donate to the National Fragile X Foundation
Donation options include dedicating your gift in honor, in memory, or in celebration of someone. No matter how you choose to give, your gift will go to work right away.