This is a family-friendly, introductory presentation focusing on sensory, communication, and behavior needs for school-age children with FXS. This session is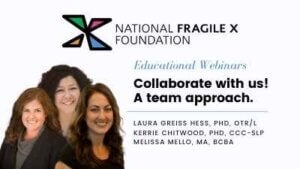 presented by a dynamic team consisting of a Board Certified Behavioral Analyst, Speech-Language Pathologist, and Occupational Therapist, who believe that collaboration is essential.
Families learn how behavior, communication, and sensory processing are connected. Further, families are provided with sensory, communication, and behavioral strategies that can be implemented within daily routines. An emphasis on collaborative and evidence-based practices is highlighted.
Join us as we hear from:
Laura Griess Hess, PhD, OTR/L
Kerrie Chitwood, PhD, CCC-SLP
Melissa Mello, MA, BCBA
How to Watch
Enter your name and email address below for your access to the on-demand recording of the webinar:
Recent Posts You May Be Interested In
Hilary Rosselot
We asked this year's four NFXF Summer Scholars — Collis Brown, John Burwinkle, Bonnie McKinnon, and Elizabeth Saoud — to summarize their summer project in a 15-minute video presentation, and here they are!
Hilary Rosselot
We held an NFXF Webinar with three of our industry partners working on treatments for Fragile X syndrome. Each shared the most up-to-date information on their research project(s) in a way that is understood by those who aren't steeped in drug research day in and day out. A short Q&A followed each presentation.
Hilary Rosselot
A study to learn about memory and memory development in children with Fragile X syndrome.