This is a family-friendly, introductory presentation focusing on sensory, communication, and behavior needs for school-age children with FXS. This session is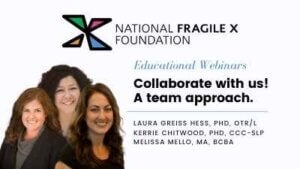 presented by a dynamic team consisting of a Board Certified Behavioral Analyst, Speech-Language Pathologist, and Occupational Therapist, who believe that collaboration is essential.
Families learn how behavior, communication, and sensory processing are connected. Further, families are provided with sensory, communication, and behavioral strategies that can be implemented within daily routines. An emphasis on collaborative and evidence-based practices is highlighted.
Join us as we hear from:
Laura Griess Hess, PhD, OTR/L
Kerrie Chitwood, PhD, CCC-SLP
Melissa Mello, MA, BCBA
How to Watch
Enter your name and email address below for your access to the on-demand recording of the webinar:
Recent Posts You May Be Interested In
Missy Zolecki
Drs. Deborah Hall and Peter Todd joined us for an informative webinar on the topic of Fragile X-associated Tremor/Ataxia syndrome (FXTAS).
Hilary Rosselot
This summary gives a broad overview of the main themes discussed at the 5th International Conference on FMR1 Premutation in early 2023.
Hilary Rosselot
Learn more from Dr. Liz Berry-Kravis about the important updates to the Tetra trials to make participation easier!