We are excited to share journal publications like this one resulting from FORWARD data. There are many more papers currently in development, and the future for Fragile X syndrome research is bright as more data is gathered.
Factor Structure of the Aberrant Behavior Checklist in Individuals with Fragile X Syndrome: Clarifications and Future Guidance
The Aberrant Behavior Checklist (ABC) is a standardized rating scale used for assessing problematic behavior of individuals with developmental disabilities. It has five subscales: Irritability, Social Withdrawal, Stereotypic Behavior, Hyperactivity, and Inappropriate Speech.
A previous study in individuals with Fragile X syndrome reported six factors, with the Social Withdrawal factor branching into Socially Unresponsive and Social Avoidance factors, suggesting a different factor structure in people with FXS.
This study questions whether the newer FXS scoring algorithm (6 subscales rather than 5) contributes data that are consistently helpful in evaluating behavior of people with FXS.
In general, the study recommends continued use of the original ABC algorithm for scoring behavior of clients with FXS. However, they acknowledge that there may be circumscribed times when the new algorithm may be appropriate for scoring, namely when anxiety or social avoidance constructs are the central and unequivocal domains of interest.
Michael G. Aman, Megan Norris, Aaron J. Kaat, Howard Andrews, Tse-Hwei Choo, Chen Chen, Anne Wheeler, Carla Bann, and Craig Erickson. Journal of Child and Adolescent Psychopharmacology. Oct 2020.512-521. http://doi.org/10.1089/cap.2019.0177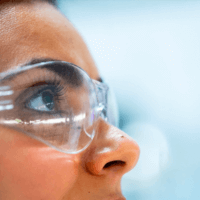 About the FORWARD Registry & Database
FORWARD is made possible by all the participating families sharing their life experiences for research. By giving families, doctors, scientific researchers, and policymakers an inside look into how Fragile X syndrome presents itself across the human lifespan, you're involvement is a huge contribution toward more positive health outcomes and better care and services for future generations.
Below are more journal publications resulting from FORWARD data. 
more from forward
Amie Milunovich
FORWARD // Among the different models resulting from the latent class analysis, a 5-class solution yielded the most clinically meaningful pharmacotherapy-independent behavioral subtypes.
Amie Milunovich
FORWARD // We examined the nature and degree of association between health-related quality of life and established measures of functioning in FXS; 155 parents completed the questionnaires on their child as part of the larger CDC-funded FORWARD study.