At the National Fragile X Foundation (NFXF), our mission is to serve you by connecting and supporting individuals and families through the Community Support Network (CSN) chapters.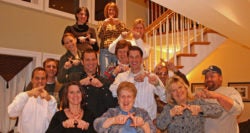 The CSN is the national volunteer program of the NFXF, comprised of groups typically organized and run by parent volunteers. The CSN provides emotional and educational support to families and individuals living with Fragile X. The CSN chapters organize events that offer support and build awareness for Fragile X in their local communities.
If you are not yet a member of your local CSN, now is the time to get involved! You'll find all sorts of activities like Nights Out that focus on moms, dads – even siblings. Groups even host picnics, bowling outings and trips to museums. The CSN truly offers you a chance to meet others who understand the issues you're facing.
The CSN community is organized by region, scroll to the bottom of the page to view an interactive map that will help you locate the nearest CSN group.
Getting Involved
Getting involved in the CSN is also a wonderful way to give back to the Fragile X community. You'll find out how much fun it is to fundraise with others through walks, flower sales, pumpkin parades, etc. Many of our CSN members provide the community with educational seminars, help with IEP's and even organize trips to the National Fragile X Foundation's Advocacy Day, which empowers members.
Sibling & Self-Advocate CSN
The CSN offers a nationwide sibling and self-advocate group for individuals and siblings of individuals living with Fragile X. If you or one of your siblings is living with Fragile X and would like to join a group of like-minded individuals, Sibling and Self-Advocate CSN is for you!
Parent Contacts
If there is not a CSN group located near you, or if you are simply looking for another parent or caregiver to talk to, the NFXF has a list of Parent Contacts you can reach. Parent Contacts are available to help answer questions and offer support, especially to those with newly diagnosed children.
Fragile X Clinic & Research Consortium
If you are seeking medical support related to Fragile X, please visit the Fragile X Clinic & Research Consortium (FXCRC). The FXCRC is partnered with the CSN to bring you both the emotional and medical support that you need.
Contacting the CSN
If you have questions about the CSN or are looking for information on a local group, please email csn@fragilex.org.
View:
Fragile X Clinics
|
Community Support Network & Fragile X Clinics
The locations on this map are meant only to show the city of each CSN group, not exact locations.