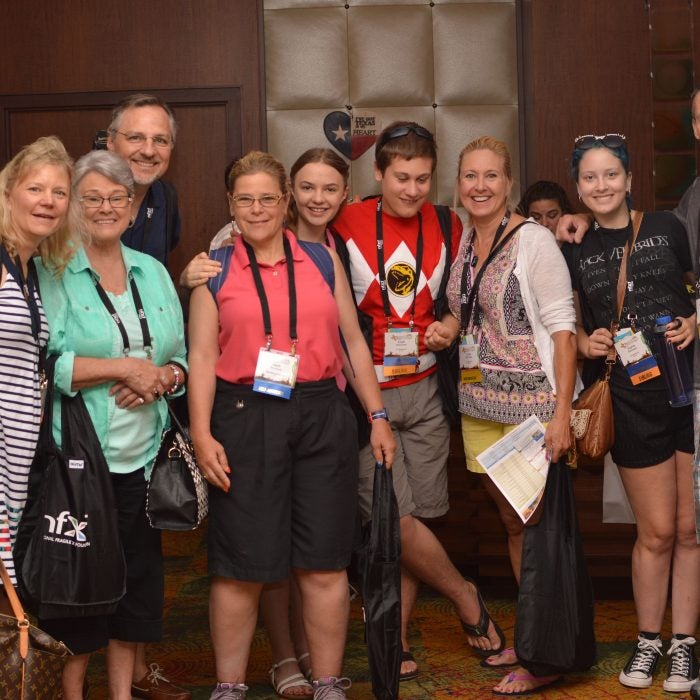 "The National Fragile X Foundation exists to unite the Fragile X community." That is how our mission statement begins. If you were fortunate enough to attend our 15th International Fragile X Conference, I feel confident in saying we achieved our mission. I hope you feel the same. It was an absolutely awesome experience that required the involvement of too many people to thank here. I thought of our entire Fragile X community, including those who could not attend, while I sat down to write this note.
We worked hard to deliver that message every minute of every day while we were in San Antonio, beginning with my opening comments at the conference kickoff, when I addressed the crowd and said "All of you in the room tonight are a part of the National Fragile X Foundation. Families, friends, professionals and volunteers…WE are the NFXF and 'Together, We're Stronger'."
I had the opportunity to attend and participate in several important NFXF meetings during the conference, including meetings of the Fragile X Clinic and Research Consortium (FXCRC), the Scientific and Clinical Advisory Committee (SCAC), the FXTAS Task Force, the Collaborative Biomarker Research (CBR) project committee, the Community Support Network (CSN), the Board of Directors and the Donor Recognition Dinner for our Xceptional Donors. Throughout those meetings we subtly, and sometimes not so subtly, made it clear that uniting the FX community will get us to our ultimate goal: improved treatments and a cure. This is part of the underlying message behind "Together, We're Stronger." By working together and supporting each other, we can achieve so much more than by working separately.
Our commitment to research, primarily through our FXCRC, will result in cutting edge projects that are more efficient, effective and collaborative and will move us more quickly towards our ultimate goal. We are well on our way to making this happen through the CBR mentioned above.
Of course, in the meantime, life goes on. Therefore we will also increase our investment in the community, primarily through our CSN. Throughout the country, these volunteer groups do some amazing things. Some of you saw a great example of that at this year's conference. Those of you who are familiar with our mission know that we also exist to "enrich lives through educational and emotional support and to promote public and professional awareness." A vibrant and healthy CSN will help to strengthen these activities as well. Similar to research, if we can strengthen the CSN through our investment and closer collaboration, the entire community benefits. Along the way, we will develop even more opportunities for families and professionals to come together. We believe we are uniquely qualified to make this happen. If not us, then who?
We have the resources to kick start this initiative but not to sustain it. We will double our efforts to raise the funds necessary to realize our bold vision. In the months and years to come, we will be reaching out to our friends inside and outside the community for support, and we will not stop until our vision becomes reality and our ultimate goal is achieved.
WE can do this, because "Together, We're Stronger!"
Tony Ferlenda, CEO