NFXF Advocacy Day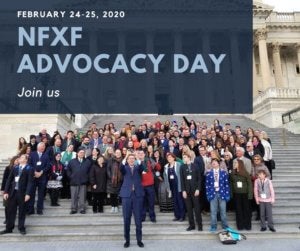 The National Fragile X Foundation leads an advocacy program to advance research funding for Fragile X and programs to provide better lives and opportunities for individuals living with Fragile X and other intellectual and developmental disabilities. The pillar of the program is NFXF Advocacy Day, when members of the Fragile X community come to Capitol Hill at the beginning of each year to advocate for Fragile X.
On NFXF Advocacy Day, attendees (families, self-advocates, friends, and professionals) descend on Capitol Hill to relate their stories about Fragile X-associated disorders, their families, and policies that support Fragile X families such as:
Research and public health programs at the CDC.
ABLE accounts for savings.
Facilitating the use of potential new drugs for treatments and a cure.
Health insurance.
Policies that help improve the status quo for adult and families living with intellectual and developmental disabilities.
Overall, our goal is to be a voice of solutions, work across party lines, and improve the lives and opportunities of people living with Fragile X. We had a very successful 2019: The ACE Kids Act was signed into law to allow children on Medicaid with medically complex conditions, such as Fragile X syndrome, to see providers out-of-state. The Autism CARES Act was reauthorized; among other things, the act funds programs to increase the number of medical providers for all individuals with intellectual and developmental disabilities, not just Autism. While Congress is still working on appropriations, we are on track for NIH and CDC funding and restoring the eligibility for DOD medical research.
We are looking forward to 2020, when Gregg Harper, former Member of Congress, will join us, but this time as an advocate.
NFXF Advocacy Day 2020
Join us this coming February 24-25, 2020 in Washington, DC for our next Advocacy Day. We will start at noon on Monday, February 24, at the Crowne Plaza in Crystal City, Virgnia. Monday is training, including some talks on what our asks will be, tips on visiting offices, etc. and Tuesday will be your day in Congress. New to Advocacy Day? Know this – we make it as easy as possible for you. Come prepared to share about your family and Fragile X. We will take care of the rest. Worried? You are not alone, and we have mentors available who have been to at least three Advocacy Days ready to help you each step of the way.
Details
This year we are staying at the Crowne Plaza Hotel, 1480 Crystal Drive, Arlington, Virginia. NFXF Advocacy Day negotiated room rates are $120/night and you can make your reservation here. The discounted rate is available for a few days before and after the event in case you want to make a mini-vacation out of it. The hotel has a free shuttle to Reagan National Airport and is convenient to many restaurants, the Pentagon City Mall, and a Metro stop.
On Tuesday, we will have a bus for us all to travel to Capitol Hill together. We will schedule all of the meetings and keep you aprised of details, where to go, who to talk to, etc.
Come Join Us
Registration is still just $25. Register below and email Dan Whiting, Director, Community Impact, at dan@fragilex.org. And take a moment to read Gregg Harper's article on how best to advocate for Fragile X in Congress and at all levels of government.