Dr. Craig Erickson joins us for the ninth time for our ever-popular subject: Medication Use in Fragile X Syndrome.
The webinar was a Q&A session during which listeners who pre-registered submitted questions and Dr. Erickson tried to answer as many as possible.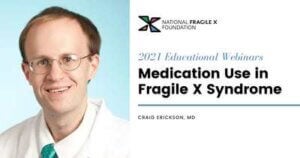 Dr. Erickson always provides a wealth of information for a variety of ages, behaviors, and medications. Access the on-demand recording for free below.
Working with Dr. Erickson, we also recently updated our medication treatment recommendations for easy reference.
How to Watch
Enter your name and email address below for your access to the on-demand recording of the webinar:
Recent Posts You May Be Interested In
Hilary Rosselot
Dr. Kathryn Argue share tips for applying for PRMRP funding with Fragile X professionals.
Kristin Bogart
Zynerba Pharmaceuticals shares why the RECONNECT trial with ZYN002 is being conducted in Fragile X syndrome
Hilary Rosselot
We asked our 2022 NFXF-funded Randi J Hagerman Summer Scholars to summarize their summer project in a 15-minute video presentation, and here they are!