Dr. Craig Erickson joins us for the ninth time for our ever-popular subject: Medication Use in Fragile X Syndrome.
The webinar was a Q&A session during which listeners who pre-registered submitted questions and Dr. Erickson tried to answer as many as possible.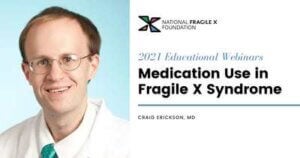 Dr. Erickson always provides a wealth of information for a variety of ages, behaviors, and medications. Access the on-demand recording for free below.
Working with Dr. Erickson, we also recently updated our medication treatment recommendations for easy reference.
How to Watch
Enter your name and email address below for your access to the on-demand recording of the webinar:
Recent Posts You May Be Interested In
Hilary Rosselot
Rush University is conducting a research study to validate a rating scale created to assess the motor symptoms of people with FXTAS – the "Fragile X-Associated Tremor Ataxia Syndrome Rating Scale (FXTAS-RS)"
Hilary Rosselot
Drs. Craig Erickson and Lauren Schmitt at Cincinnati Children's Hospital are conducting a series of research studies to learn about the brain and cognition and how they are connected with genetic factors related to FXS.
Kristin Bogart
On May 5, 2022, The Wall Street Journal Weekend Edition showcased an article called "The Surprising Legacy of a Genetic Disorder" by Dr. Anne Skomorowsky. The essay summarizes the history of Fragile X and [...]