Dr. Craig Erickson joins us for the 9th time for our ever-popular subject: Medication Use in Fragile X Syndrome.
The webinar was a Q&A session during which listeners who pre-registered submitted questions, and Dr. Erickson tried to answer as many as possible.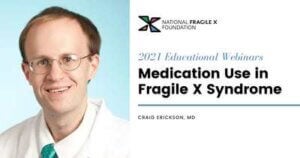 Dr. Erickson always provides a wealth of information for a variety of ages, behaviors, and medications. Access the on-demand recording for free below.
We are also working on the updated Medication Treatment Recommendation for easier reference. We will send it to all registered attendees and viewers when it is available.
How to Watch
Enter your name and email address below for your access to the on-demand recording of the webinar:
Recent Posts You May Be Interested In
Dan Whiting
Paula Fasciano and friends opened Bake Ability so they could give employment opportunities to individuals with intellectual and developmental disabilities.
Dan Whiting
Dr. Randi Hagerman joins us to discuss the latest information and research on premutation carriers. The recording includes the Q & A session following her presentation. You can watch the video and access the additional resources.
Dan Whiting
An update on our advocacy efforts, including Advocacy Day 2022 and key legislation we are currently supporting.