Dr. Craig Erickson joins us for the ninth time for our ever-popular subject: Medication Use in Fragile X Syndrome.
The webinar was a Q&A session during which listeners who pre-registered submitted questions and Dr. Erickson tried to answer as many as possible.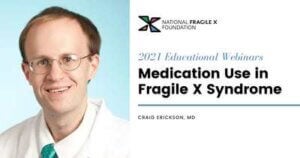 Dr. Erickson always provides a wealth of information for a variety of ages, behaviors, and medications. Access the on-demand recording for free below.
Working with Dr. Erickson, we also recently updated our medication treatment recommendations for easy reference.
How to Watch
Enter your name and email address below for your access to the on-demand recording of the webinar:
Recent Posts You May Be Interested In
Kristin Bogart
The NFXF hosted a Fragile X research updates webinar with three of our industry partners working on treatments for Fragile X syndrome. Each shared the most up-to-date information on their research project(s) in a way that is understood by those who aren't steeped in drug research day in and day out. A short Q&A followed each presentation.
Dany Petraska
Panelists look at and discuss FXS from the perspective of siblings in the household.
Kristin Bogart
Highlighting the Denver Fragile X Clinic at Children's Hospital Colorado, a member of the National Fragile X Foundation's Fragile X Clinical & Research Consortium (FXCRC)