Dr. Craig Erickson joins us for the ninth time for our ever-popular subject: Medication Use in Fragile X Syndrome.
The webinar was a Q&A session during which listeners who pre-registered submitted questions and Dr. Erickson tried to answer as many as possible.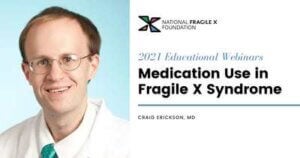 Dr. Erickson always provides a wealth of information for a variety of ages, behaviors, and medications. Access the on-demand recording for free below.
Working with Dr. Erickson, we also recently updated our medication treatment recommendations for easy reference.
How to Watch
Enter your name and email address below for your access to the on-demand recording of the webinar:
Recent Posts You May Be Interested In
Hilary Rosselot
Our 2022 NFXF awards are in! Learn more about each award and about each of our awardees.
Kristin Bogart
Watch this segment from Lifetime's daily morning show, The Balancing Act, "Behind the Mystery of Fragile X Syndrome: A Genetic Disorder That Can Cause Learning and Behavior Challenges."
Hilary Rosselot
This is the first time that Fragile X premutation carriers have been tracked in a longitudinal study. This study provides evidence for early markers of FXTAS that may be helpful in eventually identifying the best candidates for early, preventive intervention.