Dr. Craig Erickson joins us for the ninth time for our ever-popular subject: Medication Use in Fragile X Syndrome.
The webinar was a Q&A session during which listeners who pre-registered submitted questions and Dr. Erickson tried to answer as many as possible.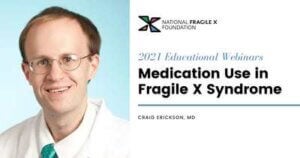 Dr. Erickson always provides a wealth of information for a variety of ages, behaviors, and medications. Access the on-demand recording for free below.
Working with Dr. Erickson, we also recently updated our medication treatment recommendations for easy reference.
How to Watch
Enter your name and email address below for your access to the on-demand recording of the webinar:
Recent Posts You May Be Interested In
Kristin Bogart
Since the birth of his brother Filippo, Guido Raponi has constantly looked for ways to help support the Fragile X and special needs communities. The idea for All Love Threads was born when he looked into his closet and saw a number of unworn, fundraising t-shirts and sweatshirts and saw an opportunity to create fashionable awareness clothing.
Kristin Bogart
Help us help them by supporting our mission to serve all those living with Fragile X. Advocacy, education, research, and treatment with the community are at the heart of everything we do.
Kristin Bogart
Ilana Garber, a Fragile X carrier and mother of a child with Fragile X syndrome, shares her experience with Fragile X and offers her perspective to people interested in testing for themselves or their child.