Watch Medication Update For Individuals With Fragile X Syndrome
With Dr. Craig Erickson and Moderated by Jayne Dixon Weber
Thank you for your interest in our medication update webinar. We hope you enjoy it, and as always, please let us know if you have any questions, feedback, or need additional help.
Dr. Craig Erickson shared the latest updates and research followed by a Q&A session. Dr. Erickson provides a wealth of information for a variety of ages, behaviors, and medications.
Guided by moderator Jayne Dixon Weber, previously submitted questions were answered by Dr. Erickson followed by questions from the webinar attendees.
There are currently 30+ Fragile X clinics located throughout the United States, if you have questions or need help locating the closest clinic, please don't hesitate to contact us or you may use our clinic finder.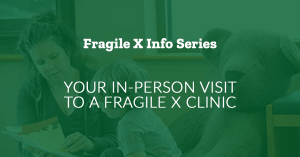 INFO SERIES: YOUR IN-PERSON VISIT TO A FRAGILE X CLINIC
Read or download a printable PDF. A comprehensive guide and checklists on how to prepare, what to expect, questions to ask, and more. from our Fragile X Info Series.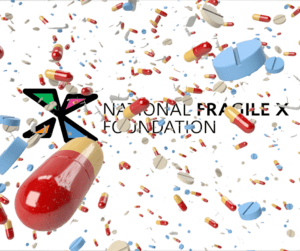 TREATMENT RECOMMENDATION: MEDICATIONS FOR INDIVIDUALS WITH FRAGILE X SYNDROME
The treatment and intervention recommendations for the three primary Fragile X-associated disorders are written by and for professionals, with the understanding that they will be published online by the NFXF, read by caregivers, parents, and other family members (and in the case of some documents, by patients), and shared by those caregivers, parents, families, and patients with their own care professionals.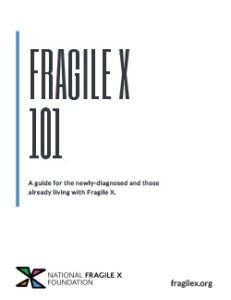 FRAGILE X 101 E-BOOK
A Guide for the Newly Diagnosed and Those Already Living with Fragile X. Download your copy today!
Questions?
If you're a parent or caregiver and have questions about the information presented here, we'd love to hear from you! You can reach out to Missy Zolecki using the contact info or our contact form below.